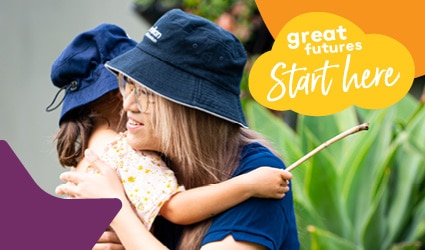 Find your next job at Guardian
More than a great place to work  
This is our commitment to you: to ensure that your career aspirations are supported and that you are empowered to do amazing things. That means providing benefits that are tailored to meet real needs and rewarding great outcomes. 
When you join Guardian, you not only have the prospect of a great future career, you also have the prospect of being in an environment where your voice is heard, and your work–life balance is just as important to us as it is to you.  
Interested in joining Guardian? Call us today on 1300 765 560 to find out how. 
Investing in People and Centre
All profits are invested back into our Centres – in upgrading rooms and outdoor areas, team training programs, and resourcing to ensure the best experience for children and teams. 
Team Member Benefit
Work in high-quality, well-resourced environments, where you have a voice in education programs and initiatives.

 
Take control of your career development, including the ability to move within the network to take up new opportunities.

 

Be supported in maintaining a positive work–life balance, where your wellbeing, managing workloads, and handling issues helps to continue following your passion.

 

Be paid wages and salaries highly competitive within the sector.

 
Learn more about our professional development and learning opportunities. 
Work with a High-Quality Provider
Work with a provider that is constantly evolving its curriculum based on world-class research – 94% of our Centres meet or exceed the National Quality Standard.

 

Access leading professional development and learning through our national network of educators, teachers, mentors, and experts to guide and develop your career ambitions. Learn more.

 

Be part of a thoughtful culture where our words and actions help create and maintain an inclusive environment.

 
Learn more about how we support children to have the best start to life. 
Reward and Recognition
Annual Awards: sector-leading awards for every role, nominations and voting is all peer-based.

 

G-Star: monthly peer-nominated reward and recognition program for Team Members who show exceptional effort, because positivity is contagious.

 
Team based rewards and recognition programs in every Centre.

 

Employee referral program: up to $3,000 for successfully referring an employee to Guardian.

 
Personal and Family Support
Generous child care discounts based on years of service at the centre of your choice.

 
Team Members and their immediate family members can access a free and confidential Employee Assistance Program (EAP) to get confidential support for work-life stressors, family issues, financial concerns, relationship problems, and

drug or legal concerns.

 

Our One Team Guardian Fund offers temporary financial support for Team Members who are experiencing economic hardship due to a sudden emergency or unforeseen personal situation.

 

Access Novated Lease arrangements to reduce the cost of buying and running a car.

 
 Interested in joining Guardian? Call us today on 1300 765 560 to find out how. 
Find your next job at Guardian