Guardian superstars light up the stage at ECA Conference
We are so proud to see two of our amazing Curriculum champions shine bright on the national stage!
Educational Leader Ashleigh and Curriculum Mentor Simone shared centre stage at this month's Early Childhood Australia National Conference in Adelaide.
They had the honour of presenting their work 'Spaces for play: inspiring environments that develop rich language and landscapes'.
The presentation discussed how light is everywhere in our environment; a resource that can transform the landscape, mood, and the look and feel of play spaces. They spoke of how, inspired by the Guardian Curriculum, we experiment with, plan for and welcome light in our learning environments.
Through their observation and research, they noticed that children began to develop a rich and unique language of light. They noted that working as researchers with babies and toddlers is particular interesting as emerging language is not always communicated verbally.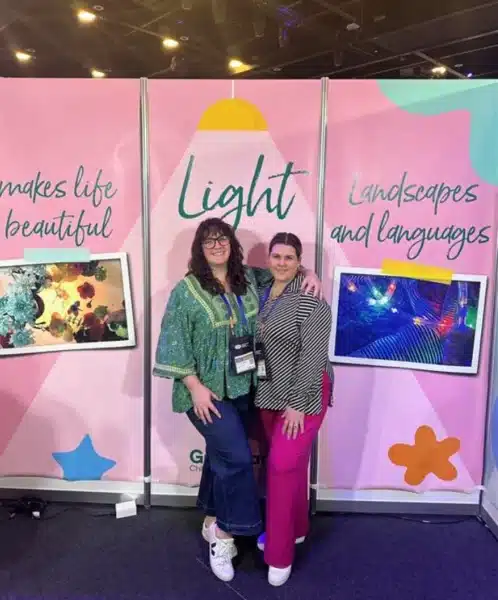 "Our role as Teachers and Educators is to be the connection between learning that is occurring and the environment that is full of possibilities." – Simone and Ashleigh, 'Spaces for Play'
Simone and Ashleigh shared that research between educators and children is recognised and valued in the Guardian curriculum as the foundation of the work that we do, and demonstrates the amazing capabilities of children.
Simone and Ashleigh's shared passion for their work is evident. Seeing our team members out in the community sharing their expertise with other childhood education professionals is so inspiring.
The presentation was highly engaging, informative and a real source of inspiration for those in the sector. Feedback from members of the audience was incredibly positive, with many remarking how thought-provoking and enlightening their piece was.
Do you want to work in a place where your professional development is always encouraged and supported? We may have the perfect opportunity for you!
Representing Guardian on the national stage
The Early Childhood Australia National Conference provides a platform for professional conversation and discourse about the wellbeing, rights and early education of young children. Each year, the Conference is attended by over 2,000 national and international participants, alongside a live stream of presentations.
It is a prestigious accomplishment to be chosen to present at the ECA National Conference. Prospective speakers are required to submit their application to ECA outlining the proposed presentation along with a biography outlining each speaker's experience. We are so thrilled that two of our very deserving Guardian superstars were selected.
Those in attendance each year include teachers, educators, centre leaders from early childhood education centres and schools, along with academics, researchers, policy-makers and those involved in training and professional development.
The reach of this Conference is enormous across our sector, and it is a highlight in the early education calendar.
We love seeing our people present best practice insights they've helped develop in our Centres. All of us at Guardian Childcare & Education are incredibly proud of Simone and Ashleigh's professional achievement. We can't wait to see what's next!
Read why Guardian is more than just a place to work.
If you're interested in a role with ongoing professional development and support, we'd love to hear from you! We currently have some great opportunities across all roles – check them out here.
Do you have questions? Get in touch with our Talent team: [email protected] or 1300 765 560.
Looking for the right Childcare Centre for your Family?
Submit your details and a member of our Concierge Team will be in touch to discuss what you need and how we can help you experience something more than childcare.

We'll be in touch soon.