Guardian Childcare & Education Laurimar
Rated from Google 
Leading programs where children aged six-weeks to six years learn and discover through play.
Highly experienced Educators and degree-qualified Teachers support children to grow and thrive.
Safe, secure environments that support children's social and emotional development.
A specialist two-year kindergarten program that prepares children for school, with the benefits of long day care.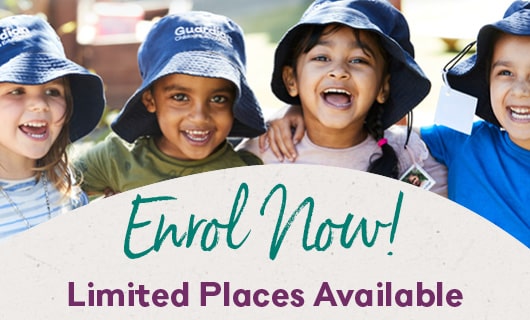 Hours
Mon to Fri 6:30am to 6:30pm
Address
59 Painted Hills Road
Doreen, VIC, 3754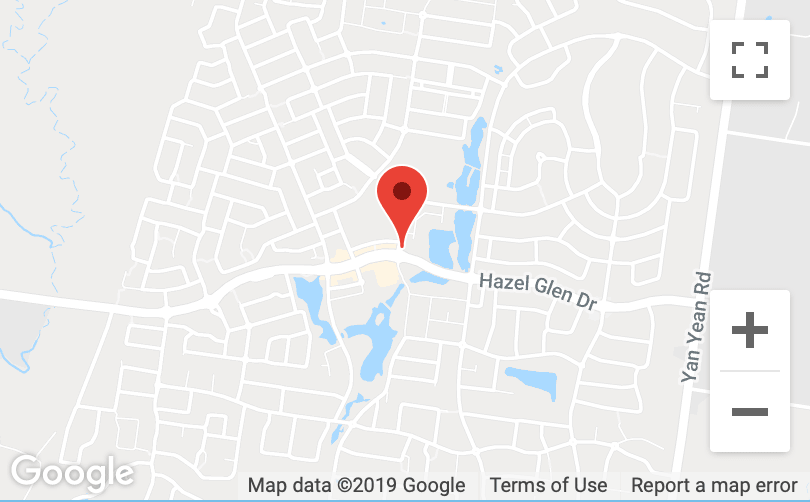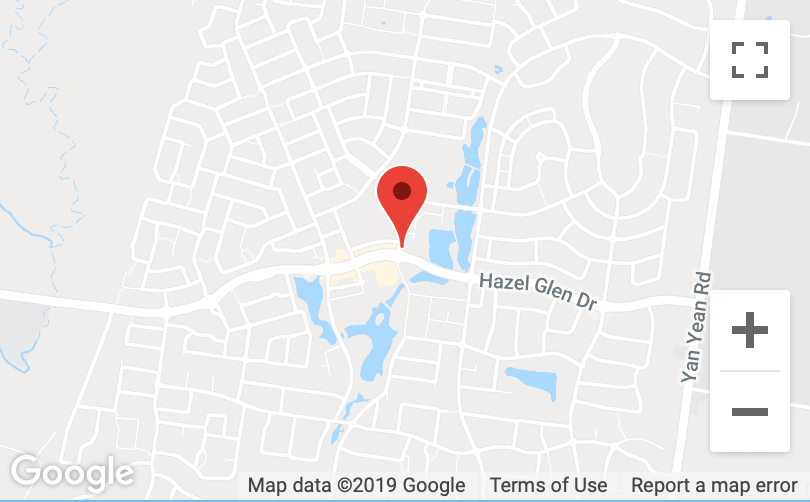 Take a Look Around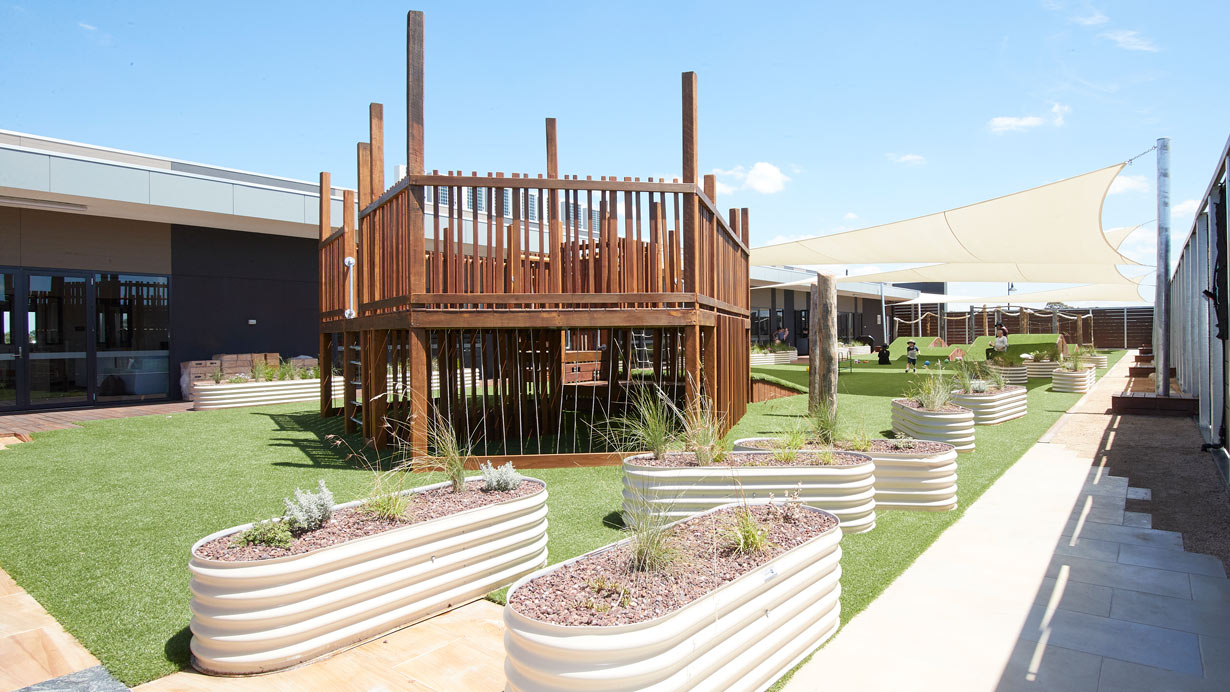 Welcome to our Centre
Guardian Childcare & Education Laurimar is big on space, with a large outdoor yard that includes a sprinkler, a wooden fort, purpose-built hills and tunnels, a worm farm, native plants, and a range of age-specific play areas.
Read More
Meet our Centre Manager
Lucy
Our Centre Managers are the heart of our Centres. Leading our Teachers and Educators to deliver the highest quality care and education to all children.
Rhythm of The Day
With endless possibilities, there's never a dull moment at Guardian and no two days are the same. Here's what a day at Guardian might look like. Please note, this will vary depending on centre opening hours.
From 6:30am

Handover time with children, families and our friendly Educators. There's a chance to share what's important for the day and any news from home.

From 6:30am

Breakfast time where families are welcome to stay and enjoy breakfast with the children.

Morning

An opportunity to play and discover with open-plan play in family groups and multi-age groupings.

Morning

Planned experiences. This is where the Guardian difference comes to life. Alongside our Educators your child's exploration leads to learnings in numeracy, literacy, language, critical thinking, problem solving, leadership, social skills, technology, creative arts and much more.

Morning tea

An opportunity for children to come together for a healthy snack, often they help prepare their food alongside our carers and chef.

Mid-morning

Individually tailored to your child's needs and curiosity the planned experiences continue, this includes both indoor and outdoor programs.

Lunch

Another nutritious meal expertly prepared by our chef. Families are invited to join the children for meals and excursions if they wish.

Afternoon

If your child wants to, or needs to sleep, it's time to rest and recharge. For children who don't need to rest the planned experiences continue, in most cases outdoors.

Afternoon tea

Another chance for the children to come together and re-fuel in small groups. There is also an opportunity to rest or play together and reflect on the day.

Pick-up

As you arrive to pick up your child, there's a chance to speak with our Educators and share news about the day. Our Storypark App also allows you to stay in touch 24/7 wherever you are.

End of day

Your child is encouraged to grab a light snack as they leave the centre. We're mindful of how routines vary, throughout the day if we notice your child looking tired food will be provided.
Helpful Information
Opening Hours
Open 6:30am to 6:30pm
Monday to Friday
Good to Know - What to Bring
What we Provide
Sunscreen, hat and environmentally friendly bag
Five nutritionally balanced meals including: Breakfast, Lunch, Morning and Afternoon tea, and a late snack at the end of the day
Nappies
Bibs
Bedding
Free drop off and pick up parking spaces
What to Bring
Soft toy or comfort blanket for nap time
Spare change of clothing
Water bottle
A family photo
Our Educators
Our team of Educators are committed and passionate about ensuring your child will be safe, nurtured and cared for every day. At Guardian, children are encouraged to engage in interest-led play that creates learning and meaningful experiences.
Our Educators seek to optimise diverse learning opportunities and implement the Curriculum as framed by the Early Years Learning Framework.
You and Your Child
All Guardian Centres provide a Centre-to-Family communication platform so families can maintain contact with their children's experiences through photos, stories and learning outcomes.
Our Centres use Storypark and each family is provided with a secure login to access on their computers, mobiles or apps.
Reviews from Google

T

Tamara Krstic Coote



Such a beautiful place to sign up your child/children at Childcare Centre. The team who's managing the centre is very professional and the teachers are very kind and friendly. Children ... Read More

Educators have been so supportive and understanding when helping our COVID baby transition into the new environment. The management team have been incredible! I've never been so happy at a ... Read More

My son had the best experience being looked after by the team at Guardian. The centre is always immaculately clean, with amazing set ups, activities and incursions for the kids. ... Read More

Since starting at the start of the year our son had absolutely loved going to daycare. He enjoys seeing the educators and the bond he has with each one is ... Read More

My son started at Guardian when he was just 5 months old and he really likes coming here every morning. The staff and educators are so caring, loving and fantastic. ... Read More

We love guardian! Our daughter started at guardian childcare a few months ago and the team there has made it a wonderful transition for our daughter and family. The staff ... Read More

My daughter started at Guardian Laurimar shortly after its opening in early 2018, and the Centre has gone from strength to strength since that time. My son has since ... Read More

Guardian has been an amazing childcare! All of the staff are fantastic and professional, the meals are made on site and the cook is the best. It has a big ... Read More

My daughter has been attending the Centre basically since they opened. The staff are always so welcoming and supportive. We are also just about to complete the kinder program and ... Read More

Fantastic childcare centre! All the staff are incredibly friendly and welcoming. All concerns i have brought up with them have been resolved immediately and respectfully. My son has developed in leaps ... Read More

My son has been attending Guardian Laurimar for the past 2 year and we absolutely love it. The educators and staff are fantastic. My son is so happy to go ... Read More

I cannot fault Lucy and the team at Guardian Laurimar! I have been to several centres over the years and this one is without a doubt the best. They are ... Read More

Fantastic! Professional management and educational staff, top notch communication, creative learning spaces. Our kids love it. Recommend highly!

We have been part of the Guardian family for almost 2.5 years. Management and Educators are fantastic, always very helpful and friendly. Educators welcome changes and will always think outside the box ... Read More

We could not be happier with Laurimar Guardian. They are truly amazing. From the general manager, Lucy and her speedy response rate (nothing is ever a problem for Lucy). To ... Read More

Amazing centre - always clean, professional ran, helpful and caring staff. My son has been going for two years and loves it!

Guardian Laurimar is the best child care center I have seen. I have two boys and they have attended two child care before. I am so lucky to be referred ... Read More

Guardian Laurimar is such a fantastic childcare centre. The staff are all amazing, really taking the time to get to know each child and making sure they are feeling included, ... Read More

We absolutely love Guardian, we have been there pretty much from the start. The staff are incredible with my two children, they treat them as one of their own. All ... Read More

Our children have been attending Guardian Laurimar since it opened and we couldn't be happier with the Centre. The staff are wonderful and helpful and communicative, the meals are healthy ... Read More

Picking a place to take care of your children is not an easy task! We have been so very fortunate to have Guardian Laurimar taking care of our boy. The ... Read More

My son has progressed so well and gained so much confidence. The staff are all amazing and treat my child like he is family.. Hudson loves creche!

Exceptional in every way. Our daughter has attended Guardian Laurimar for almost 18 months (from 12mths). Every aspect of the centre is of the highest quality: from their policies and ... Read More

Lucy and her team are brilliant. The care they show towards the children is exceptional. Asking a question is never too much trouble, the team always quick to assist. The educators ... Read More

My daughters both go to Guardian Laurimar, and our experience has been the best we could possibly ask for. Between the great facilities, the nutritious meals provided and the amazing ... Read More

The staff are great with the children, meals are cooked fresh and healthy. My children love going to this centre to see their friends and workers everyday. Highly recommend Guardian ... Read More

This is the best centre in our area ❤️ the staff are so caring and do such an amazing job. My son has attended since he was 7 months old ... Read More

Amazing teachers, great resources, happy children.

They have helped us with our child's growth so much. We are so glad we choose here for our child's kinder years and wish we came earlier. It has been ... Read More

Guardian Laurimar is an amazing day care centre, our daughter has been there since she was 9 months old. The centre is always clean and well maintained but it's the ... Read More

This is an amazing place for your kids. Both my kiddies were very nervous when starting and the staff made them so welcome. My kids ask to go to daycare ... Read More

Gaurdians is a beautiful child care facility, they have a wonderful chef who prepares delicious and healthy meals and the teachers are so loving and caring. My son absolutely ... Read More

Excellent child care facility. The staff are very friendly and welcoming and my son always has a great time here. He has made significant improvements in his learning from his ... Read More
Begin the Adventure at Guardian
To explore the centre, chat with our team of Educators and learn more about our high-quality curriculum, book a tour now.