Sell Your Childcare Centre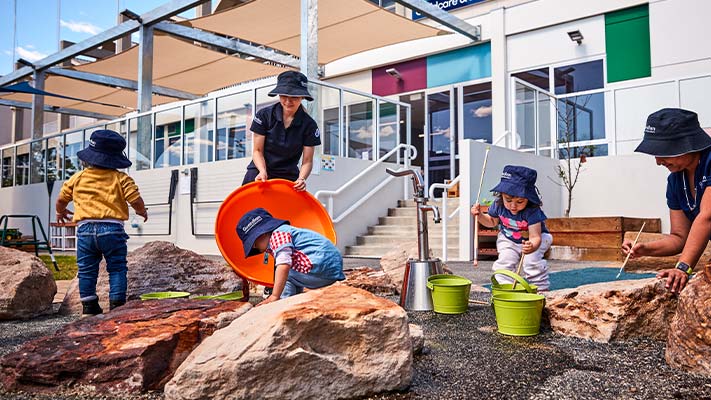 Do you have a centre you want to sell or a site you want to lease?
We operate over 135 childcare centres throughout Australia with a strong presence in the metro areas of Brisbane, Sydney, Melbourne, Canberra and Adelaide.
We have grown over the last ten years through buying existing centres and launching new centres.
We are always looking to expand our network. We have a reputation for being commercial and have good relationships with landlords and business owners.
Are you looking to sell your centre or group of centres?
If you are looking for a great partner; someone who can provide an excellent new 'home' for your existing centre, team, children and families; and someone who can make a quick decision and progress to payment easily, then you should speak with us.
We have a strong focus on high quality practice (94% of our centres have received an "Exceeding" or "Meeting" NQS rating and we rate above every other large LDC provider in terms of Exceeding ratings on almost all Quality Standards) and providing our teams and families with a wonderful experience.
We are always on the lookout for solid performing centres, in good facilities, with quality teams.
What are we looking for?
Leasehold operating businesses, anything from single centres to small or mid-sized groups (two to 15 centres). Ideally your centre(s) will:
– Be above 75 licensed places;
– Have a track record of occupancy levels ideally above 80%;
– Be located in on the east coast in, or near to, capital cities;
– Be well managed centres with a good reputation within your local community;
– Ideally have a Meeting or Exceeding rating (but we will look at Working Towards centres);
– Have a consistent track record of profitability.
Why would you choose us?
We can make decisions quickly and have funding already arranged.
We are confidential, commercial, and easy to deal with.
We are happy to assist you and your team in ensuring a smooth transition into our network.
We are flexible with transaction structures.
Recent track record
We are active in the market. We have acquired 9 centres in recent months – including a group of 5 and four single centres.
Testimonials
We pride ourselves on having and maintaining excellent relationships with Sellers:
"The decision to sell our service, Bridge Kids ELC, was not an easy one for us to make. It was, however, the best decision to sell to Guardian Childcare & Education. On every level, Guardian have been very professional, fair, and supportive from the initial approach to the due diligence period and the transition. Guardian have honoured our existing culture within the service and will now extend with their own level of excellence to provide for our families and staff. We will leave Bridge Kids comfortably knowing in our hearts the legacy we created will continue" – Florie and Jerry Mustafa, founders of Bridge Kids Early Learning
Contacts
Do not hesitate to contact us, should you "Aspire to Be" part of the Guardian family:
Contact: Jonathan Jorcin, M&A | Business Development (Email: [email protected])