Being a Teacher at Guardian: What's in it for YOU?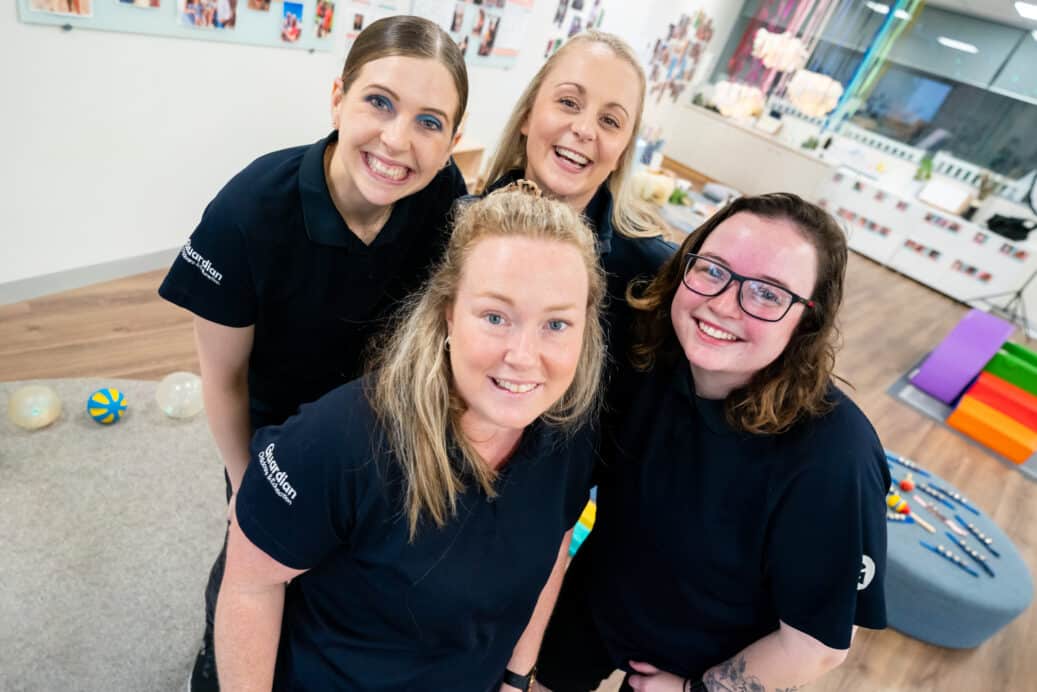 Being an Early Childhood Teacher. What an amazing career choice; what a significant role to play in the lives of children.
At Guardian, we value our Teachers highly. Why? Because Early childhood education plays a crucial role in shaping a child's development and future success. So, qualified and motivated Teachers are vital if we want to create an environment where children can learn and grow.
Amazing Teachers means giving children the best possible start to life. But what does it mean to be valued? We asked some of the Teachers across the Guardian network and they told us that it's about "being supported to do what you love, being valued, and belonging to an organisation you can feel proud to be part of."
Teachers and the best start to a child's life
When Teachers are supported, they are better equipped to create engaging and age-appropriate activities that nurture children's cognitive, social, and emotional skills. Moreover, inspired teachers tend to stay longer in the profession and are more likely to contribute positively to the learning experience of the children they teach.
In turn, this creates a more stable and consistent learning environment that benefits both the teachers and the children. Ultimately, investing in Teachers' professional development and support is crucial in ensuring that young children receive the best possible start to their education and overall development.
So, when Teachers are valued, supported, and inspired, they're more satisfied and that, ultimately, means better outcomes for children. The question is, how do we go about ensuring that our Teachers feel valued, and have a strong sense of belonging in their role?
Time to do they work they love
It starts with time; a precious resource. Teachers need time to plan and prepare engaging learning experiences, supporting the individual learning needs of each child, building positive relationships with their families, and collaborating with team members to create a supportive learning environment across their Centre.
Time is also crucial for ongoing professional development and developing teaching practice. As research on child development and education evolves, it is essential to stay current with new teaching methods and best practices. Mentoring, training, workshops and more play a role in supporting Teachers to grow.
At Guardian, we understand and respect those needs. Here's one example.
As a national organisation, our Teachers are part of a large community of practice. Through an initiative called Teachers@Guardian, Teachers have opportunities to share knowledge, engage in meaningful professional learning, and access a wealth of experience to enrich their career development.
The program enables studying and qualified Teachers to come together to learn, share, network, and collaborate with their peers and our Teacher Mentors. The fortnightly meetings, held online, build a supportive community of practice, where a culture of respectful feedback and reflective practice supports all to grow as Teachers.
Teachers@Guardian is about developing:
Professional knowledge
Professional practice
Professional engagement
Educational leadership
Supporting Teachers to contribute to the learning experience
In addition to time, Teachers are inspired to contribute to creating awesome learning experiences for children. Their extensive knowledge and expertise are vital in shaping a contemporary curriculum and translating it into learning experiences that are relevant to each Centre's community.
That means our Teachers play an important role in the design and implementation of our educational programs. They also help develop teaching resources and contribute to key decisions around resourcing.
Empowering Teachers to share their expertise and providing the resources to do what that love is what makes the difference between a job, and a career. Why not see why Guardian is more than just a place to work.
If joining our Guardian family sounds good to you, we'd love to hear from you! We currently have some amazing opportunities for Teachers – check them out here.
Do you have questions? Get in touch with our Talent team: [email protected] or 1300 765 560.
Looking for the right Childcare Centre for your Family?
Submit your details and a member of our Concierge Team will be in touch to discuss what you need and how we can help you experience something more than childcare.

We'll be in touch soon.