Guardian Childcare & Education Phillip Street
Rated from Google 
Leading programs where children aged six-weeks to six years learn and discover through play.
Highly experienced Educators and degree-qualified Teachers support children to grow and thrive.
Safe, secure environments that support children's social and emotional development.
A specialist two-year kindergarten program that prepares children for school, with the benefits of long day care.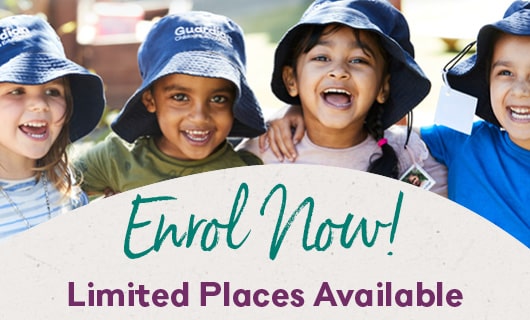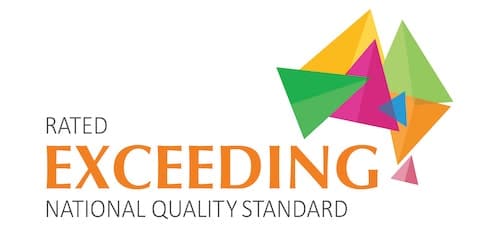 Our centre has been recognised as 'Exceeding' the National Quality Standard. This is the highest rating you can receive from a regulatory authority assessment and we are proud to deliver an exceptional service to the children and families who attend our centre.
Welcome to our centre
Hours
Mon to Fri 7:00 to 18:00
Address
Level 4, 126 Phillip Street
Sydney, NSW, 2000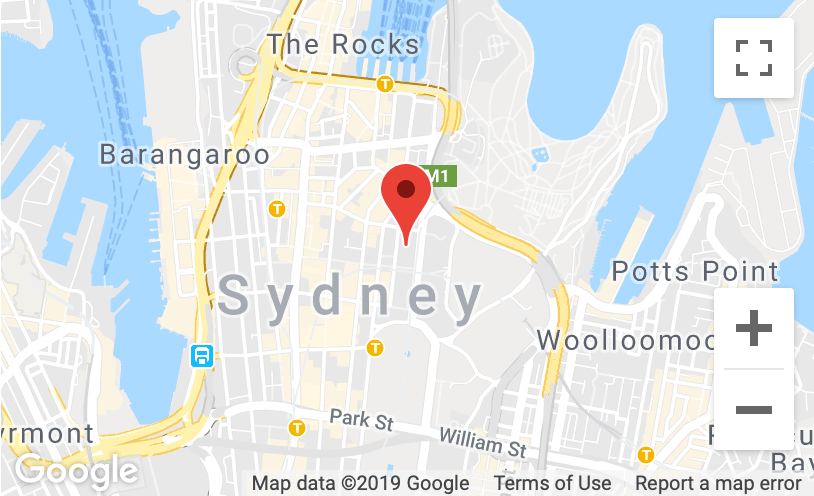 Take a Look Around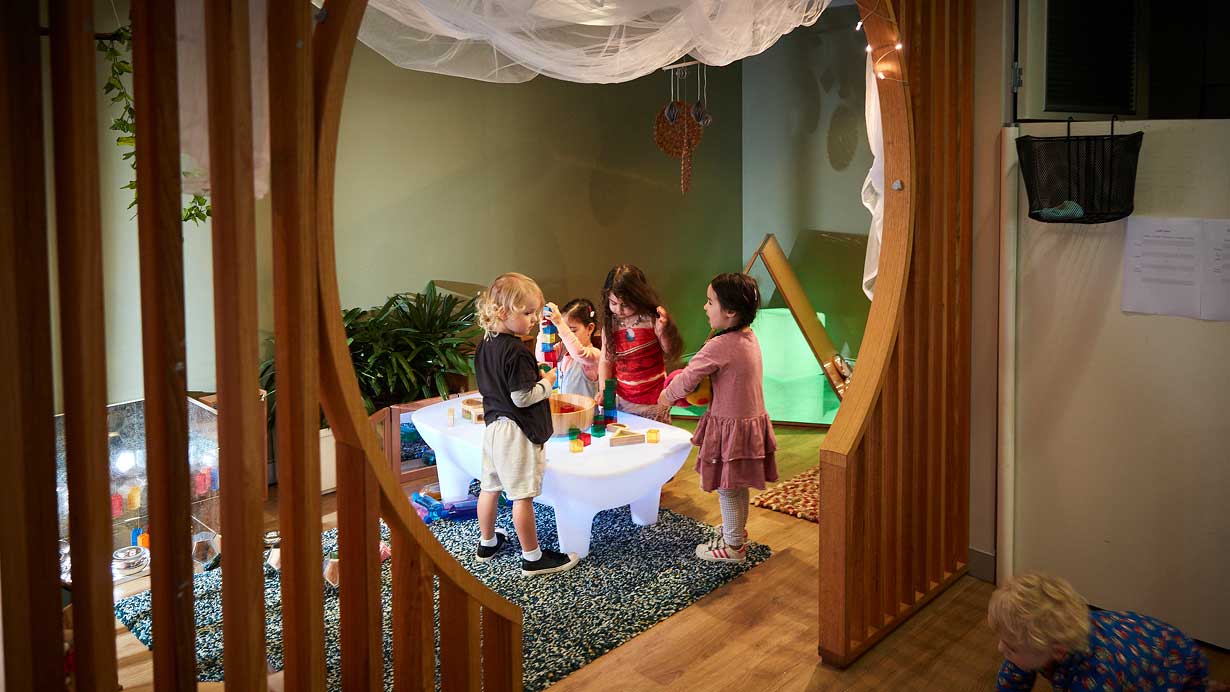 Welcome to our Centre
Awarded NSW State Finalist at the 2022 KindiCare Excellence Awards
Read More
Meet our Centre Manager
Rhiannon Summer
"There's nothing quite like the look on a child's face, when they discover something new and for the very first time. I love being able to share in this moment with them."
Rhythm of The Day
With endless possibilities, there's never a dull moment at Guardian and no two days are the same. Here's what a day at Guardian might look like. Please note, this will vary depending on centre opening hours.
From 7:00am

Handover time with children, families and our friendly Educators. There's a chance to share what's important for the day and any news from home.

From 7:00am

Breakfast time where families are welcome to stay and enjoy breakfast with the children.

Morning

An opportunity to play and discover with open-plan play in family groups and multi-age groupings.

Morning

Planned experiences. This is where the Guardian difference comes to life. Alongside our Educators your child's exploration leads to learnings in numeracy, literacy, language, critical thinking, problem solving, leadership, social skills, technology, creative arts and much more.

Morning tea

An opportunity for children to come together for a healthy snack, often they help prepare their food alongside our carers and chef.

Mid-morning

Individually tailored to your child's needs and curiosity the planned experiences continue, this includes both indoor and outdoor programs.

Lunch

Another nutritious meal expertly prepared by our chef. Families are invited to join the children for meals and excursions if they wish.

Afternoon

If your child wants to, or needs to sleep, it's time to rest and recharge. For children who don't need to rest the planned experiences continue, in most cases outdoors.

Afternoon tea

Another chance for the children to come together and re-fuel in small groups or with siblings. There is also an opportunity to rest or play together and reflect on the day.

Pick-up

As you arrive to pick up your child, there's a chance to speak with our Educators and share news about the day. Our Storypark App also allows you to stay in touch 24/7 wherever you are.

End of day

Your child is encouraged to grab a light snack before they leave the centre. We're mindful of how routines vary, throughout the day if we notice your child looking tired food will be provided.
Helpful Information
Opening Hours
Open 7:00am to 6:00pm
Monday to Friday
Good to Know - What to Bring
What we Provide
Hats
Sunscreen
Five nutritionally balanced meals including: Breakfast, Lunch, Morning and Afternoon tea and a late Snack at the end of the day
Nappies
Bibs
Bedding
Formula - S26
What to Bring
Soft toy or comfort blanket for nap time
Spare change of clothing
Water bottle
Our Educators
Our team of Educators are committed and passionate about ensuring your child will be safe, nurtured and cared for every day. At Guardian, children are encouraged to engage in interest-led play that creates learning and meaningful experiences.
Our Educators seek to optimise diverse learning opportunities and implement the Curriculum as framed by the Early Years Learning Framework.
You and Your Child
All Guardian Centres provide a Centre-to-Family communication platform so families can maintain contact with their children's experiences through photos, stories and learning outcomes.
Our Centres use Storypark and each family is provided with a secure login to access on their computers, mobiles or apps.
More about Guardian Phillip Street
Guardian Childcare Phillip Street (formerly The Pavillion) is an early learning centre that services the Sydney CBD.  
Guardian Childcare & Education Phillip Street is located in the centre of Martin Place, less than 100 metres from Martin Place Train Station. We enjoy views of nearby Sydney Tower from our outdoor space, which is an open-air environment. 
Our smaller size means we offer a wonderful family atmosphere, and can create strong bonds with each and every child and their family. We aim to create an atmosphere that is warm and welcoming, where children receive the best quality care and education. We love seeing our children excited to return each day! 
We believe in fostering autonomy in the children, and allow them to choose activities that best suit their own unique interests. We aim to develop independent, capable young learners with a strong sense of enthusiasm and curiosity to explore the world around them. 
We love taking the children on exciting excursions in the local community, like boarding fire trucks at the local station or spotting dinosaurs at the Australian Museum. We also visit our local florist to collect fresh flowers each week. Back in our centre, the children love and care for our outdoor edible garden, and collecting items for use in their meals. 
Whether you are a new or existing family in our service, our educators will spend quality time with you to help build a strong level of trust, and to understand how we can best support the unique needs of your child. 
With seven incredible locations across the Sydney CBD, there's a Guardian Centre to suit your busy family lifestyle and location. Our Centres in Barangaroo, George Street, Bligh Street, Margaret Street, Phillip Street and two Market Street locations mean access the highest quality education and care for your child in close proximity to your workplace. Which means less rushing around and more time with your child. 
Guardian Phillip Street is conveniently located in the heart of the Sydney CBD and has a range of exciting, resource-rich environments including herb gardens, a spacious outdoor area, a dirt pit, and a range of age-specific studios where children are encouraged to explore and learn. 
Since opening, our team of Educators have been building relationships with the surrounding community and often take the children to visit local landmarks such as Hyde Park, the Botanical Gardens and Martin Place.  
Our on-site cook prepares four nutritionally balanced meals using seasonal ingredients every day. To further explore food at the Centre, our community-focused Educators host cooking classes for the children to get involved in to enhance their understanding of good nutrition.  
Our Preschool Program is delivered by teachers with specialist early childhood university degrees, with all the benefits of long day care flexibility for families. And we work closely with children and families to develop a sense of responsibility to care for the environment. 
Read this blog on the benefits of CBD based childcare to understand the many benefits in enrolling your child in a childcare and early learning centre close to your workplace. 
Book a tour today at Guardian Phillip Street – we can't wait to show you around. 
Reviews from Google

Highly recommend this centre. I was really satisfied with their services. Specially the teachers go out of their way to care for children. Thank you so much.

We are extremely happy with Guardian Phillip Street and are so happy we chose this centre for our daughter. The educators are calm, capable, creative and kind, and the range ... Read More

My son joined Phillip Street in early 2021 and in this time, we have come to love this small community. The team are dedicated about quality and consistency, which is ... Read More

Highly recommend Guardian Phillip Street. The centre's wonderful carers took the time to really get to know our daughter, her routine and her interests. Communication with parents is excellent. Lovely ... Read More

A first-rate childcare centre with attentive, professional and caring staff. Excellent food and facilities. Would recommend.

Outstanding child care in the heart of Sydney. The whole team are amazing!

The team at Phillip Street are outstanding and provide valuable learning experiences for my little one. Their school readiness program gets my little one so excited about maths - so ... Read More

I strongly recommend the service to any parents working in the city. The quality of care has been excellent and our son, albeit very young, seemed to enjoy every moment ... Read More

I have both a toddler and a preschooler at this school. The educators are all extremely kind to the children and my kids love exploring the city on their ... Read More

Our daughter has been here once a week between the ages of approximately 9 and 14 months. It's an amazing child care service - so much better than the one ... Read More

Our 14 month old daughter has been attending casually at the centre since she was 11 months old and despite not attending regularly, is always happy to attend and has ... Read More

Our daughter has been at this centre for over a year and absolutely loves attending each day. The range and quality of activities that the kids undertake is great and ... Read More

My daughter started at Phillip St when she was 11 months. The staff are wonderful. They are attentive and kind and provide her with many opportunities to try new things, ... Read More

Our son has been enrolled in the nursery since the start of this year (at 12 months) and I can't give enough praise for this centre and their carers! The ... Read More

Our son has been at Guardian Philip street since the start of 2020. We have been impressed at how quickly it became his second home and how easily he bonded ... Read More

Our daughter has been going to the centre when she was 3.5 years old, and it has been a wonderful experience for us.. She has shown improvements in speaking and ... Read More
Begin the Adventure at Guardian
To explore the centre, chat with our team of Educators and learn more about our high-quality curriculum, book a tour now.