Guardian Childcare and the Community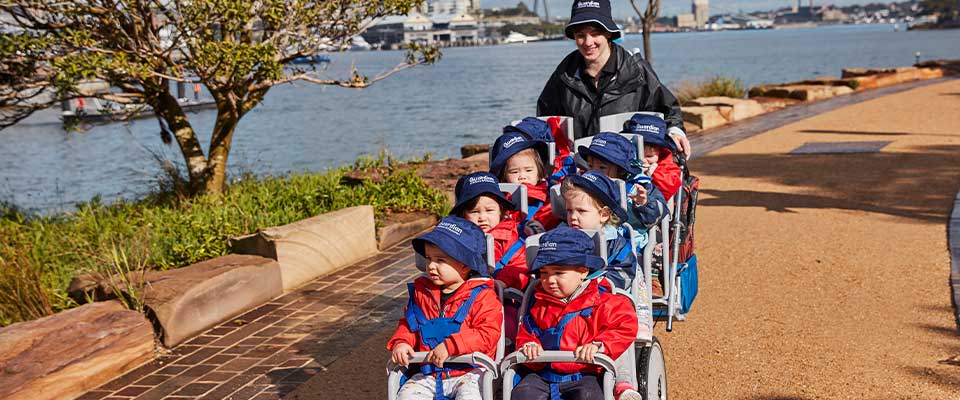 As the saying goes, "It takes a village to raise a child". That's why we're so passionate about connections, communication and being an active part of our local community at every Guardian Centre.
From excursions exploring the local area to celebrating a world of cultures in our Centres, our practices and programs focus on collaboration, diversity, uniqueness and experiences that open up a world of possibilities.
Each Centre is as unique as the children within it however creating community connections is something all Centres have in common. For example:
Excursions. Venturing out into the local area allows children to explore the world around them.
Visiting local amenities. The local library, primary school and art gallery provide opportunities for children to form their identities and feel a part of a community.
Hosting fundraising events. These provide rich and varied learning experiences that develop community-minded citizens.
Language lessons and cultural celebrations. Our Educators bring different skills, experiences and cultures to their roles, providing unique learning opportunities for the children in their care.
Communication is key
Collaborating with families ensures children's routines – such as nap times – remain consistent from home to Centre. We work closely with families, so whether your child is toilet training, learning to self-feed or beginning to write, we keep the consistency going.
We pride ourselves on the partnership between our Centres, Educators and families. So, to help families stay connected to what is happening in the Centre, we use a powerful communication app called StoryPark.
This secure and private app allows Educators to post updates on your child's day, complete with photos and videos that share learning and development stories and communicate important news to you, in real time.
Our close partnership with families also allows us to offer a range of additional benefits to the learning and childcare experience for the children in our Centres.
We pride ourselves on the support we offer families and want to help make it a little easier to balance all those daily commitments through initiatives such as:
Designated drop off and pick up zones to assist with those busy mornings and afternoons.
Casual care days where possible to help you manage the unpredictable nature of work life and home life.
Assisting you with government subsidies and entitlements to help you make the most of the financial support which may be available.
Family communication via StoryPark to keep you informed throughout the day with photos, videos and updates about your child.
Providing your child with unexpected benefits such as exposure to a range of cultures and languages via our diverse and multi-cultural educator mix.
We value input from our families into the learning programs we prepare, and we want families to share their ideas, skills, talents and resources with us. That's why our Teachers and Educators love to have a chat during pick-up and drop-off times, and will communicate with you regularly via StoryPark emails, newsletters and noticeboards.
What Learning Looks Like
at Different Ages
Looking for the right Childcare Centre for your Family?
Submit your details and a member of our Concierge Team will be in touch to discuss what you need and how we can help you experience something more than childcare.

We'll be in touch soon.