The New Child Care Subsidy (CCS): What You Need to Know
Home » For Families » The New Child Care Subsidy (CCS): What You Need to Know
As you may already know, from 2 July 2018, the new Child Care Subsidy (CCS) system will come into effect. This will replace the current Child Care Benefit (CCB) and Child Care Rebate (CCR) arrangement and makes it easier for families to access childcare. To help Australian families, the government is injecting another $600 million a year to make childcare more affordable, accessible and flexible.
In good news, many families will see their out of pocket childcare fees fall between $20 – $30 per week under this new system.
All families will need to register for CCS before 2 July to ensure their subsidy is in place when the new system begins.
Calculating your CCS
Your CCS will be calculated using three components: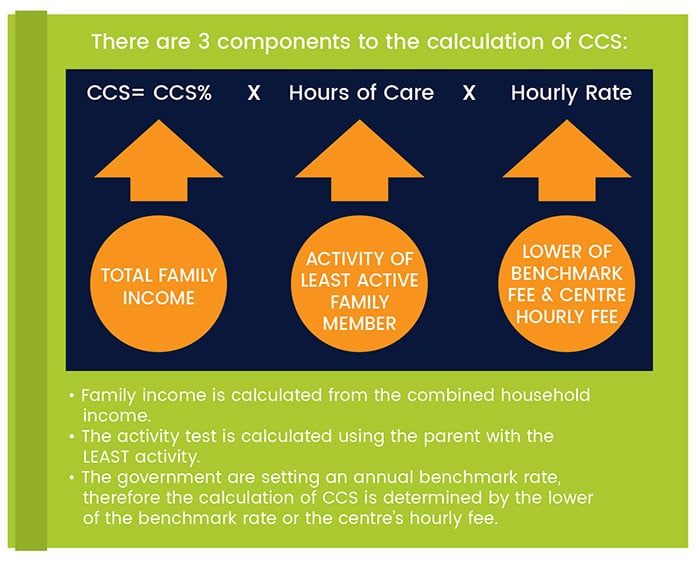 Combined family income
Your family's combined income will calculate the CCS percentage you're entitled to.
Remember, you will need to contact Centrelink when your combined income increases or decreases.
| Family income | CCS % |
| --- | --- |
| $66,958 | 85% |
| $66,958 – $171, 958 | Subsidy reduces 1% for every $3,000 over $66,958 |
| $171,958 – $251,248 | 50% |
| $251,248 – $341,248 | Subsidy reduces 1% for every $3,000 over $251,248 |
| $341,248 – $351,248 | 20% |
| $351,248+ | Nil |
These tax brackets will be adjusted as per CPI every financial year.
Level of activity
CCS is linked to how much a family contributes to the Australian economy through activity. This activity level is calculated from the parent with the lowest number of hours of activity.
| Hours of activity (per fortnight) | Maximum number of hours of subsidy (per fortnight) |
| --- | --- |
| 8 hours to 16 hours | 36 hours |
| 16 hours to 48 hours | 72 hours |
| More than 48 hours | 100 hours |

What does 'activity' mean?
Activity is defined as:
Paid work, training and volunteering
Paid and unpaid leave, including parental leave
Casual/irregular hours of paid work (estimated over a three-month period using the week with the most number of hours worked)
Activity includes lunch hours and travel to and from the activity to childcare (up to an hour each way)
To help families increase their hours of activity, families can volunteer at their Guardian centre – see your Centre Manager for more details.
Families earning less than $64,710 are exempt from activity tests for up to 24 hours care per fortnight.
The new caps
The current cap of $7,500 per child has been updated depending on your family's combined income.
Families earning less than $186,958 = no cap
Families earning $186,958 to $351,248 = $10,190 cap
Families earning over $351,248 are not eligible for CCS
Note: the government will be holding back 5% of CCS paid to families until reconciliation at the end of every financial year. This balance will be paid back to families in their tax return if they are eligible.
What you need to do now
Questions or Concerns?
Please talk to your Centre Manager who will be able to assist you with any questions or concerns you may have.
Visit the government's website on the new system here.