Spotlight on Maroubra West: Building a strong team culture where everyone has a voice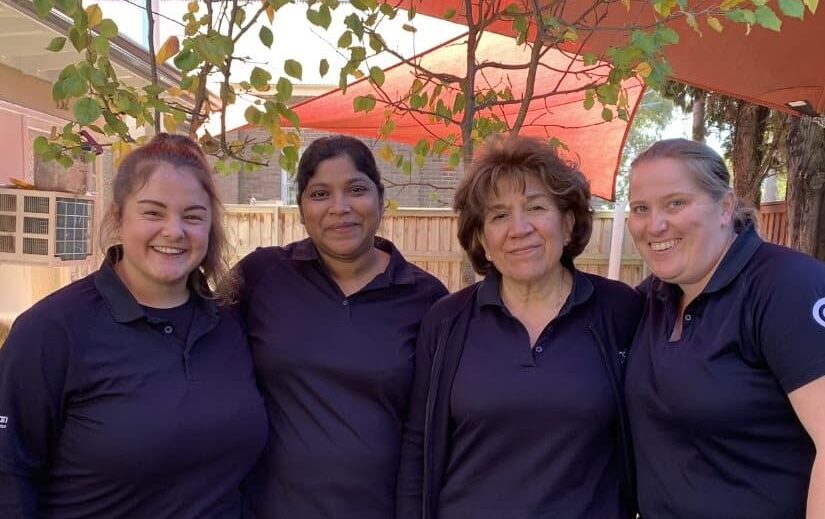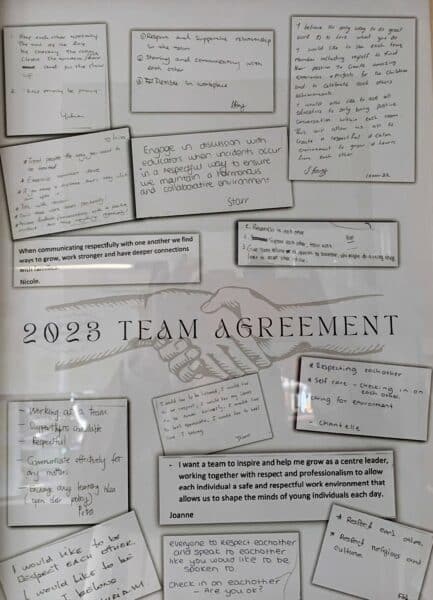 Our Maroubra West centre in Sydney has a terrific group of Educators and Teachers under its roof. In fact, ask any of them their Centre's biggest strength and they'll tell you without hesitation, 'It's our team!"
Led by a highly passionate Centre Manager Joanne (who attended the Centre as a child!) the team decided to initiate a new project to help drive a positive team culture, the 'Team Agreement Wall'.
Choosing a culture-building initiative together
Demonstrating inclusivity and a respect for individual opinions, each team member took part in coming up with an initiative that would support a strong, trusting team culture. Also up for discussion was how it would be used, with everyone's input welcomed.
The team agreed on a concept for a Team Agreement Wall. On the Wall, easily visible and accessible in the team room, team members post messages about what they find most important in their workplace. Themes include the importance of communicating, treating each other with respect, supporting each other to develop their skills and caring for the environment in which they all work.
Joanne says they came up with the idea after realising team members needed some new energy and ideas to grow their team bond. "We wanted the team to reignite their passion again and become more close-knit; the Team Agreement Wall is a piece to ensure each of our Educators – including all newcomers – had a voice and it was heard and respected. I wanted my team to love it here as much as I do."
Supporting the Team to feel valued each day
Messages posted on the Team Agreement Wall have helped the team to discover that everyone works at Maroubra West for the same reasons, and, in fact, they share very similar values. This understanding has enabled the team to look at each other in a different light and strive to ensure each value is respected in their interactions each day.
At each team meeting, the team check-in with each other to ensure the Agreement Wall is being followed and to invite any new suggestions too. The Agreements on the wall represent everyone in the team; it genuinely reflects a piece of each person.
It is also beneficial for new team members, as they get a solid indication of what to expect from the team culture on their very first day – they too are invited to add a note to the Team Agreement Wall. In fact, potential new candidates for the Centre are often taken into the team room and given the opportunity to read the Team Agreement, then asked if their values align with those held by the Centre.
Joanne says this has been an initiative that new starters have responded to positively, and enthusiastically. One new Educator said she felt really comfortable joining the team at Maroubra West, because the openly visible values of each of her colleagues helped her get a sense of what her new team members and the Centre would be like.
How has the Team Agreement Wall affected the culture?
"We have definitely grown closer; the Team Agreement has added so much value and a sense of belonging for each member of our team. It makes us all feel supported like a family – and we are all about being a family community! We look forward to continuing to grow together as a close and respected team – where everyone has a voice," says Joanne.
Are you looking to take the next step in your career? Would you like to join a larger organisation that provides amazing professional development opportunities and great benefits?
If joining our Guardian family as a Trainee, Educator, Teacher or as part of a Centre Leadership Team sounds good to you, we'd love to speak with you!
Get in touch with our Talent team: [email protected] or 1300 765 560 to have a chat.
Current opportunities across the Guardian network can be found here.
Looking for the right Childcare Centre for your Family?
Submit your details and a member of our Concierge Team will be in touch to discuss what you need and how we can help you experience something more than childcare.

We'll be in touch soon.
You May Also Want to Read This