Guardian Childcare & Education Sydenham
Rated from Google 
Leading programs where children aged six-weeks to six years learn and discover through play.
Highly experienced Educators and degree-qualified Teachers support children to grow and thrive.
Safe, secure environments that support children's social and emotional development.
A specialist two-year kindergarten program that prepares children for school, with the benefits of long day care.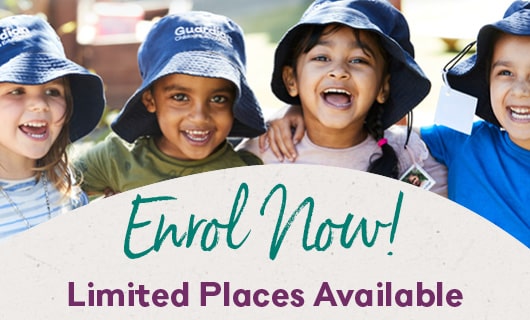 Hours
Mon to Fri 6:30 to 18:30
Address
354 Sydenham Road
Sydenham, VIC, 3037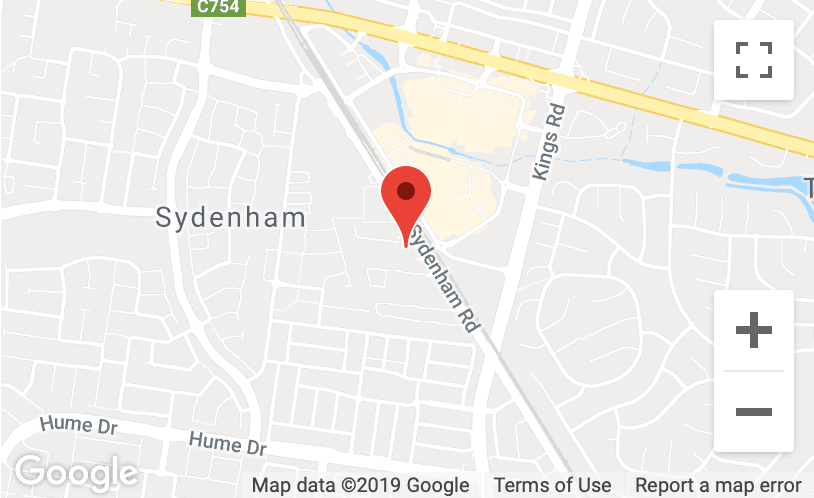 Take a Look Around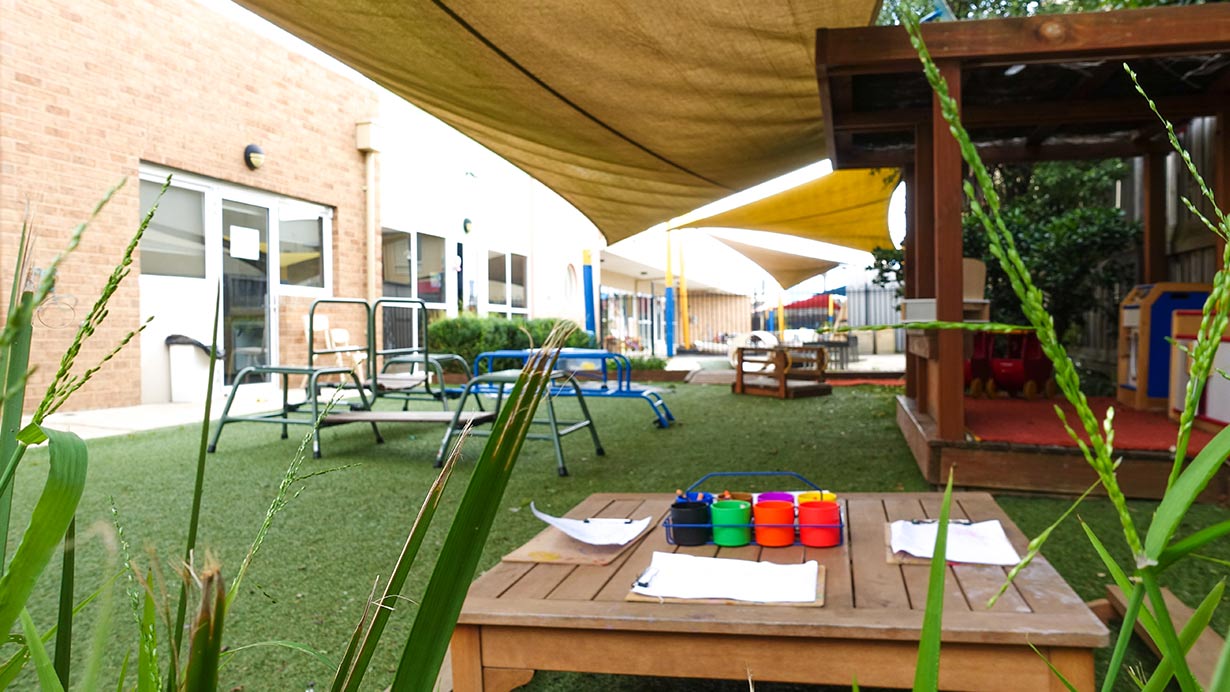 Welcome to our Centre
Guardian Childcare & Education Sydenham provides an incredible learning environment and leading curriculum that promotes holistic development for children across all areas, through our focus on intentional and spontaneous learning.
Spacious well thought-out indoor spaces
Expansive yards with natural play structures for the children to explore
A dedicated dining space for the children to come together to share a meal
An 'Invention Room' for all age groups to explore, problem solve and create
Gardening spaces to promote awareness of caring for our environment
A well-stocked Centre Library
Vacation Care Program for children aged 5-12
Modern resources, and a range of age-specific studios and workshops.
Read More
Meet our Centre Manager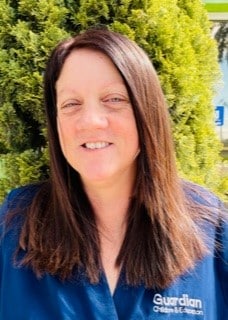 Cary Ferraro
"At Sydenham we role model positive relationships with children and families by being supportive, approachable and acknowledging everyone as individuals."
Rhythm of The Day
With endless possibilities, there's never a dull moment at Guardian and no two days are the same. Here's what a day at Guardian might look like. Please note, this will vary depending on centre opening hours.
From 6:30am

Handover time with children, families and our friendly Educators. There's a chance to share what's important for the day and any news from home.

From 6:30am

Breakfast time where families are welcome to stay and enjoy breakfast with the children.

Morning

An opportunity to play and discover with open-plan play in family groups and multi-age groupings.

Morning

Planned experiences. This is where the Guardian difference comes to life. Alongside our Educators your child's exploration leads to learnings in numeracy, literacy, language, critical thinking, problem solving, leadership, social skills, technology, creative arts and much more.

Morning tea

An opportunity for children to come together for a healthy snack, often they help prepare their food alongside our carers and chef.

Mid-morning

Individually tailored to your child's needs and curiosity the planned experiences continue, this includes both indoor and outdoor programs.

Lunch

Another nutritious meal expertly prepared by our chef. Families are invited to join the children for meals and excursions if they wish.

Afternoon

If your child wants to, or needs to sleep, it's time to rest and recharge. For children who don't need to rest the planned experiences continue, in most cases outdoors.

Afternoon tea

Another chance for the children to come together and re-fuel in small groups. There is also an opportunity to rest or play together and reflect on the day.

Pick-up

As you arrive to pick up your child, there's a chance to speak with our Educators and share news about the day. Our Storypark App also allows you to stay in touch 24/7 wherever you are.

End of day

Your child is encouraged to grab a light snack as they leave the centre. We're mindful of how routines vary, throughout the day if we notice your child looking tired food will be provided.
Helpful Information
Opening Hours
Open 6:30am to 6:30pm
Monday to Friday
Good to Know - What to Bring
What we Provide
Sunscreen
Five nutritionally balanced meals including: Breakfast, Lunch, Morning and Afternoon tea and a late Snack at the end of the day
Nappies
Bibs
Bedding
What to Bring
Hats
Formula and bottles
Soft toy or comfort blanket for nap time
Spare change of clothing
Water bottle
Our Educators
Our team of Educators are committed and passionate about ensuring your child will be safe, nurtured and cared for every day. At Guardian, children are encouraged to engage in interest-led play that creates learning and meaningful experiences.
Our Educators seek to optimise diverse learning opportunities and implement the Curriculum as framed by the Early Years Learning Framework.
You and Your Child
All Guardian Centres provide a Centre-to-Family communication platform so families can maintain contact with their children's experiences through photos, stories and learning outcomes.
Our Centres use Storypark and each family is provided with a secure login to access on their computers, mobiles or apps.
More about Guardian Sydenham
At Guardian Childcare & Education Sydenham your child will enjoy their day in a purpose built conveniently located centre. We want you to feel familiar with our centre and that's why we offer personal tours and have an orientation program before you commence care. Guardian Childcare & Education Sydenham also offers your child a special program with guest speakers who visit the centre. Your child will love learning in our stimulating environment and will get lots of positive reinforcement and encouragement. 
Our early learning centre at Sydenham acknowledges, celebrates and incorporates the diverse cultures of the people within our community and we recognise, appreciate and value the knowledge and commitment of our educators and support their continuing professional development. We offer our children extra-curricular activities at the Centre such as Jump for Joy and Sports for Kinders.Your child will love their day at Guardian Childcare & Education Sydenham with our friendly and passionate team of educators. We have high educator to child ratios allowing educators and families to work together to ensure a happy and productive time whilst children are in our care. 
Our educators take the time to provide families with up-to-date information on their child´s day and development progress. Our educators are selected for their qualifications and expertise in the early childhood field and we pride ourselves on the quality of our care and the warm and secure learning environment we provide. 
Your child's learning and development will benefit greatly from the interaction with educators and other children at the centre. We make sure that our curriculum and school readiness program fits within the Commonwealth Government's Early Years Learning Framework and National Quality Standards. 
We cater our services at the centre to make life easier for our busy families. We provide nutritionally balanced meals prepared by our own chef in our centre kitchen. We also provide necessities such as nappies, sunscreen and bedding for nap times. 
The first five years of your child's life are incredibly important when it comes to social and emotional development, and setting them up with a love of learning that lasts a lifetime. That's why at Guardian we're focused on teaching children how to learn versus just ticking a box.   
Our world-class curriculum is delivered by qualified teachers through exciting and engaging play-based experiences, including a leading Preschool Program for our older children. We combine this with the highest quality care, and communicate it all back to you so you can see how your child is growing and developing every day.     
Our Centres inspire curiosity, foster creativity and support discovery with a variety of sensory-rich and sustainable spaces designed for early learning that encourage your child to think, question and do amazing things. All of the classrooms and outdoor areas are filled with the best natural, open-ended materials to inspire your child to be brave, curios and imaginative in their learning. 
Guardian Childcare Sydenham is an early learning centre that services a number of local areas, including: Leichhardt, Caterbury, Randwick, Waverley, Woollahra and Rockdale. 
Reviews from Google

K

karamjeet kaur sahota



I am so grateful to guardian Sydenham .Jayan love his teachers Karen and arron they are so helpful and professional .they always provide the updates regarding jayan progress ... Read More

Staff are wonderful and my 10 month old son adores them. I love getting daily posts in their storypark app that lets me see photos of all the activities he ... Read More

My daughter started in the blue room at the centre about 4 months ago, and had a lot of trouble settling in. The staff are so nurturing, understanding and kind ... Read More

Excellent centre, lovely admin staff and great carers. We feel completely comfortable leaving our little one here and she absolutely loves going in to the genuinely nurturing environment. Our ... Read More

Our little one goes to Kinder here and we couldn't be happier. Amazing centre! clean and spacious. Every staff member is caring and courteous. Special mention for Karen, the kinder ... Read More

When choosing a childcare centre both myself and my husband were really drawn to this centre and I guess energy and the vibe we got didn't do us wrong in ... Read More

I am so grateful for the care, love and understanding that the entire team at Guardian Sydenham has shown towards my daughters. Kristy & her team @ Pink room has been ... Read More

Kristy and the rest of pink room have been amazing with my daughter. She has had so many ups and downs, but the girls really know how to acknowledge what ... Read More

We honestly love this centre! I have been sending both kids since they were 6months old and it's been close to 4 years, so I can defiantly say we have ... Read More

Facilities are fantastic. Staff are friendly and and the activities they do with the kids are engaging and educational. Keep up the great work!

Great management, professional in dealing with kids, very friendly and honest re performance and improvement of your kid. Karen and her team in the orange room are amazing and have a ... Read More

As a first time mom, I felt guilty enrolling my then 4 months old son in a childcare so that I can come back to work. Looking back, I realized ... Read More

We are lucky to discover this amazing child care close to our home. The centre is spacious and well designed with plenty of resources for kids. It is extremely well ... Read More

My son is currently in Pink room. The team are wonderful with my son and he asks each morning if he is going to see them that day. Drop off with Kristy/ ... Read More

My son has been attending this Centre since he was in baby room but he has really started to grow in the orange room. Karen has always been caring and ... Read More

Such an amazing place, my son enjoys learning while playing. He learnt and developed so much this year in Kinder/ Orange Room thanks to the wonderful educators who are so ... Read More

My son at the end of last year changed centres and he was settled in really well by the educator Karen, she really helped him make friends and feel included. ... Read More

Both my daughters love to come here. Karen, Amrit and Aaron welcome my children with respect, love and a big smile on their faces everyday.

What a fabulous group of caring educators in the entire centre but specifically in the orange room, my son Lennox has been attending this centre since he was 11 months ... Read More

The staff at the centre provide engaging and relevant experiences for all the children, while fostering caring relationships.

The educators at sydenham road are loving, caring and very friendly I have sent both my children to this centre, and the staff in the aqua room and babies room ... Read More

Our son has now been attending the centre for over a year and we couldn't be happier. In the PINK room currently with Sarah, Kristy and Co. He has the ... Read More

Our son started off in the Nursery Room last year and we couldn't be more happier! The educators are amazing and the growth we have seen since he started ... Read More

My son loves going to this centre. He looks forward to seeing his educators and friends every week. He has a bond with his educators and I always feel confident ... Read More

This childcare centre is hands down best of the best! All the educators take their time with each child and treat the children as their own. My son loves going ... Read More

Words cannot explain how grateful I am for the educators at Guardian Sydenham! I was apprehensive at first leaving my (first) son at 6 months of age but the educators in ... Read More

H

Hazelle Joanne Tria



This childcare centre is fantastic! My 2 daughters have been in this centre for about a year now and they are learning a lot and thriving. I highly commend the ... Read More

My baby is attending this childcare from last 8 months and experience has been brilliant so far! This center is very big with plenty of space for children. They also ... Read More

My daughter has started this centre as the last one had closed down, The centre is very nice and big with beautiful different classrooms and activities for children to do. ... Read More

My daughter loves it here, I have nothing bad to say. Lovely And helpful staff, everyone is so involved and organised. Would highly recommend the babies room for any mum ... Read More

So far it has been an amazing experience for us parents and my 2 year old son. The staff are all very friendly and approachable from the front desk to ... Read More

Staff is really amazing. Very caring very keen towards their job. My baby love them and really don't wanna come home. Feeling bit sad.

No matter when I picked my child up, the facility was always extremely clean and tidy and the staff always greeted me by name. My daughter loved going to the ... Read More

Great Centre! Clean, friendly, lots of activities for all the age range! Lauren, Danii, and the rest of the staff do a great job! (and the Chef is awesome too!)

My daughter has so much fun whilst she's at the centre. She eats food that she normally doesn't eat at home and is loved immensely by all the carers. ... Read More

My children have recently begun attending Sydenham Rd ELC and they haved settled in very quickly and love it here. The educators are wonderful with the children and have helped ... Read More

This is the best child care centre in the west! Very organised and friendly staff. Love the way they communicate and keep me in the loop with what's going in. ... Read More

Enrolling my second child this year... Yes, my son has come home with a few bruises here and there that were unexplained but there are times even I can't figure ... Read More

Mostly friendly staff. Good location. Most carers there I believe are good with children. Online updates of the activities each day. Reasonable pricing.

Good childcare since management changed! New childcare workers who provides care needed for the kids.

Our kids went to this center. They thoroughly enjoyed themselves.
Begin the Adventure at Guardian
To explore the centre, chat with our team of Educators and learn more about our high-quality curriculum, book a tour now.