Indoor Play: Why Resources at your Childcare Centre are Important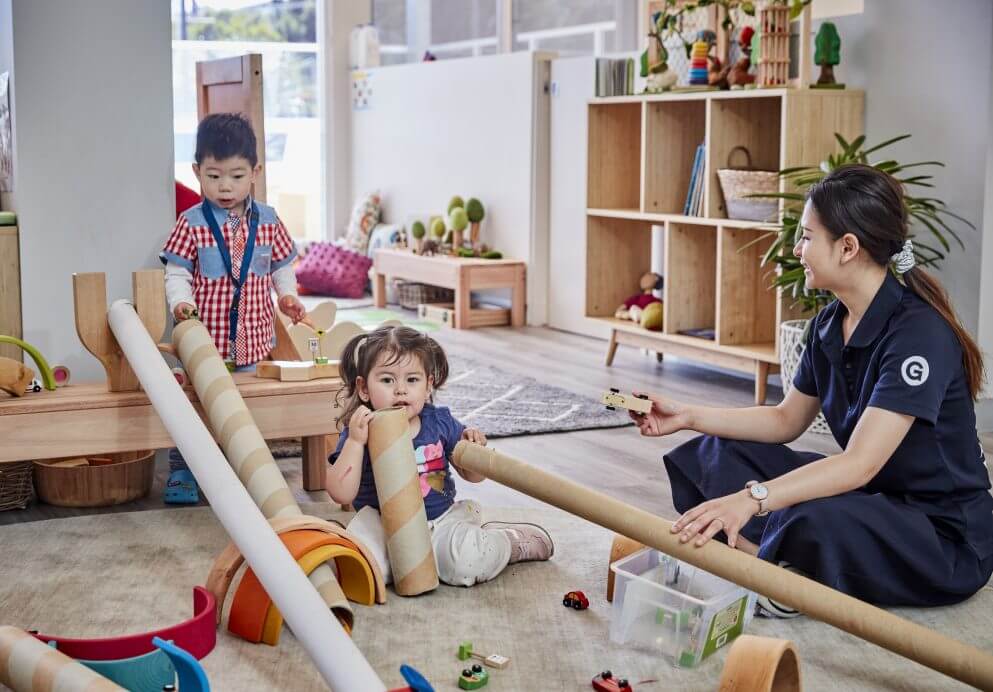 The environment – and all things within it – play a huge role in learning outcomes for children. That's why we recently invested millions in incredible new resources for our 120+ centres across the country.
Carefully curated environments inspire children to engage and encourage them to curiously explore and make the space their own. The way resources are presented is key, as is what is on offer – both indoors and outdoors. Age-appropriate, open-ended resources that are placed to be accessible to the children will make for stimulating discussion and interactive play.
So, as a parent, what sort of resources and environments should you look for when choosing a Childcare Centre for your child?
Inspiring Environments
Different environments and settings should be set up with different purposes in mind. For example, Guardian Croydon Park is opening in early 2021 and we've done substantial work to ensure we have incredible and inspiring areas for the children to explore, learn and feel safe.
Q

uiet areas

 such as a little nook 

where a child can feel hidden – but is still vi

si

ble 

to 

a 

t

eacher or 

e

ducator

 

–

 

are great ways to encourage children to engage with books

, or to have a bit of downtime if they need. 

Light

 

inst

a

llations 

give children 

the chance 

to 

play with shadows

, which 

sparks curiosity

 and

 encourages 

creativity, persistence

 and 

problem-solving –

and

 facilitates learning through 

connecting a child with their environment

. 

Dress

–

up areas encourage role 

playing

; something

 that

 i

s 

critical in understanding relationships and how 

people 

interact with the world around them. 

There are so many 

ways to inspire children, all through the environments we provide them

 and the resources within."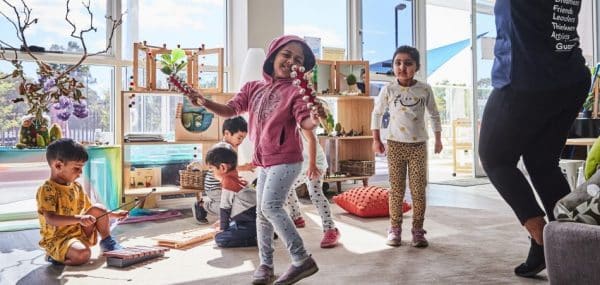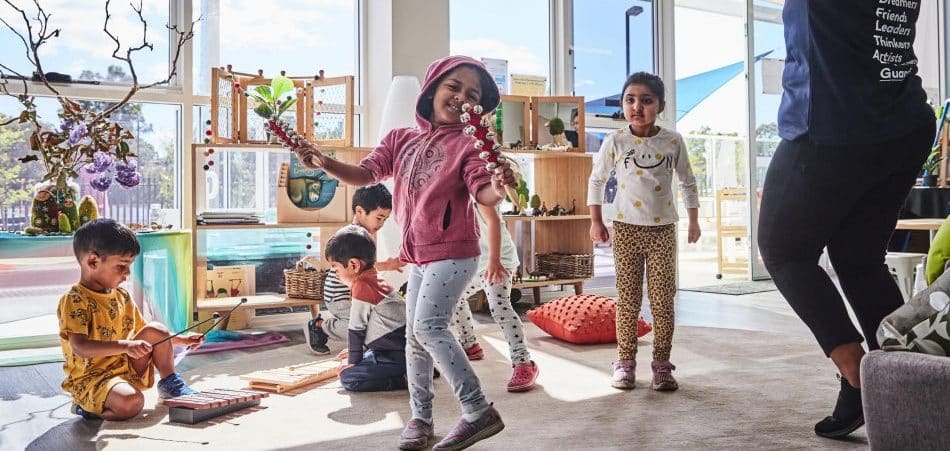 Nursery Areas
This environment should be calming to encourage your baby to sleep. They should be places where your child feels a sense of safety and relaxation. While it may initially be a foreign environment as a sleeping space, your child will soon get used to it and be comforted if the space is a nurturing, calm and familiar.
Arts Spaces
Any parent will know that art experiences, while engaging for children, can be messy to host at home! So, what better place to have this on offer than at childcare? All the fun for them with none of the mess for you!   
In our Centres we have sun-soaked art rooms that the children love, and the parents always comment on during tours. An space with different objects or art experiences on offer really sparks the creativity in children, as they can let their imaginations run wild. Using resources such as paintbrushes and scissors helps build a child's motor skills, and having these accessible in a safe and managed way is important in their development and independence.
Open-Ended Resources
Children love loose parts play – from blocks to cardboard rolls. These kinds of resources help children to create and imagine. A child may even begin to think outside the box, by using certain objects in a way they were not originally intended, such as stacking stuffed toys or counting blocks made for stacking.
When a child is using open-ended resources, they are free to use their creativity and imagination. There is no right or wrong way, and no set endpoint to the play. A set of wooden blocks is a good example: One moment it's a pirate ship sailing the high seas; the next moment a maze or puzzle to be solved. Open-ended resources inspire curiosity and support discovery – the building blocks for successful lifelong learning!
You might also enjoy our piece on Outdoor Play and the resources you should look for at your Childcare Centre.
Looking for the right Childcare Centre for your Family?
Submit your details and a member of our Concierge Team will be in touch to discuss what you need and how we can help you experience something more than childcare.

We'll be in touch soon.