Tips for Choosing the Best Childcare for Your Child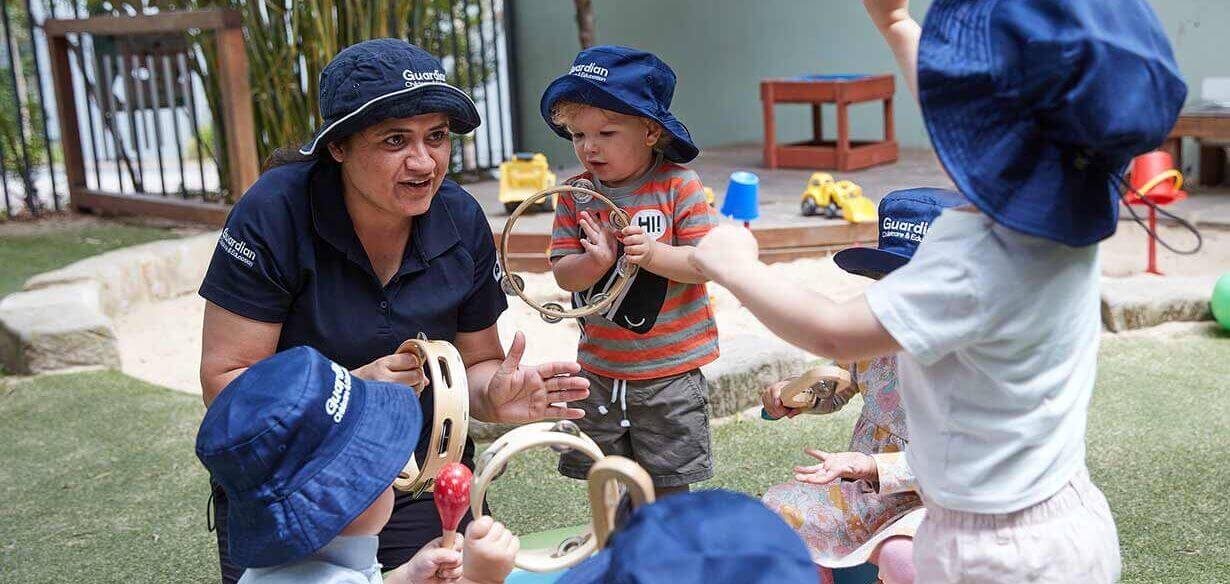 Good Communication
If you're starting your research online, look for Centres that have considered you as a parent by providing what you need to know on their website. Opening times, key activities and programs, as well as testimonials and advice. This shows that the Centre is vested in their families and want their interactions with you to be positive.
At Guardian we have worked hard to create a website that is a resource for parents, so we can stay connected with our families. We post regular blogs with tips, advice and news. During COVID, we  developed The Learning Exchange to help families juggling children and working from home by curating wonderful online learning experiences. This resource continues to be used by families on their non-childcare days.
With so much happening in young children's lives, communication is critical for a smooth and successful relationship with your childcare Centre. And it's reassuring knowing those looking after your child understand your routine. We work closely with families – so whether your child is toilet training, learning to self-feed or beginning to write – we keep the routine going. When touring a Centre, we encourage families to talk to Educators and the Centre Manager to see how they accommodate and support children's routines. Here are some ideas on good questions to ask.
We use a family communication app called StoryPark to help keep the lines of communication open with families both inside and outside Centre hours. This is a secure and private app that allows Educators to post updates on a child's day, complete with photos and videos that share learning and development stories and communicate important news to you, in real time.  It's a good idea to look for something like StoryPark being used in the Centre, as it helps you feel more connected with your child and their experiences during the day.
Inspiring Environments and Resources
It's important that a Centre offers different environments and settings with different purposes – because not all children like the same things. Some children are more social, some are explorers, and others love role play. So the environments within the Centre should cater for every child, allowing them to find inspiration and learn through play.
Look for quiet areas, such as a little nook where a child can feel hidden – but is still visible to a Teacher or Educator. This is a great way to encourage children to engage with books, or to have a bit of downtime if they need.
Light installations give children the chance to play with shadows, which sparks curiosity and encourages creativity, persistence and problem-solving. Dress-up areas encourage role playing; something that is critical in understanding relationships and how people interact with the world around them. There are so many ways to inspire children through the environments and the resources within.
Outdoor spaces are also important – but big isn't always better. It's more about what's been provided to create opportunities such as being able to climb, dig in a sand pit, play with water or work in a garden. All these activities support a child's physical development and encourage ways in which children can socialise. Socialisation is key in developing children's ability to work with others, problem-solve, and have fun through imaginative play.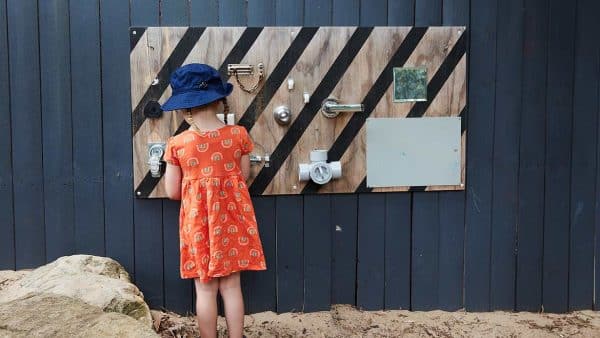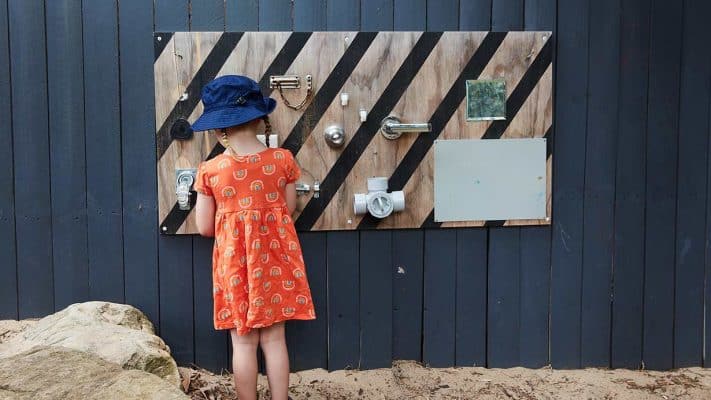 A Focus on Learning
Childcare is not babysitting. Children learn at all ages and the best childcare Centres will encourage your child's development. Ask questions about the Centre's cirruculum and the programs and experiences that they offer.
Our approach to learning is about more than 123s and ABCs. We nurture children's natural desire to learn through our world-class curriculum, based on contemporary early childhood thinking and research. We teach through real-word settings and scenarios through play.
To see how a Centre approaches teaching, look at things like the artwork on the walls, or the projects the children have worked on. A visit to the zoo may be represented in drawings or paintings of animals, or story books or play environments that focus on some of the exotic animals. This shows how the Centre has incorporated learning into fun experiences for the children in an engaging and thoughtful way.
Look for Centres that embrace activities like yoga, languages and excursions into the local park or shops. These are all ways in which children can learn about wellbeing and gain an understanding of the world around them. By engaging children and sparking their interest you can see them learning before your very eyes.
Sustainability Practices
If community and sustainability are important to you, make sure the childcare Centre you're choosing also upholds these values.
Sustainability is important to many Australian families, as they know teaching children today will help shape a better future. Look to see if the Centre is using recycled materials, teaches the children to reduce waste, and does things like composting in the garden.
We love the saying, 'It takes a village to raise a child'. That's why we're so passionate about connections, communication and being an active part of our local community. From excursions exploring the local area to celebrating a world of cultures, look at how the Centre addresses diversity and cultivates experiences that open up a world of possibilities for your child.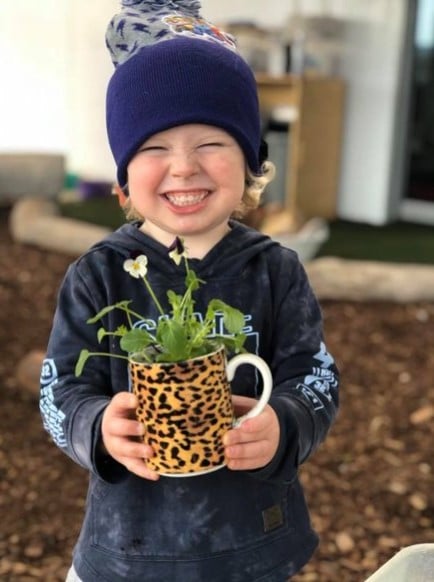 Nutrition and Wellbeing
Educating children about healthy eating and wellbeing is an important part of early childhood development and a key building block in shaping their attitudes to food for life. Children will role model adult approaches to food, so ask how the Centre approaches mealtimes. Make sure they replicate your values of nutritious, fresh food and hared mealtimes.
We have dedicated cooks and chefs at many of our Centres who prepare nutritionally balanced meals each day. While many Centres offer something similar, what stands out is the key educational role our cooks play by interacting with our children. In our kitchens we teach children about what's in their food and how to create it themselves.
We also have vegetable and herb gardens where the children collect ingredients to add to their meals. This creates genuine real-world learning opportunities. It teaches children about where food comes from, how vegetables grow, how to harvest them and how to enjoy them. So look for a veggie garden in the Centre you're considering, and ask about their menu because it is such an important part of a child's development.
As parents we often give ourselves a hard time when it comes to making decisions for our children, but when you have the best interests of your child at heart you can't go wrong. Trust your instincts and you'll certainly choose the right childcare Centre for your child and family.
More tips for choosing the right childcare Centre for your child.
Looking for the right Childcare Centre for your Family?
Submit your details and a member of our Concierge Team will be in touch to discuss what you need and how we can help you experience something more than childcare.

We'll be in touch soon.