Meet Hailey – Assistant Centre Manager at Augustine Heights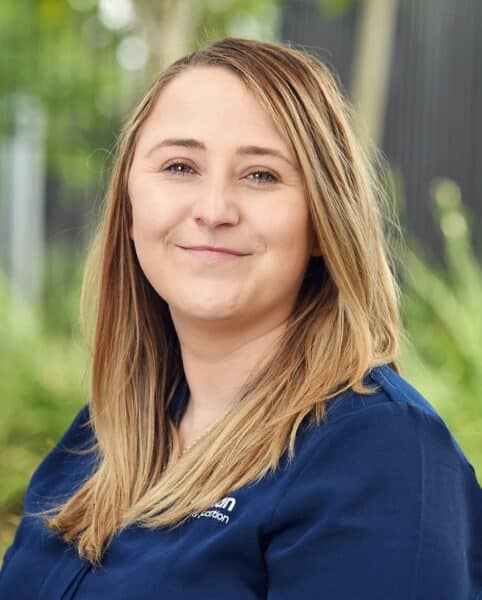 We love sharing insights into different career paths here at Guardian.
Meet Hailey, Assistant Centre Manager (ACM) at our Augustine Heights Centre! Hear about her career so far, and the support she has found most valuable during her journey.
How long have you been working in early childhood education?
I have been in the industry for 15 years and the early education sector for 10 years now! I have predominantly worked in the Kindergarten/Preschool space as an Early Childhood Teacher but also spent 2.5 years in the Nursery space.
Why did you choose Guardian Childcare & Education?
I had several friends already working at Guardian. The choice was easy to make for several reasons; I felt that the benefits on offer were above what I was seeing offered at other organisations and I really felt that my degree/profession was valued at Guardian!
The Kindergarten/Preschool room I went into was so well-resourced. I also really liked that it was a large company, and I could see opportunities to grow.
A friend that had started as an Educator had then moved up to a Lead position and then stepped up to become an ACM (She is now a Centre Manager). I also started at our Springfield centre and loved the Nature Walks from a kindy perspective, it really pushed me over the line when I was making my decision.
Who has helped you on your career journey?
I have had so much help and guidance since starting at Guardian. Support has been second to none. My Centre Manager has always advocated for me and encouraged me when applying for new roles or with challenges I have come across professionally. She also offers constructive feedback and goal setting as I move forward within my roles which keeps me striving!
I am lucky that through the ACM meetings (which are so helpful and beneficial) I have created relationships across the Guardian network with other ACM's; this has been super helpful as I find my feet in this leadership role, and we are constantly helping and learning from each other.
I am a part of our Teacher Meetings, and our Curriculum Mentor has been so supportive and insightful, teaching me new pedagogies and ways of doing things.
What support has Guardian given?
Huge support has come through the ACM meetings, Teacher meetings, Educational Leader meetings, having direct contact with both Teacher Mentors and Curriculum Mentors. Having a greatly supportive Centre Manager has probably been the biggest support in my career and I have never been so happy in a professional setting (I've always had positive experiences but my current workplace is a very positive and supportive place!).
Guardian is also really supportive with work/life balance.
What has been your most proud moment?
Graduating with my Bachelor of Education; as well, I have previously won four teaching awards and nominated for an Australian Wide Teaching Award.
Within Guardian, it would be how far we have come as a Centre here at Augustine Heights and winning an Award during Mindset Month!
We are always on the look-out for future leaders! Are you looking to take the next step in your career? Would you like to join a larger organisation that provides amazing professional development opportunities and great benefits?
If joining our Guardian family as an Educator, Teacher or as part of a Centre Leadership Team sounds good to you, we'd love to speak with you!
Get in touch with our Talent team: [email protected] or 1300 765 560
Current opportunities across the Guardian network can be found here.
Looking for the right Childcare Centre for your Family?
Submit your details and a member of our Concierge Team will be in touch to discuss what you need and how we can help you experience something more than childcare.

We'll be in touch soon.