Teething baby? We've got you covered.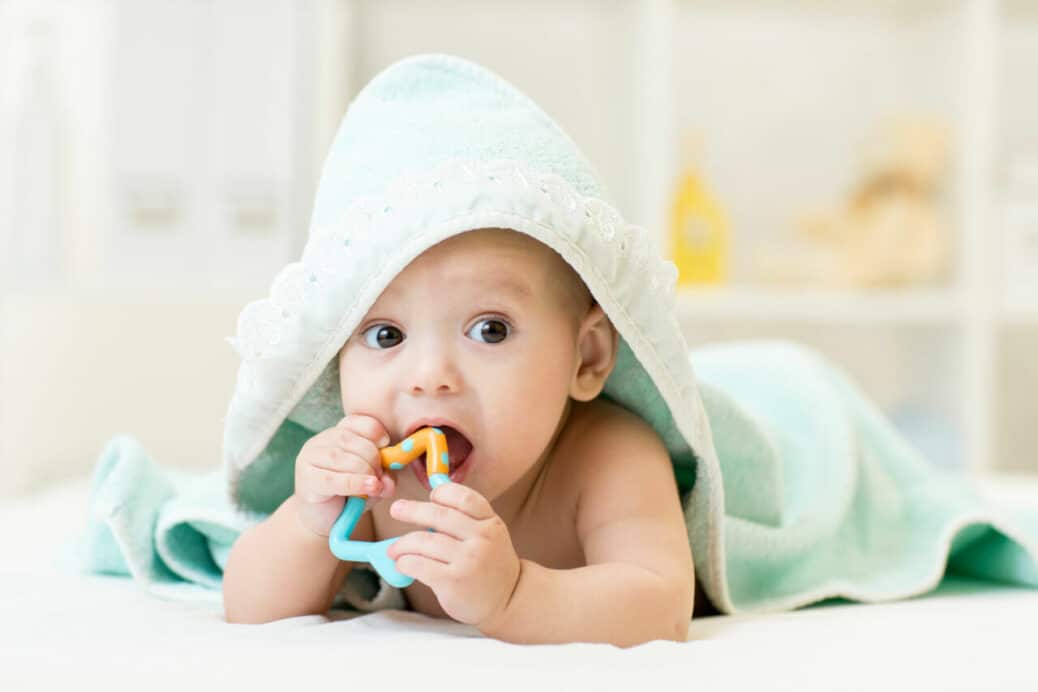 It's likely that your baby will get their first tooth at some point in their first year. Some babies have no pain, but many will let their teething discomfort be known. It can be a challenging time with lack of sleep and a change in temperament as they go through this milestone, but we've got some tips to help soothe those painful gums.
Teething rings – these often work best if put in the fridge beforehand, so they offer cool relief for your baby to gnaw on. It also acts as a good distraction from the pain.
Teething gel designed for young children can offer some relief by numbing the gums and relieving the discomfort
Chewing on pieces of healthy food may also provide relief for babies over six months old. You could try a bread crust, raw fruit or veggies. (Keep in mind to always supervise a baby when they are eating!)
Gently rubbing your baby's gums with a clean finger or a cold washcloth can also relieve some of the pain
How to tell if your baby has a tooth coming through? Some good indications that your baby is teething may be:
They are dribbling more than usual – wiping excess dribble from their face can help to avoid a rash forming on their chin and cheeks – the less pain the better, right?!
They are trying to gnaw on their fingers and other objects around them
One or both of their cheeks is red, hot and flushed.
They may be irritable, restless with disruption in their sleep patterns
Did you know?
Families at our Centres can reach out to their Baby Ambassador to further discuss this. If you haven't had a chat with your Baby Ambassador yet, now is the ideal time. A highly-skilled and experienced nursery teacher or educator, your Baby Ambassador is the perfect person to fill you in on what teething looks like in your baby, and what you can expect throughout the process. They are a great support both for the child and their family!
Looking for the right Childcare Centre for your Family?
Submit your details and a member of our Concierge Team will be in touch to discuss what you need and how we can help you experience something more than childcare.

We'll be in touch soon.