Learning Through Cooking: An Educational Experience for Children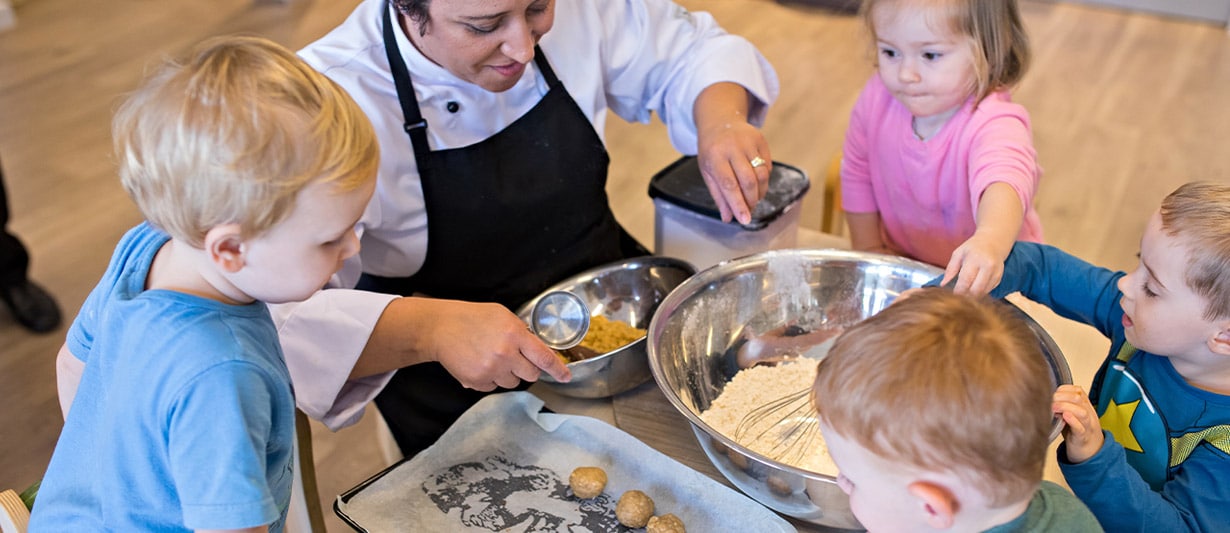 I'm sure we could all agree that cooking is an essential life skill to have.
From scouring the pantry to whip up a quick meal when we're hungry at home, to even creating a fancy dinner for your family on a weekend, it's always been a valuable skillset in moments that we need it most.
But apart from impressing others with restaurant quality food that's enough for Gordon Ramsay to sing our praises; did you know that cooking actually serves a greater purpose in teaching children the necessary skills for life?
Whether it be learning about new fruits, or even discovering the amazing new flavors of different cultures, food has always been a wonderful teacher for the world, even well into adulthood.
For children, these moments in the kitchen are filled with sensory-rich experiences that enable children to explore and develop their mathematical, science, and literacy and comprehension skills – all of which are crucial in their educational journey.
Here are a few ways how food can not only be fun, but an educational experience for children.
Numeracy and Literacy Skills
By having your child simply read aloud recipes, or even having them count and set aside ingredients to help with your mise en place, you're supporting your child through activity-based learning.
From counting how many carrots or celery stalks go into a stove pot, to even weighing and measuring the amount of water to pour into a cup, these are just some simple and effective ways how children actively implement their numeracy and literacy skills in the kitchen.
These experiences are beneficial for children as they will come to associate the concepts that they've been taught (such as counting and reading), with their own real-life experience to form a stronger connection and understanding between these concepts.
These experiences will then encourage them to continue to learn as they develop a natural confidence in their own abilities.
Sensory Exploration
The kitchen is a sensory-rich wonderland for children that offer countless activities and experiences for them to explore.
From hearing the sounds of a mixer or blender, or even to the feeling of the ridges in oranges, to the sweetness of strawberries – these moments serve as a great way for children to actively familiarise themselves with their senses.
You could actively ask children questions about what certain scents or flavours they can taste as a way to actively encourage them to identify and label each sense, such as asking if something tastes sweet or sour.
Physical development
From beating eggs or chopping up vegetables, to stirring in mixtures and cake batter – when children engage in these activities, they will actively be developing their fine motor and eye-hand coordination skills with the completion of every movement.
From these movements, children will actively be developing the necessary muscles in their hands and arms that will eventually enable them to write effectively as they grow up.
Simple activities such as rolling flour or mixing ingredients with their hands are great ways to develop these muscles. But if your child finds it difficult to hold a rolling pin or still struggles with some of the more delicate actions such as chopping, simple activities such as peeling the skin off of a mandarin is just as effective in building those foundational skills!
Cognitive Development
As children learn to cook, they will also be actively learning scientific facts such as cause and effect, a great example of this in practice would simply be cooking and baking a pie.
As ingredients enter the oven soft and uncooked, children will see that they come out hot and formed – these are great opportunities for you to communicate and ask questions to your child about how and why these things occur.
These conversations will ultimately lead to cognitive development in the child as they learn about actions, sequencing, following directions and of course, the delicious and edible end result.
If you're curious to learn more about how our cooking program incorporates these learning experiences, please reach out to your centre manager to find out more today!
Looking for the right Childcare Centre for your Family?
Submit your details and a member of our Concierge Team will be in touch to discuss what you need and how we can help you experience something more than childcare.

We'll be in touch soon.