Gardening with Children: A Great Summer Experience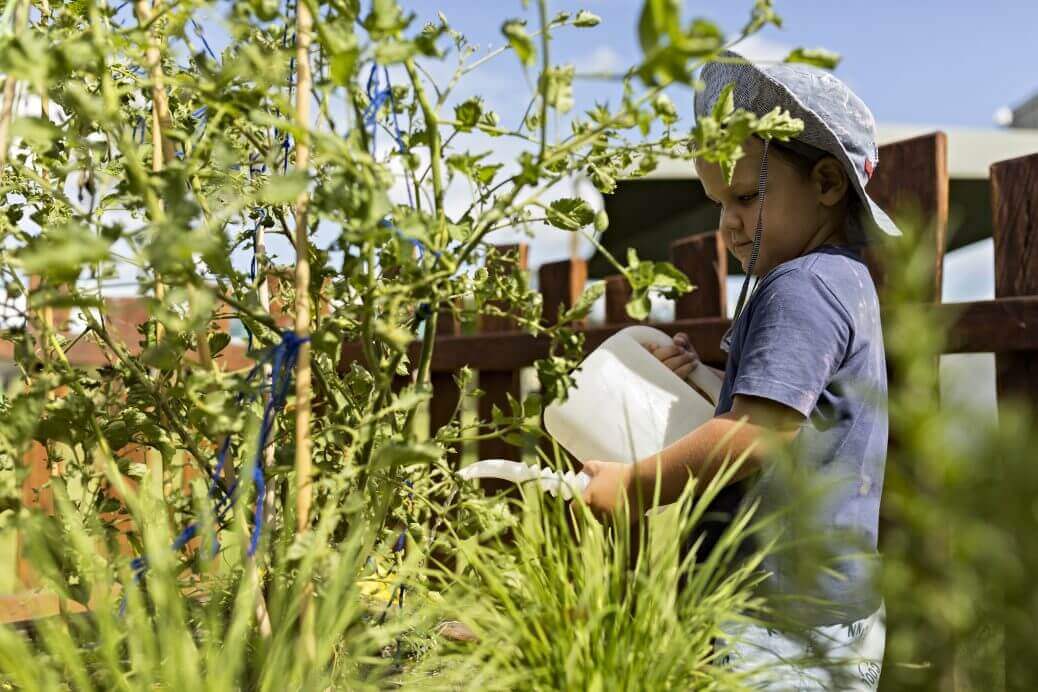 Whether you have a large yard or a balcony with space for some small pots, there is plenty you can do with your children to teach them about sustainability, nature and the fun of getting their hands dirty and growing some fruit, vegetables or even some beautiful flowers. You can check with your local gardening centre about what grows best at this time of year in in your local area. 
Why Gardening?
The garden is a great place for real-world learning. You can teach your child about how food is grown, the importance of looking after our environment, and even about the lifecycle of plants for older children. 
It's a chance for children to get their hands dirty, take in some fresh air and create something that they can reap the reward from in weeks and months to come – which again, is a great real-world lesson. Plus, you get to spend quality time together. It's a real win/win. 
We've also included a simple and tasty recipe that you can whip up with the children using the spoils of your summer gardening! It's a great way to encourage your child to expand their taste buds and try new foods and flavours – as children are far more likely to try a food if they've been involved in the growing, preparation and cooking process. Our Centres are really great at this, with many of our cooks and chefs helping the children to harvest herbs and vegetables from the Centre gardens to add to meals. It's a real playground to plate experience! 
4 Great G
ardening A
ctivities for Children
Grow your own. 

Select some easy-to-grow vegetables like lettuce, spinach or tomatoes (depending on how much sunlight you have available). When children are part of the growing and harvesting process, they not only gain an understanding of where their food comes from, but they're more likely to want to try it! 

 

Plant a face! 

Visit your local garden centre and buy some fast-growing plants or herbs like cress, basil, rocket or coriander. Plant them in the shape of a face and watch that face spring to life in the coming days and weeks as the plants start to grow.

 

Paint some garden rock labels

. Find some smooth rocks and encourage your child to paint them in bright colours with the names of the vegetables or plants you deice to plant. That way they will be able to identify what's been planted where.

 

Make a worm farm. 

Did you know a worm can eat its own weight in food every day? Worm farming is a great way to reduce your household food waste, teach your child about sustainability, and contrary to some advice, you don't need a lot of space. As long as you have a sheltered balcony or garden, it's easy to do and also creates nutritious plant food for your garden. 

 
Enjoy the Spoils of your Gardening with this Recipe!
Fresh Rice Paper Rolls (Serves 4) 
Ingredients 
2 carrots grated

 

1 cucumber cut into 8cm batons

 

Fresh mint roughly chopped

 

Fresh coriander roughly chopped

 

 

1 pkt large rice papers

 

250gms firm tofu cut into 8cm batons

 

100gm pkt Vermicelli noodles

 

¼ purple cabbage finely sliced

 

2 tbsp soy sauce

 

2 tbsp sweet soy

 

2 tbsp sweet chili

 

2 tbsp Olive oil 

 
Dipping Sauce (optional) 
60mls water

 

60mls fish sauce – to make vegetarian omit fish sauce and add soy 

 

2 tbsp lime juice

 

2tbsp rice wine vinegar

 

1tbsp palm sugar, can substitute for brown sugar

 

1 red chili finely diced   

 
Method 
In a small bowl combine all the ingredients for the Nuoc Cham Sauce and set aside

 

In a bowl mix the soy sauce, sweet chili, sweet soy and olive oil

 

Add the tofu and toss gently to coat and set aside for 15mins, take tofu from the marinade and drain off excess

 

Heat a pan and cook half the tofu browning gently, being careful as it can burn easily

 

Remove from the pan and set aside, wash the pan and repeat with remaining tofu and allow to cool

 

Place the vermicelli noodles in a bowl and cover with boiling water and allow to sit for 5 minutes. D

rain and place on paper towel to absorb excess water, remove the paper towel and chop roughly then place into a bowl

 

Add the grated carrot, mint, coriander and purple cabbage and toss

 

Fill a shallow dish or tray with 3cms warm water

 

Dip 1 rice paper in the water and take out, it will still be hard but will soften quickly

Place the rice paper flat onto a clean tea towel and lay a piece of tofu and cucumber in the middle and top with some of the rice noodle salad mix

Fold the sides of the rice paper in over the filling and roll up, place onto your serving dish and continue to roll the remaining ingredients

Note

:

Rice paper rolls are best eaten immediately. For a non-vegetarian version, add chicken, pork or prawns.
If you 
like
 this article, you might want to find out more about our 
Summer Learning Program. 
Looking for the right Childcare Centre for your Family?
Submit your details and a member of our Concierge Team will be in touch to discuss what you need and how we can help you experience something more than childcare.

We'll be in touch soon.