---
---
Educators at Guardian Coorparoo Walk for Autism
11th May 2020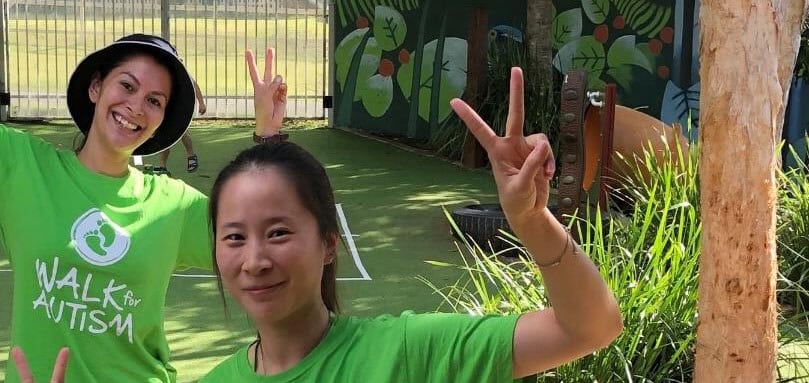 Throughout March and April, the team at Guardian Childcare & Education Coorparoo donned green shirts and their favourite walking shoes to raise money for Autism Spectrum Australia's annual Walk for Autism.
Autism Spectrum Australia (Aspect) is Australia's largest service provider for people on the autism spectrum. They offer a specialised, evidence informed schools program for children, and additional services such as family support and adult programs.
"In the early childhood sector, we come across a lot of children on the spectrum, and as a team we want to raise awareness and work towards a world where no one on the autism spectrum is left behind," shares Educator, Bonnie.
"Aspect is an amazing organisation that supports so many individuals and families across Australia, and we are delighted to be helping and raising awareness for them whilst getting our daily 10,000 steps in."
As the event is hosted online, it was easy for Bonnie and her fellow Educators to sign up and participate as a team.
"We had quite a few of the Coorparoo team participate in the walk and fundraising activities, and together we raised over $860," says Bonnie.
"Our goal was to continually spread awareness and raise as much as possible during our fundraiser, and raising over $860 was a huge achievement."
"We are really grateful for our families and community to help us raise funds during this time, as Aspect's services continue to be in high demand throughout COVID-19."
All of the money raised by the team will go toward Aspect's services and programs, from diagnosis and assessments, early intervention and therapies, to specialised schooling and adult support.
"When we first started fundraising, the children asked 'why are you all wearing green?' so we sat down and explained the fundraiser to them, and how easy it is for us to help people in need and change lives one step at a time," shares Bonnie.
"We are really proud of our effort, and look forward to continuing to raise awareness for children with autism and other disabilities, in addition to supporting our community during this time."
---
Looking for the right Childcare Centre for your Family?
Submit your details and a member of our Concierge Team will be in touch to discuss what you need and how we can help you experience something more than childcare.

We'll be in touch soon.
You May Also Want to Read This