Wellbeing at Guardian Childcare Centres

Nurturing Growing Brains and Bodies
Educating children about the importance of healthy eating and wellbeing is an important part of early childhood development.
As in the home, our kitchens are often the heart of our Centres – acting as a meeting place for children, families and Educators. Where adults role-model a healthy love of food and shared mealtimes.
When children, Educators and families come together to eat and drink, it offers new tastes and textures and the opportunity for social and language development, along with self-help and hygiene skills.
We have dedicated cooks and chefs at many of our Centres who prepare nutritionally balanced meals each day. These cooks and chefs also have a key educational role to play by interacting with our children as they learn what's in their food and how to create it themselves.
From the playground to plate
There are often visits to our Centre vegetable and herb gardens where the children collect ingredients to add to their meals. These are great real-world learning opportunities for the children, who come to understand how different foods grow, how to harvest them and prepare them into nutritionally balanced meals. We encourage children of all ages to play an active role in mealtime.
All of our meals are made with the child's level of development and balance in mind. Tasty and nourishing, our menus include a diverse range of fruit and vegetables and are low GI, light on sugar and unsaturated fats.
To keep your children satisfied, our meals are frequently rotated – encouraging them to try new flavours and textures – while revisiting their favourites time and time again.
A word from the kitchen
Rita has been working at Guardian for more than 20 years. Like many of our cooks, Rita has grown a vegetable and herb garden with help from the children. This is a great way to encourage sustainability and involve children in mealtimes.
Rita knows well that the children enjoy the food more when they are part of the growing and cooking process.
Wellbeing is well-rounded
Wellbeing is about so much more than just the food we put in our bodies. Wellbeing is about our overall health – physical, emotional and mental – and is an important building block in every child's development.
That's why we also offer different programs at different Centres around mindfulness and movement – such as yoga, relaxation and meditation classes – to foster your child's overall wellbeing.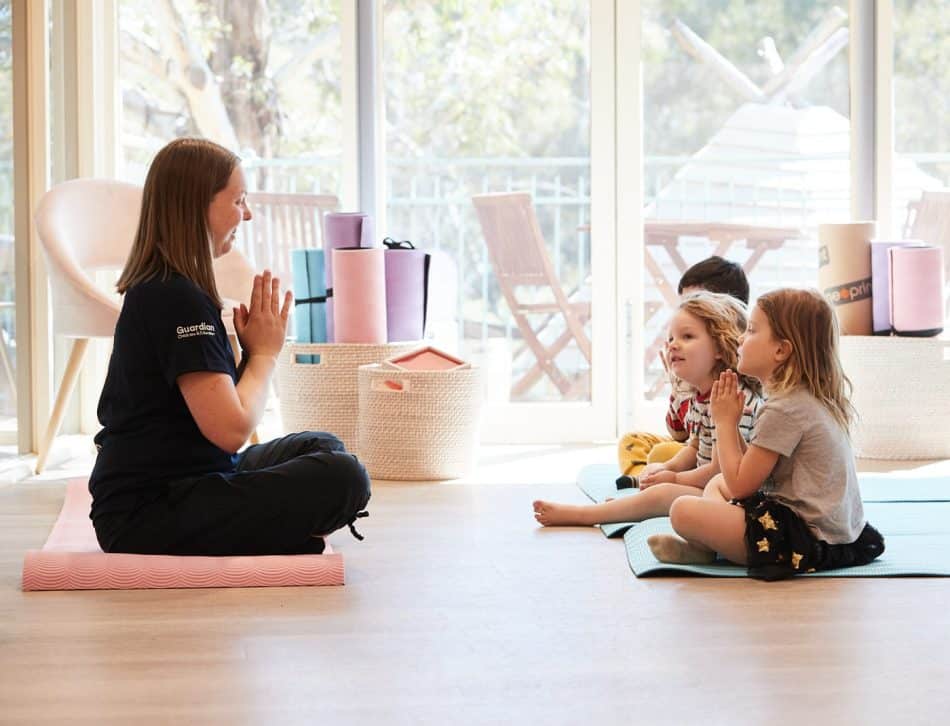 Note: We cater to all allergies as well as cultural and dietary requirements and we always make sure water is readily available at mealtimes and throughout the day. Our Centres are nut-free, and our premises and procedures comply with all food safety regulations. For children over two years, reduced-fat milk is also provided.
What Learning Looks Like
at Different Ages
Looking for the right Childcare Centre for your Family?
Submit your details and a member of our Concierge Team will be in touch to discuss what you need and how we can help you experience something more than childcare.

We'll be in touch soon.