The Role of Educators in a Child's Life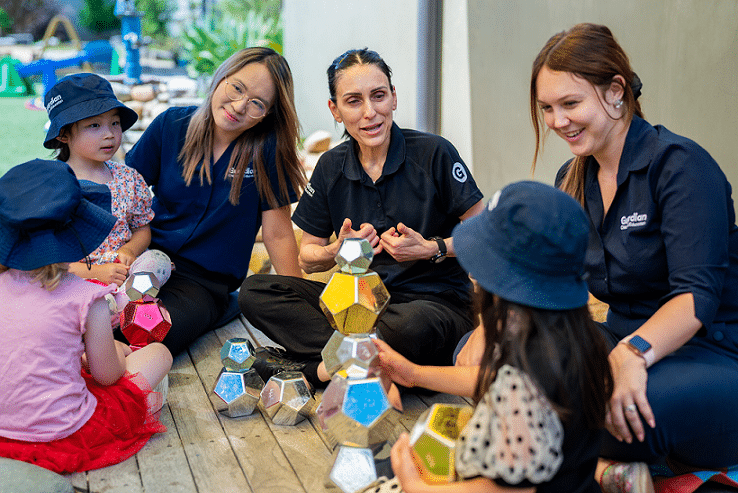 "The purpose of education is not to fill the minds of students with facts… it is to teach them to think.

"

 

Robert M. Hutchins 
There are so many important influences in a child's early learning journey. Parents, carers, family members, friends, peers and teachers.  
In fact, studies show that outside of family, educators are the second most influential factor in a child's learning outcomes and future overall wellbeing. And the effects go far beyond a child's ability to read and write. 
It is during the first five years of a child's life where the crucial building blocks for their emotional, social, and cognitive skills are put in place. So, the important role of educators during this time cannot be overstated.   
The important role of early education is so fundamental to a child's prospects – and that of the community in which they live – even the United Nations Educational, Scientific, and Cultural Organization (UNESCO) places significant focus on early literacy and learning. 
According to UNESCO, "Early Childhood Care and Education (ECCE) aims to develop a child's emotional, social, physical, and cognitive needs to build a strong foundation for well-being and learning throughout the days of their life. Through ECCE, it is possible to nurture capable, caring, and responsible citizens in society." 
So, why are early childhood educators so significant? What are the early lessons taught and supported by these individuals that have such an impact on the lives of our children? 
Let's take a look at just a handful of reasons why educators are such significant role models for our children. 

Educators 
encourage your child to develop confidence
, resilience
 and self-esteem
Children are strong, unique and resilient individuals, capable of complex thinking and their own perspectives. Great teachers and educators know this and will reinforce this through every learning opportunity. This shows children that they are capable individuals in their own right, with unique personalities, skills and the ability to contribute. As a consequence, a child's confidence, resilience and self-esteem grows.  
This means children are equipped with:
the skills to make friends

the confidence to try new things

 and follow their interests

resilience

to keep trying

a willingness 

to respect others

the ability to

operate

 in 

an 

increasingly

 

independent

 manner. 
These are all skills that will see them enter the real world equipped to deal with the success and failure that comes their way.
Educ
a
tors
teach your child in a holistic way
Learning is not just about the academics. Great educators know how to inspire children and ignite their curiosity about the world around them. It's about developing the skills children will need to be successful both inside and outside a classroom in a rapidly-changing world. Through real-world scenarios, educators are able to support, encourage and enable children to want to learn by: 
Sparking a child's natural curiosity

 

Inspiring them to ask questions

 

Building their confidence

Showing them that knowledge can be gained in all sorts of amazing ways.

 
By nurturing every part of a child, great educators help to build a strong foundation for emotional, mental, and physical development, which are the building blocks for life. 
Educators 
role model social interaction
 for your child
Relationships are a key factor in driving positive learning outcomes for children. It's important for a child to form relationships and socialise with people other than their parents and close family members. When children develop friendships they learn valuable lessons about trust, teamwork, collaboration and compromise.
These are all important skills that help them throughout their lives, and skills which they learn from both friendships with their peers and by observing influential role models in their lives, such as their educators.  
Educators
encourage
 your child to cooperate and work as part of a team
Childcare settings with a focus on high-quality education provide your child with the opportunity to learn about and practice cooperation, sharing with others, and waiting their turn. In an environment with other children – and being gently guided by their educators about appropriate behaviour in different situations – your child will soon pick up these important life skills. Learning to operate as part of a team and to be responsible for your individual actions are skills that are learnt from a very young age. Great educators know how to guide children on this path to teamwork and collaboration. 
Educators inspire your child to develop a lifetime love of learning
Learning through play is a practice employed by many early childhood educators to naturally engage children in learning opportunities. In its simplest form, learning through play encourages children to build their knowledge, develop confidence and embrace curiosity. Along the way they naturally refine practical life, social and motor skills as they explore, experiment, discover and solve problems.  
Here at Guardian, children are guided by their natural interests and curiosities, while being supported to make meaningful connections to the real-world. Our Guardian educators help prepare your child for formal schooling and beyond – because we believe that learning is a journey that never ends.  
Read more about what makes Guardian educators so special… 
"Tell me and I forget. Teach me and I remember. Involve me and I learn."

Benjamin Franklin

 
Looking for the right Childcare Centre for your Family?
Submit your details and a member of our Concierge Team will be in touch to discuss what you need and how we can help you experience something more than childcare.

We'll be in touch soon.
You May Also Want to Read This