---
---
Water Play: Cool Off & Have Fun this Summer
30th November 2020
Children love playing with water, and the learning opportunities just seem to flow! Water can change it's form, temperature, shape and volume quickly and easily – so it really is an ideal real-world play experience for children of all ages.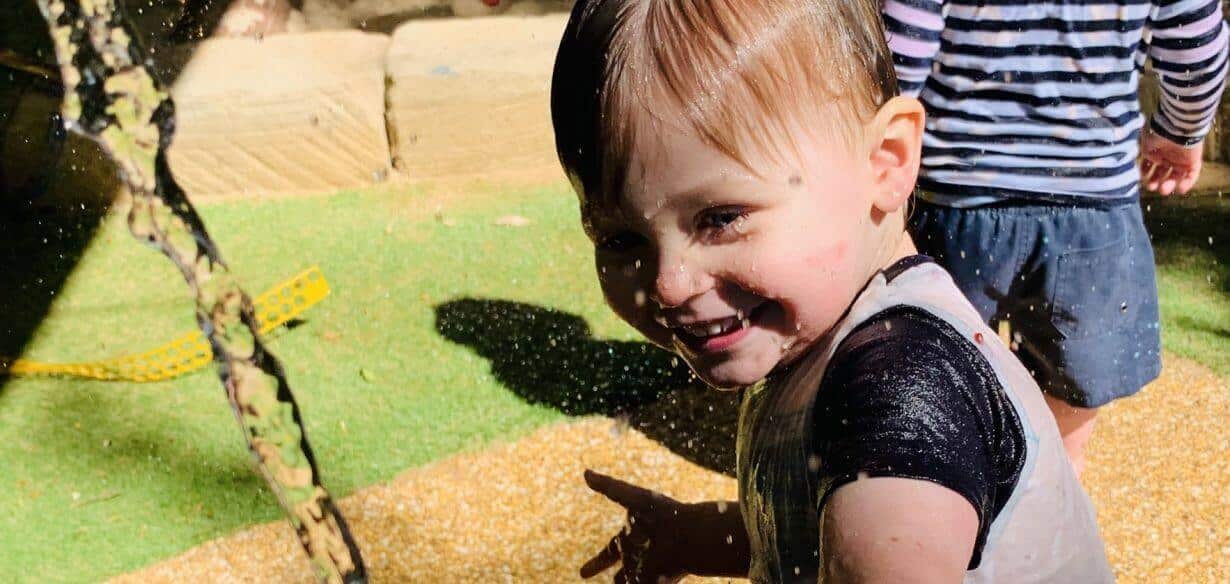 Apart from it's fun and cooling qualities, it is these learning opportunities from water play that means it is a big part of the bespoke Summer Learning Programs we create in our Centres over the warmer months. Our Centre Teams build incredible programs that appeal to the children's interests; experiences which are fun, energetic and which also have clear learning outcomes. 
Summer holidays are always the best time of year in our Centres – every day is a unique, exciting and fun program of activities for the children. And best of all, our incredible Summer Learning Programs are at no extra cost to families.  
These exciting, fun and educational programs run for seven weeks (December 14, 2020 – January 29, 2021), and are designed to support families over the busy Christmas and Summer period. This year we are also offering additional support to our older children in the lead up to their start at Primary School through our 'Flying Start to School' program (4 January – 29 January).
Why 
is
 water play so valuable for children?
According to Georgina Clay, Teacher at Guardian Point Cook South: "In every Centre that I have worked throughout my career, I have observed children are instinctively drawn towards filling and emptying containers with water. Watching intently as the water falls from one vessel to another down to the final drop can be a glorious learning experience that never ceases to amaze me. The expression of awe and wonder on children's faces is a wonderful moment to capture and extend upon. 
This observation from Georgina relates to the Victorian Early Years Learning and Development Framework Early Year's Learning Framework which (outcome 4) which states: "Children are confident and involved learners – children use play to investigate, imagine and explore ideas".  
Never is this more alive than when observing a child intently playing in and with water – observing, manipulating and beginning to understand the way this element behaves under different conditions.  
Water play 
experiences 
you can do at home
This activity is a great one for a warm summer's day! It's also a wonderful way to engage your child in a physically challenging experience, by creating blocks of ice containing interesting objects. Your budding scientist can then chip away to uncover the treasures within! 
Find all the instructions for this experience on our Learning Exchange. 
Create a Mini World!  
We love imaginative play, as it inspires freedom in curiosity and wonder about the world. A great activity for home is to create your own miniature world, featuring water – it might be a beach, a lake, or a dam on a farm… Head outside and set your child up with some natural resources and recycles pr repurposed materials – like buckets, containers, rocks, sticks, and leaves. From there they can create their own little water wonder world for play. This is a great experience to inspire role playing and imagination. 
These amazing, giant bubbles will be a hit for sure – and it's an activity you can even do with babies. The bubble mixture is easy to make with ingredients you are likely to have in your home already. A day with a light breeze and bright sunshine to capture the rainbows in the bubble would be a perfect day for this experience! (Just remember to be Sun Smart!) 
Find all the ingredients and instructions for this experience head to our Learning Exchange.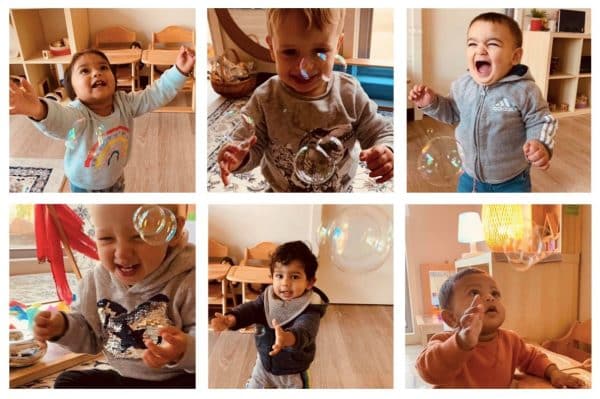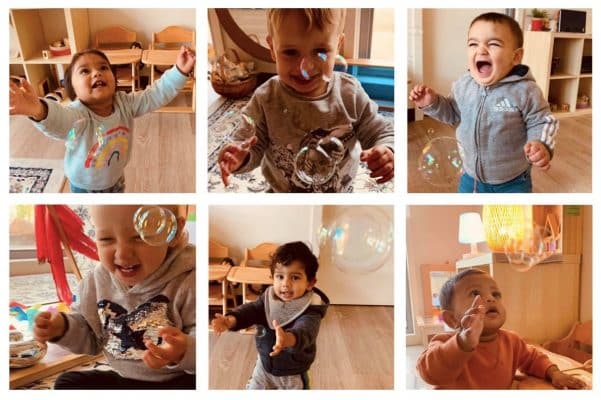 Water Relay Race  
This is a great way to get the children outdoors and active, and has the added benefit of cooling them off (and probably you too!). Simply set up two large tubs – one filled with water, and the other empty. Place some smaller cups at one end and use them to transfer the water from one tub to the other. See who can transfer the water the fastest without spilling too much. 
Another favourite in our Centres is the giant ice ball experience. Your child will love creating giant globes of ice using balloons, and the reaction that occurs when salt and colour is added. But we warn you, this one requires a little patience as your child must wait overnight to see the outcome. What a great lesson in patience and understanding how water freezes. 
Find all the instructions and age considerations for this experience, head to our online Learning Exchange.  
What Learning is Occurring 
through these E
xperiences?
At Guardian play-based learning is the basis of our curriculum – so it's not just play for the sake of it. There is always intention behind what we do, and outcomes for the children. These experiences we've shared have a range of learning outcomes for different ages, including: 
Development of fine motor skills and upper body strength as your child grips and manipulates different tools.

 

Early math concepts as your child measures size

,

 quantities

 and volume

 

Early science concepts as your child wonders and works out how 

water works and moves in different ways – liquid, ice, freezing, melting, and even bubbles that float in the air!

 When water freezes it becomes solid (ice), when it melts it becomes a liquid and becomes water again. How amazing is water?

 

Language development through conversation

 

Movement and coordination as your child 

uses

 their large and small muscles

 

 

Basic science skills

 like

 conducting an experiment

, hypothesising what might happen and

 giving feedback 

 

Sensory development 

through

 sight, sound and touch

 

Hand eye coordination as your child directs and connects with their object.

 
If the above experiences managed to whet your appetite for water play
,
 learn more about our 
Summer Learning Program
, which features experiences like the above and much, much more.
---
Looking for the right Childcare Centre for your Family?
Submit your details and a member of our Concierge Team will be in touch to discuss what you need and how we can help you experience something more than childcare.

We'll be in touch soon.
You May Also Want to Read This