Preschool and Kindergarten (3-5)

What Learning looks like ages 3-5
At ages, 3-5 children are becoming readers, writers, counters and collaborators. The early skills they showed in complex concepts as toddlers and babies are now becoming more defined.
You can learn more about this incredible time in a child's life via our Preschool and Kindergarten programs.
At this age, children:
Begin to use materials and objects purposefully to express ideas.
Know how to control 'mark-making' tools such as pencils and brushes.
Begin to not just draw freely but plan their creations and interactions – be it paintings, clay work, construction, dance or play with their friends.
Children at this age are also becoming more independent and confident in many other ways:
They can cut paper with scissors
They're expressing their ideas in many ways
They enjoy experimenting with materials in a variety of creative and imaginative ways – making potions or concoctions is one you might hear a lot!
They are more confident in their bodies – jumping, climbing and running with ease; climbing steps with alternate feet; even walking backwards.
They are becoming more accomplished at sharing, taking turns, smiling and cooperating with others.
They will show enjoyment playing with other children and in larger groups but will likely also show a preference for particular friends.
Play is becoming increasingly complex as they begin to show interest in the perspectives of others, asking questions and collaborating.
These may seem like small steps, but they are in fact giant leaps in their learning. And these are all key behaviours, milestones and interactions that will set them up for the schoolyard and classroom experience.
Literacy for Preschool and Kindergarten
Leading up to formal schooling, children are typically showing signs of early writing skills. They will be attempting to:
Write their own name
Use spaces between letters
Create letter-like shapes
Develop an understanding of capitals
Even writing words using invented spelling.
At this age, children are able to use language to ask questions and communicate their thoughts and ideas, while also listening and responding to others.
As projects form and deeper thinking start to occur, children are given the opportunity to use art to develop their thinking and ideas. For example, they may draw their plans and ideas for a fort before building it.
To support this natural desire to communicate, our Teachers and Educators encourage children in a number of ways – formally and informally:
They are encouraged to sign in each day when they arrive
They are exposed to a wide range of printed materials and books (both in English and other languages)
Educators source real-world items like tickets, catalogues, magazines and maps for the children to engage with
Children are read and told stories daily.
"The more that you read, the more things you will know. The more you learn the more places you'll go."
Dr Seuss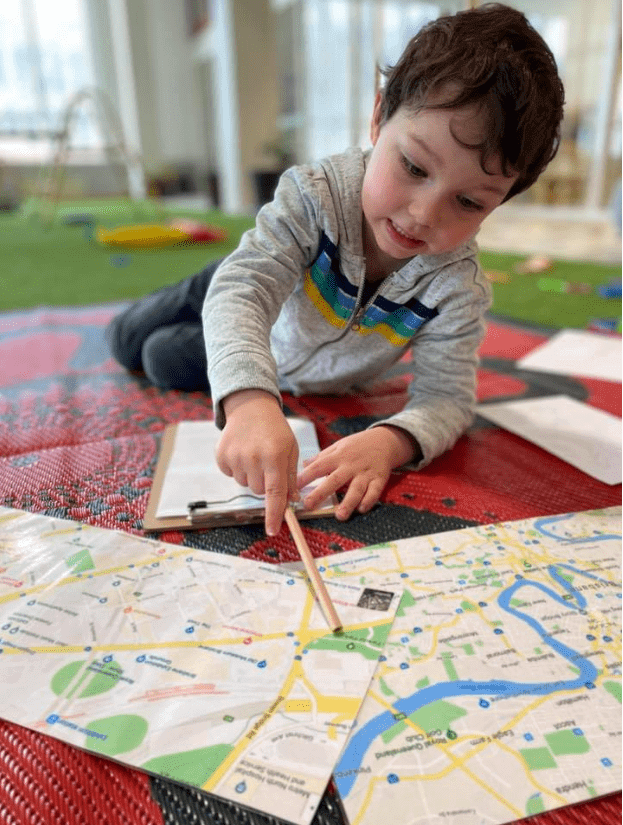 Numeracy for Preschool and Kindergarten
"How many blocks does it take to build the tower?"
"How old are you? I'm four and my sister is six."
"My dog had five puppies last night. They're so cute!"
In the year leading up to formal schooling, children have begun to recognise numbers in their environment, communicate using numbers and want to know how to write and use them in everyday life.
Our Teachers and Educators, therefore, make sure numbers are used in everyday experiences to create more meaningful learning opportunities. Using numbers daily, children quickly learn the skill that a number represents a real object. For example, "there are 8 blocks in the tower".
Open-ended resources help children to further develop other math concepts:
Comparing – "This one is bigger than that one".
Parts and wholes – "I only got half an apple for morning tea and Ian got a whole one."
Measurement – of temperature, time, weight, volume and length.
Knowledge of shapes – "My shirt has a square on it. Yours has a triangle".
Children at this age are also aware that numbers have numerical sequence and are beginning to understand math concepts such as bigger/smaller/heavier/lighter. They will start to copy and create patterns and group items according to similarities and order of size and/or length, which is another reason why loose parts are so key to developing these early math concepts.
Learn more about our leading Preschool and Kindergarten programs.
What Learning Looks Like
at Different Ages
Looking for the right Childcare Centre for your Family?
Submit your details and a member of our Concierge Team will be in touch to discuss what you need and how we can help you experience something more than childcare.

We'll be in touch soon.