Discover & Learn

At Guardian, our practices and programs prepare your child for formal schooling and beyond.
Future generations will face issues that require them to be innovative and adaptable – to think creatively and critically. At Guardian we work to develop skills that will help our children thrive in the 21st century, such as;
Creativity and innovation
Collaboration and teamwork
Critical thinking and problem-solving
Communication
Learning is a journey that never ends. We believe setting the foundations for future success begins with a child who is confident and aware of our ever-changing and globally connected world.
To prepare children for this, they need to have skills and aptitudes that allow them to think creatively, work collaboratively and problem-solve. They need resilience to keep going when things don't work out and the confidence to try new things and ask questions. Our learning programs help to develop these skills in a variety of ways.
What does 21st century learning look like at Guardian?
At Guardian, we don't promote a one-size-fits-all approach – instead, we focus on individualised educational programs and learning through open-ended, play-based experiences.
Engagement is key to early learning. An engaged child shows concentration, persistence and eagerness in their inquiry. This focused attention can be seen in our babies and toddlers as they investigate their identity, relationships and environments.
At Guardian, playtime is more than just playtime!
Our Educators are skilled at turning play into learning experiences that develop a range of skills including science, numeracy, literacy, and creative thinking – as well as 21st century skills.
Gardening
At Guardian, we encourage our children to interact with nature and learn in a variety of environments.
Observation and research have shown outstanding educational benefits for children involved in gardening activities. Children can learn new skills, have fun, socialise and develop self-confidence by spending time in the garden tending plants and growing their own food.
Gardening allows children to explore and learn in the outdoors, dig in the soil, get dirty and engage in natural experiences that encourage 21st century learning. This includes allowing children to:
Communicate ideas and theories with Educators and peers.
Think critically when reflecting on why leaves go brown after they fall off the tree.
Collaborate through working with each other to water the plants.
Demonstrate creativity and innovation when developing experiments to test their theories.
Develop social skills when listening to others' ideas and respecting differing opinions.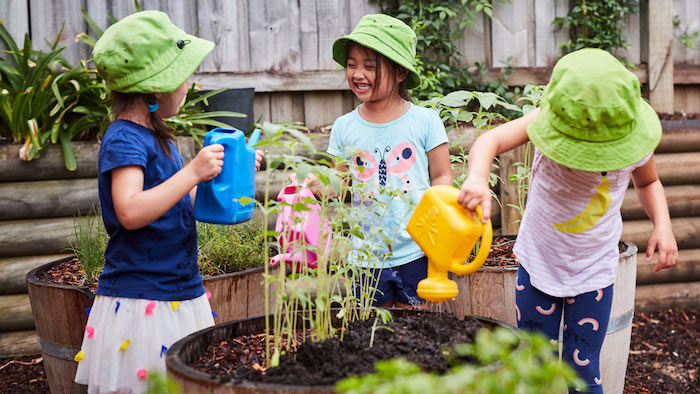 These are few of our gardening experiences:
Children Gain Educational Benefits from Gardening
Warrandyte Road's Community Garden Project
Connecting with Nature at Guardian Early Learning – Blackburn
Cooking
Educating children about the importance of healthy eating and good nutrition is an important part of early childhood development.
To encourage understanding and knowledge of healthy eating, we have dedicated cooks at many of our centres who prepare five nutritionally balanced meals each day. These cooks interact with our children as they learn what's in their food and how to create it themselves.
All of our meals are made with the child's level of development and balance in mind. Tasty and nourishing, our offerings incorporate an extensive range of fruit and veggies and are intentionally low GI, as well as light on sugar and unsaturated fats.
To keep our little ones coming back for more, our meals are frequently rotated, broadening their palates and tantalising their taste buds.
Here are a few of the many ways cooking develops 21st century learning outcomes:
Team-work through sharing tasks – for example, measuring, mixing and pouring.
Mathematical concepts in measuring, counting and weighing ingredients.
Critical thinking when trying to understand how muffin mix goes into the oven wet but comes out dry.
Creativity when decorating cupcakes and making decisions about colours and shapes.
Note: We cater to all allergies as well as cultural and dietary requirements and we always make sure water is readily available at meal times and throughout the day. Our centres are nut-free, and our premises and procedures comply with all food safety regulations. For children over two years, reduced-fat milk is also provided.
Hear from one of our cooks
Rita has been working at one of our centres for more than 20 years. Like many of our cooks, Rita has grown a herb garden in the centre's back garden with help from the children.
This is a great way to encourage sustainability and involve children in mealtimes. Rita has admitted that children enjoy the food more when they are part of the process!
Hear a little more from Rita:

Sandpit Play
At Guardian, our outdoor environments provide another area for children to learn, explore and discover.
Many of our centres feature natural play areas that allow for climbing, engaging and creating, with river beds, a water pump and large undercover sandpits for children to explore.
Outdoor areas encourage children to exercise and exert themselves in the fresh air, connect with nature and learn the importance of sustainable practices.
This encourages 21st century learning outcomes through:
Critical thinking when experimenting with the structural properties of wet sand versus dry sand
Collaboration in digging, carrying and moving sand with other children and Educators
Communication through mark making in sand
Excursions
Excursions allow for children to interact with the world around them, as well as learning road safety.
In addition to promoting investigation and curiosity, excursions provide children with a chance to interact with their local community and strengthen friendships. We look forward to providing further opportunities for social and emotional development as we celebrate individuality and creativity.
With the goal of expanding the children's horizons, regular excursions are organised on a regular basis in many of our centres.
You may have even seen one of our 'Octoprams' out and about in your local community.
Learn more about our focus on excursions:
School Transition and Contemporary Early Learning
Our school readiness programs aim to prepare your child for school and beyond by developing their academic, critical thinking and social skills to equip them for the next stage of life.
A smooth transition to school for you and your child is important to us. At Guardian, we believe that when children are confident, school will be a positive experience for them.
As your child moves through their early years, the transition to formal schooling is one of their most significant milestones. Preparing your child for the transition to school and their future doesn't just happen in the year before school, it happens from the day they are born. Through the Guardian's contemporary early learning Curriculum, we scaffold children's learning through a wide range of experiences that set them up for lifelong learning.
Our educational program encompasses a contemporary view on literacy, numeracy, science, art, music and language and has a focus on social and emotional development. Through intentional learning and play, children are guided by their natural interests and curiosities, while being supported to make meaningful connections to real-world contexts – not by learning through repetition and isolated recognition of numbers and letters.
The Hat Problem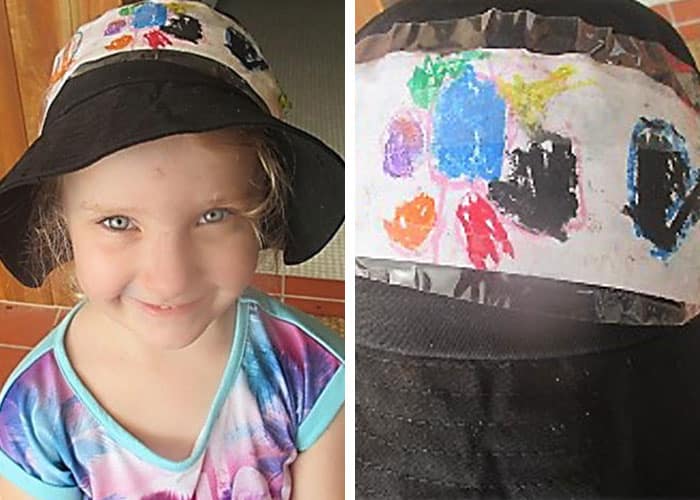 This example shows how Ella tackled "the hat problem". Ella noticed that all the hats looked the same and was having trouble distinguishing hers from the others. She began to wonder about this issue and explored ways to solve this. Her solution? Ella created a drawing to show that this was her hat.
Ella was demonstrating problem-solving skills, language development and symbolic representation – skills that would benefit her through the transition to school and beyond.