Being an Early Childhood Educator Is Incredible – Here's Why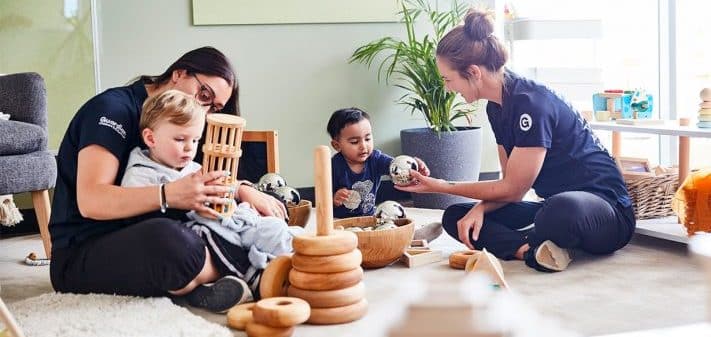 A role where no two days are the same, where you get to work with your 'second family' and make a huge, lasting impact on the lives of young children every single day?
That's being an Educator.
Being a real part of the local community, building strong relationships with families who entrust you with their children, having flexible work options and celebrating both individual and team success on regular occasions?
Yep, that's all part of being an Educator at Guardian. Every day is different and rewarding.
Working as an Educator in early childhood education means that you are invaluable; you have chosen a profession that is always in high demand. It is a fulfilling and rewarding career, evident each day when you see children grasp skills, form strong friendships and continue to grow and develop.
We've already mentioned making a positive impact on the lives of children but consider this: Educators affect children in every aspect of their learning and development: building on their problem-solving, emotional resilience, confidence, early literacy and numeracy, social skills and so much more. What an incredible role you get to play.
At Guardian, we really value our Educators. We deeply appreciate the passion and dedication they each bring to their role, and the contributions they make to building a strong and warm Centre team culture.
Want to know how Guardian supports our Educators? Here's just some of the ways.
We are focused on ensuring access to meaningful professional learning and development.
We offer our permanent Educators membership to the Early Childhood Australia (ECA) Learning Hub, so you can stay up to date with new knowledge and skills.
Looking to further your study? Guardian Education Assistance – Degree program offers paid study, flexible work hours, mentors within our network and reimbursement of course fees.
We know how important your work is, and we respect that by providing the time and support you need. We want to empower you to excel in your role.
Educators get to attend paid team meetings throughout the year to plan and share ideas
You are given the opportunity actively participate in moving your Centre's team towards the completion of their goals
You are given the time required to ensure learning spaces are running effectively and that room duties are completed
Regular webinars to learn best practice from our specialist teams 
We ensure you have ongoing opportunities to contribute to the learning experience
At Guardian, being an Educator means that YOU have a voice and can contribute to our innovative teaching programs. We want you to showcase your skills and knowledge to create amazing experiences for children and inspire your fellow team members.
We connect our wide network of both new and experienced Educators, so you can share your work and never run out of great ideas.
You have the ability to tangibly Include families on their child's learning journey by creating a visible educational program in your Centre so they can contribute their ideas and suggestions
Our team members are the 'heart and soul' of our organisation, so we work to ensure that Guardian is more than just a place to work. We support our Educators with their personal and professional development and encourage career progression and growth.
With our wide network of vibrant, welcoming Centres, there is no end of opportunities available to you, if early childhood care and education is your passion. Read more about our extensive  professional learning and development opportunities.
If joining our Guardian family as an Educator sounds good to you, we'd love to speak to you!
Got any questions? Get in touch with our Talent team: [email protected] or 1300 765 560.
Looking for the right Childcare Centre for your Family?
Submit your details and a member of our Concierge Team will be in touch to discuss what you need and how we can help you experience something more than childcare.

We'll be in touch soon.