We pride ourselves on our highly qualified and caring educators at Guardian. They are a team of professionally-certified early childhood education specialists, dedicated to providing children with the best start in life through loving care and learning development.
Our educators take the time to get to know your child – their unique interests, personalities and developmental stages. We collaborate with our families to help deepen learning opportunities with experiences that relate back to their home environments.
Your child will be supported in their development and we regularly communicate with families on how their child is progressing and on their day-to-day experiences at the centre both in person and through our specialised app, StoryPark.
To ensure our educators are always bettering themselves professionally, we provide them with an extensive peer network in which to share ideas with, as well as plenty of training and professional development opportunities.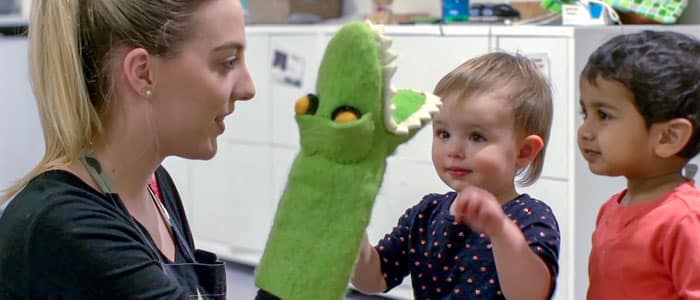 What makes our early learning professionals special?
It takes a unique set of skills, passions and attributes to make a fantastic educator. Our screening and interview process ensures that the best possible educators are working at our centres. Here's what makes our educators so special:
Highly trained early learning professionals who care deeply about each and every one of the children in their care
They create meaningful play-based experiences for children that will both challenge them and extend on their learnings
They have an understanding of the Reggio Emilia Approach, Boulder Journey School and Guardian Curriculum
They're ambitious with a desire to further themselves professionally through ongoing training and development days
Our rooms have high educator to child ratios
Growing with Guardian
It's not only children who grow with Guardian. As we believe learning is a lifelong journey, we support our team to develop their professional skills and grow their career with us. Here are just a few career growth stories at Guardian.