navigate_before
Ages 2+
Find the Gifts in your Garden
Garden gift ideas kids can make with repurposed containers
As part of our commitment to the planet, we love reusing and recycling in all our Centres. And we invite you to do the same at home with this great activity.
You and your child might choose to repurpose an old coffee mug, a jug, colander, teapot or even a gumboot!
Gardens are full of gifts – new growth, changing colours, flowers, produce and the opportunity to visit wildlife friends. Transform an old mug or other discarded container and make a garden gift for someone special. What will your container of gifts carry? A memory of time spent in the garden together, a message of love, or the promise of a meal together flavoured with some home grown herbs?
Our downloadable resource below shares the steps to follow and further ideas for learning.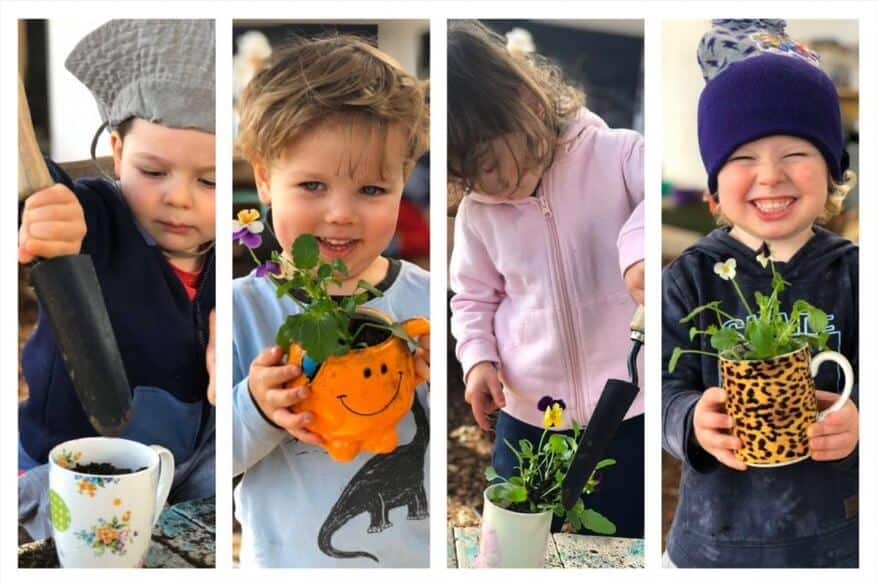 Things you'll need
A small container for your garden. Mugs or cups work well. Jars, an old colander, gumboot or teapot could work too!
Potting mix
Gravel/pebbles
Note card.
Plant possibilities
Seedlings from the local garden centre
Potted herbs from the supermarket
Succulent cuttings straight from the original plant
Experiment with other cuttings from your garden. Pop a variety in a water in a sunny window and see which ones grow roots
Try re-growing vegetables in the same way – celery, lettuce and spring onions all grow back if you place the ends in water.
How to plant your garden gift
Place a layer of gravel or pebbles in the bottom of your container. If your container has large holes like a colander, line it with a piece of fabric to stop the soil washing way
Fill ¾ to the top with potting mix
Arrange your plants in the container, then fill the gaps with more potting mix
Water gently
Write or draw a message on the gift card.
The learning that grows with your Garden gift
Connections with nature and science – as your child explores plant growth.
Language, vocabulary and communication – as you and your child chat together about planning and planting your garden gift.
Emotional wellbeing – connect with nature and think about special people in your life.
picture_as_pdf View Resource
From Sue Thomson, Educator at Guardian Gungahlin
Sign up for our latest news and information