Make the Change to Childcare
If you've never considered a career in childcare, now is a great time to make the change.
A career in childcare is more than just a job. Working for Guardian means the opportunity to have a real impact on the lives of children and families during those critical first five years.
Why Guardian?
Guardian is a small company with a big focus on community, families and of course, children. It's the type of company where you'll never be just a number, but a valued member of a passionate team who care deeply about what they do. You will also have access to a team of professional and experienced leaders who can mentor and support you in your career. Growth is at our heart. Growing the minds of our children and the careers of our people. And steadily growing the number of services we own and operate by acquiring and opening more of Australia's best early learning Centres.
"We want you to come to work, love being with us, and love what you do,"
Louisa Rinaldi, Head of People & Culture at Guardian.
Benefits of working in Childcare at Guardian
A secure career choice in an essential sector.
Have a voice via our incredible development, training and mentoring opportunities. Including our Leadership Council, Quality and Sustainability, and Educational Mentors. We hold regular sessions to ensure all are able to contribute to strategy and planning for our children and families.
We value our employees with our reward and recognition programs, including such the monthly 'GStar Awards' and weekly 'Thank You Thursday'.
A business dedicated to transparent leadership, with a direct line to our CEO.
Not qualified? No problem. We offer FREE diplomas, training, qualifications and professional development opportunities. We'll pay you while you learn.
Management experience? Transfer your skills from a range of industries.
Work family-friendly hours in a Monday-Friday job.
We have roles across Sydney, Melbourne, Brisbane, Canberra and Adelaide.
Submit your expression of interest here
Meet Others Who Have Made the Change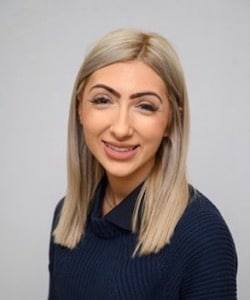 Previous role: Retail employee
Now working as an Educator at Guardian Laurimar and studying for her Bachelor of Teaching.
Tenille started her Certificate 3 in Early Childhood and Education at age 20, while working in retail. She continued to work as she went on to study for her diploma. Her confidence and passion  then led her to apply for a job in the sector, all whilst continuing in her part-time retail role. Tenille Joined Guardian as a part-time educator and will soon be a fully qualified Early Childhood Teacher.
Being able to combine study with on the job experience, Tenille says she is even more passionate about what she does and motivated to come to work and implement what she is learning through her degree.
"I loved working at Guardian so much I found all the staff members to be so inspiring that I decided to complete my Bachelor degree and become a Kindergarten Teacher. I am now 8 months away from graduating from La Trobe University as an Early Childhood Teacher," Tenille Jarvis.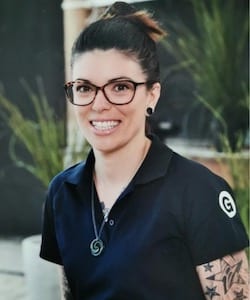 Previous role: Customer Service
Now working as an Educator at Guardian Springfield with a Certificate 3 and Diploma.
At age 30 Samantha was made redundant from her Customer Service role and started looking for a new career. She decided on a traineeship at Guardian. Samantha was able to transfer many of her skills into this new sector, and her age and life experiences have help make her a better educator.
Samantha now holds a Certificate 3 in Early Childhood Education and Care, gained through the Guardian Traineeship program. She also holds a Diploma in Early Childhood Education and Care, and is currently looking into a Leadership and Management course. Being hands on in her role while studying made the career change a lot easier for Samantha.
"The relationships I have made with children and families over the years have really warmed my heart and it is the sense of responsibility I feel for helping guide and educate the children that drives my work ethic," Samantha McCaul.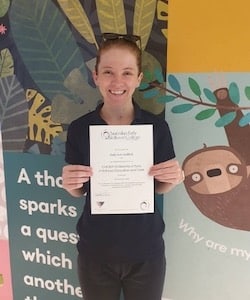 Jody Lee Leibick
Gained her Diploma while working for Guardian
Now working as an Educator at Guardian Bruce with a Diploma of Early Childhood Education and Care.
When she entered the childcare sector, Jody had no qualifications. She soon knew she wanted to be a qualified Childcare Educator after working closely with children in the nursery room. So Jody started her diploma through recognition of prior learning via the Guardian-funded diploma program. She has since received her Diploma for Early Childhood Education and Care, all while working at Guardian as part of this fully Sponsored Program. The training is FREE as part of our employee benefits package.
This is a wonderful pathway into the sector, allowing those who have the passion for childcare to receive the training, development and paid study time they need, while on the job. This program supports our teams with their ongoing professional learning and development – to ensure our people can deliver the best education and care possible to our children.
About Guardian
Founded in 2004 with 28 managed Centres, Guardian Childcare and Education has grown to more than 120 owned Centres across Australia. We are a collection, all united under the one vision: To deliver the highest quality of childcare and early learning to Australian families.
If you're after a career with purpose and meaning – something you can wake up each day and feel truly passionate about, then childcare might be the place for you.
More Information on Careers at Guardian
Learn more about 'Big Roles in Little Lives' – our careers partnership with the Early Learning and Care Council of Australia (ELACCA).
Find your next job at Guardian
expand_more
expand_more
expand_more
search