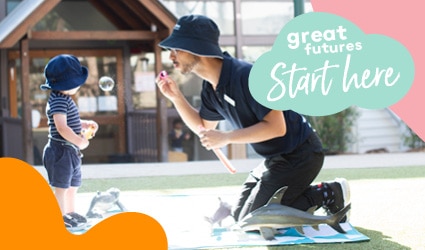 Find your next job at Guardian
Why Guardian?
Great futures start here.
When we create the same opportunities for our people as we do for children, wonderful things happen. You will experience the empowerment and joy that comes with being part of a team of professionals who know you and inspire and support you.
When you are supported to create amazing experiences for children, you are able to bring your energy, passion, and joy to one of the most important journeys in life: the learning and growth of young children.
When you thrive, children thrive.
Great is just the beginning
Right now, and each day after is an opportunity to make a meaningful impact on the lives of Australia's children.
Join a modern, professional education environment based on a world-leading curriculum with a nationwide support structure.
100% of our profits are re-invested into our Centres and Teams to provide modern learning environments and the best resources.
Have access to innovative professional learning and development programs.
Shared purpose
Our shared ambitions and goals unite us. Use your knowledge, skills, and above all, your dedication to influence and shape best practice in early childhood education.
Influence and shape best practice education in a national network.
Access a national network of education experts and mentors that support you to grow and thrive in your career.
Be part of making decisions that matter to families in your community.
Choose your future
Be part of a professional learning community across Australia where you are supported to enhance your skills and be an innovator in early childhood education.
Attractive pay and remuneration across roles
Great benefits, such as flexible working arrangements
Meaningful training and development opportunities
We believe in you.
Interested in joining Guardian? Call us today on 1300 765 560 to find out how.
We are purpose driven
Guardian has a unified purpose
"To ensure children are supported to be brave, curious, and imaginative in their learning, to give them the best possible start to life."
We invest in people
Ensuring we fulfill our purpose means supporting our Teams. We re-invest 100% of our profits into the people and places that support the best early childhood education experience in Australia.
We live by our mindsets
Our mindsets create wonderful places to work. Every day, we aim to be:
Positive
Brave
Thoughtful
Professional
We have a great reputation
Guardian aspires to be the place families across Australia choose for the education and care of their children. A measure of our success is the National Quality Standard. We're proud to say that 94% of our Centres meet or exceed the National Quality Standard.
Interested in joining Guardian? Call us today on 1300 765 560 to find out how.
Together, we can change lives
Benefits
Guardian recognises and values its Team Members. We offer competitive wages and salaries. Our benefits lead the sector, such as loyalty schemes for discounted childcare for your children, a commitment to diversity and inclusion, recognition and reward to show our appreciation for your efforts, and assistance with work-life balance. Read more about our fantastic benefits.
Career advancement
Fulfill your passions and be brave in your professional development. We offer sponsorship and support initiatives for diploma and degree programs, as well as online professional learning through Early Childhood Australia (ECA). Learn more about how we invest in you and your career.
A learning community
We believe in creating a positive, professional, and thoughtful environment. That's how great futures start. Take advantage of mentoring opportunities, teacher meetings, short courses and workshops to help you with specific skills and knowledge. Learn more about the ways we support you.
Interested in joining Guardian? Call us today on 1300 765 560 to find out how.
Find your next job at Guardian