How to Stay SunSmart This Summer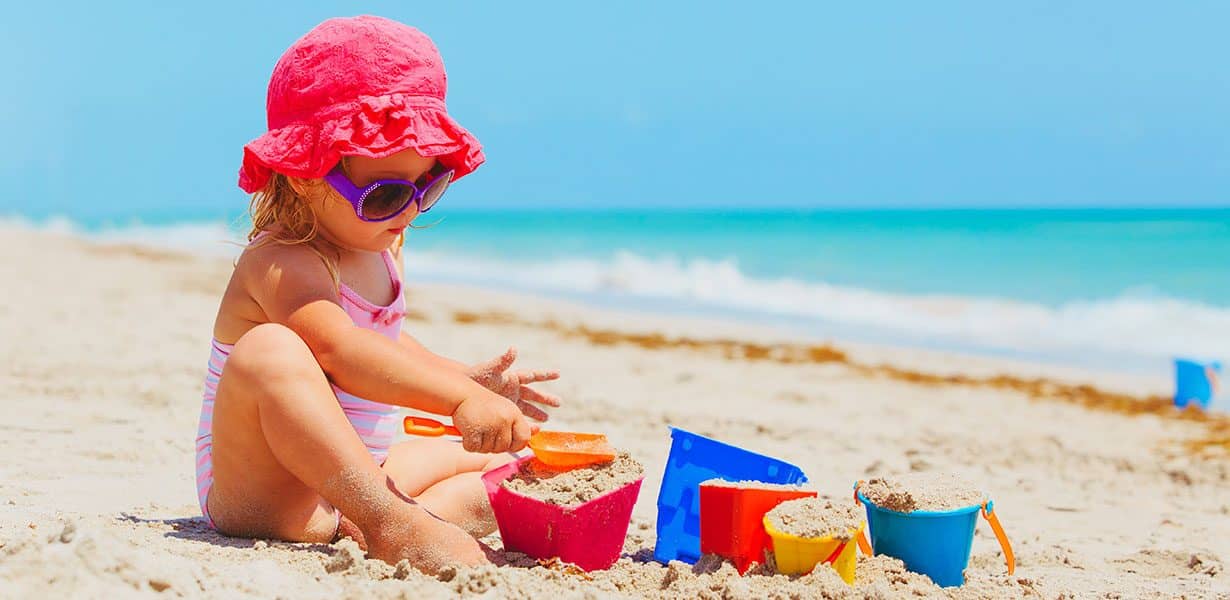 Spring has arrived and with it, the sun is starting to get stronger. As we all head outdoors to soak up that glorious sunshine and Vitamin D, bear in mind that with the warmth comes a reminder: skin cancer is Australia's most common cancer.
That means being SunSmart should start when children are young so that these behaviours become second nature and stay with them for life. During the height of summer, 15 minutes in the sun is enough to overexpose your precious skin (and that of your precious children) to UV rays and put you at risk of damage.
So, we've put together some details and tips to help you stay well-schooled in raising SunSmart children.
Understanding UV
In Australia, overexposure to UV is the leading cause of skin cancer. Because we can't see it or even feel it, UV is invisible, but no less dangerous. Because it's out of sight, out of mind – prevention becomes our primary tool of protection.
It might come as a surprise that UV isn't only a concern when the sun is shining; cool and cloudy days pose a peril too.
Make a blanket rule: whether you're walking to school, swimming in the surf or spectating sport – always account for the risk of UV. It's not just your skin that you need to keep safe, your eyes are also in danger of damage. The harm that UV causes to children's eyes is cumulative, so establishing SunSmart practices early on is essential.
Check out The Cancer Council's free SunSmart app where you can see what time of day UV levels are stronger, as well as sending yourself reminders to shield you and your family from the sun.
SunSmart Strategies
Your children are always watching you. They take their cues and learning around how to respond and thrive from your actions and attitude. This means that you're their greatest teacher when it comes to being safe in the sun – so set a SunSmart example.
Slip, Slop, Slap, Seek and Slide.
This is the SunSmart statement to live by.
Slip on and cover up with your protective clothes
Slop on your sunscreen 20 minutes before you go outside
Slap on a hat that shades your face, neck, head and ears
Seek out some shade to set up and sit under
Slide on a pair of Australian approved sunnies.
Getting children to join you in these behaviours can be tricky at times. So here are some clever ways to get them involved:
Take your child to the shops to choose their own cool new pair of sunglasses and a wide brimmed hat.
Give your child input into choosing their clothing – just make sure the options cover their sensitive skin while keeping them cool and comfortable.
You can even find a fun umbrella or beach tent to use outside in summer so you have your own shade solution ready to take with you.
Let your child choose their favourite sunscreen that feels good on their skin, and give them some independence in applying it (age permitting and with supervision!).
Another tip? Make sure you've always got sunscreen on hand during the hot months – keep some in sight near the front door so it can prompt you to be prepared. Even consider clipping a small bottle onto your bag and stock up with a spare in your car.
Gearing up the children for a day in the sun does take a bit of planning. But if you keep at it, the payoff will be well-protected sun-safe children who develop SunSmart strategies and behaviours for life, and can enjoy the sun without risking their skin or long term health.
Looking for the right Childcare Centre for your Family?
Submit your details and a member of our Concierge Team will be in touch to discuss what you need and how we can help you experience something more than childcare.

We'll be in touch soon.
You May Also Want to Read This