Lights Off! Earth Hour 2017 at Guardian

Sustainability is a big focus for us here at Guardian. That's why we took part in Earth Hour 2017 which saw us switching off the lights at many of our centres and even in the support office!
Did you know…
Carbon dioxide (CO2) is a heat trapping gas released by burning coal and is the main contributor to climate change and global warming.
If a centre switches off its lights for the whole day it would save 63kg of carbon dioxide from being released to the atmosphere. And, even more amazingly, if 90 centres participated it would save 5.67 tonnes of CO2 which is approximately the weight of six adult elephants.
If families switch off their lights for the whole day their household would save 5.36kg of carbon dioxide from being released into the atmosphere.
We checked in with a couple of centres to see what they did for Earth Hour 2017 on Friday 24th March, 2017.
Martin Place ELC Celebrates Earth Hour!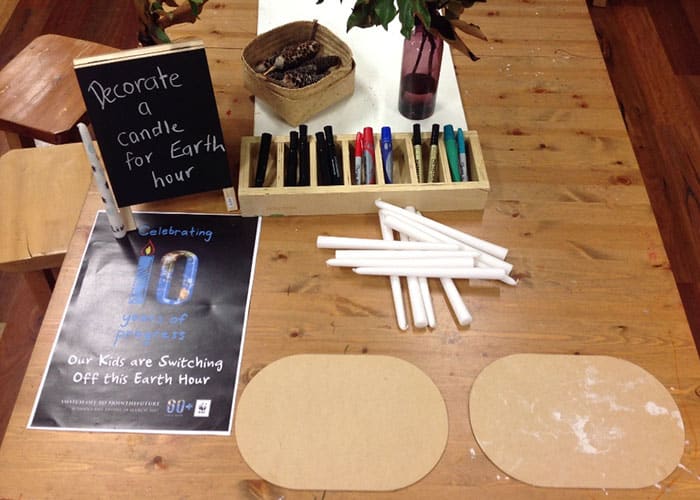 At Guardian we support and believe that children are active global citizens with rights. By this we also expect that children will be able to have access to information around such topics of social, political, environmental and ethical concern.
This afternoon the Little Explorers and Preschoolers sat down as we talked about Earth Hour. We talked about using electricity and turning off the lights when we don't need them. This prompted the question about how we could see in the dark? What could we use? Answers like torches were expressed as well as someone's fact that rabbits can see in the dark!
Producing a candle, the group recognised it as birthday candle. I offered the idea that candles could also be used in to see in the dark. But because of the flame, it is important to do it while an adult is around.
Explaining further to the children about Earth Day I let them know that tomorrow night people all around the world would be showing they care about our planet by switching off their lights for an hour. We would all decorate a candle so they could take home and participate with their families. We also mentioned how important it is to look after the Earth so we would lovely parks to play in and beaches to visit and water to swim in.
Read more about Martin Place Early Learning Centre here.
Acre Woods Eastwood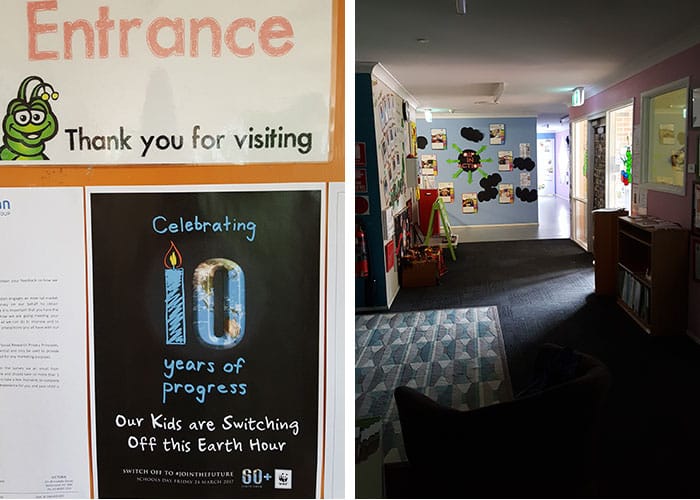 For us it was mostly about turning off the lights as much as possible and using candles to illuminate some of our darker areas. The rooms also utilised as much natural light as possible as opposed to turning on the lights inside.
Read more about Acre Woods Eastwood.
Preschool Earth Hour at Bruce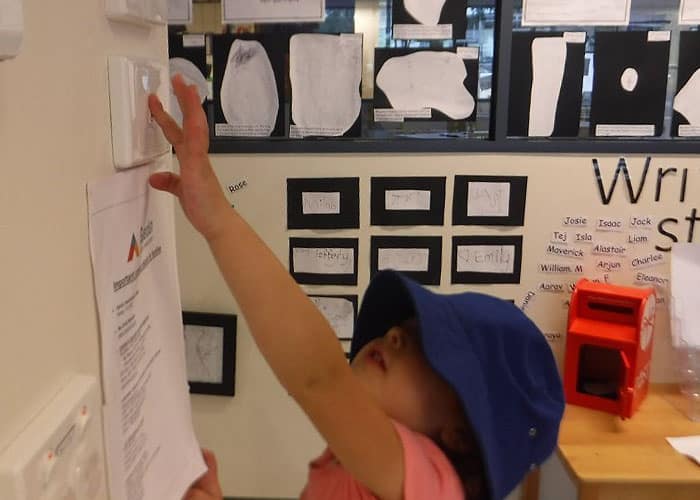 This week in the lead up to Earth Hour 2017, Preschool have been engaging in many discussions and experiences that were aimed at extending the children's knowledge about the importance of sustainability, electricity usage and the effect this has on our environment.
Earlier in the week, the Preschool children built a solar house along with help from educators to support learning about solar energy and what electricity is used for. During this experience, educators asked children key questions about their thoughts on what electricity is, what it is used for and discussed ways that we could save electricity, therefore bettering our environment.
The children applied a wide range of thinking strategies to investigate how we could save electricity in the Preschool room and at home along with what we could do instead. Through deep discussion, the children identified that electricity is used for turning on and powering our lights. We discussed how overuse is bad for our environment which is when the children said they'd turn off the lights. This then lead to the question 'How will we see'?
Ben: "we can open our eyes"
Evelyn: "we can see from the sun"
Lachlan: "we need a solar house"
Sienna: "we have lights"
Isla: "If we turn off the lights we can still see"
Sandi then thought it was time to investigate the children's thinking about the use of lights by asking the children what they thought would happen if we turned off all the lights.
Lachlan: "we won't be able to see"
Evelyn: "we can't see"
Isaac: "It will be dark"
Sandi turned off the lights and to the children's surprise they were still able to see clearly everything and everyone around them.
Evelyn: "we can see"
Lachlan: "we can still see with the lights turned off"
Ben: "the sun is helping us see"
We then came to the conclusion that we don't always need to use lights, but can use natural light from the sun instead, becoming more sustainable and better for our environment.
Read more about Guardian Early Learning Centre – Bruce.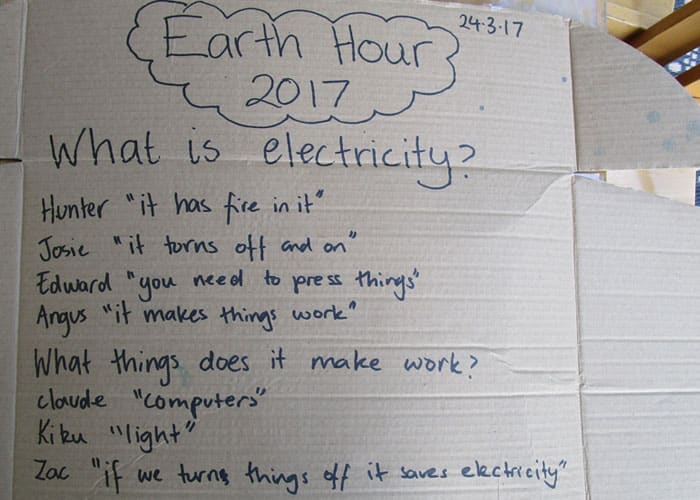 Today's theme of caring for our environment was inspired by 'Earth Hour'. As a group to support 'Earth Hour' we decided to turn the lights in our classroom off for the rest of the day!
During our morning group time we formed a discussion around 'what is electricity?' The children shared many ideas including, 'it turns things on and off'. Our discussion moved to 'where does electricity come from?'
Many children suggested that it came from wires or from switches. As educators we used this to challenge children and asked 'where did it come from before the wires?' This stumped a lot of children! Moving forward we look forward to conducting experiments and investigating the many ways in which electricity is generated.
Looking for the right Childcare Centre for your Family?
Submit your details and a member of our Concierge Team will be in touch to discuss what you need and how we can help you experience something more than childcare.

We'll be in touch soon.