---
---
Intergenerational Partnerships: Nanna Rita in Residence at Guardian Springfield
15th November 2019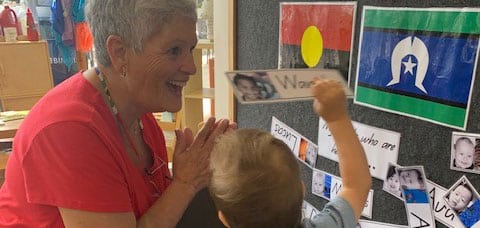 After connecting with the children and Educators during their community outings, a local elderly resident began volunteering at Guardian Springfield in the centre's first intergenerational partnership.
Centre Manager, Hayley, shares details on the recent partnership and how the children and Nanna Rita have bonded so far.
"Rita approached the centre seeking out volunteer work after watching the television program Old People's Home for Four Year Olds," shares Hayley.
"She had often seen the children and Educators out on regular community excursions, and after speaking to them she felt called to connect with the centre further."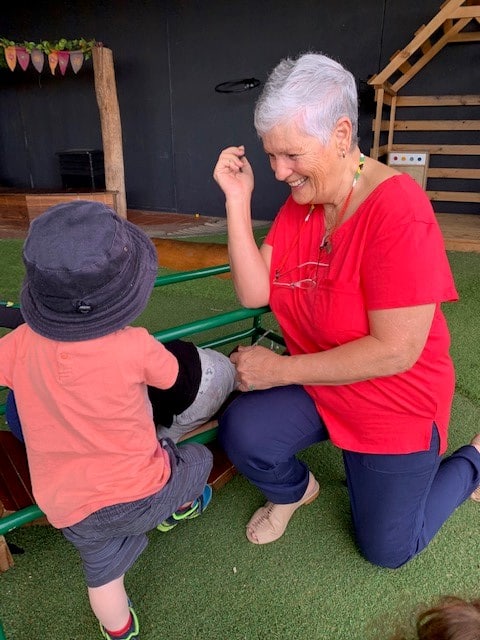 As Rita already had a volunteer Blue Card, she was able to jump straight into volunteering and visits to the centre.
"We're delighted to have Rita at the centre two days a week. During her visits she reads stories, sing songs, helps with learning experiences and has meaningful conversations with the children," says Hayley.
"Rita is currently working in the one to two-years space, so when she started we introduced her to the children as Nanna Rita."
"The children have responded so positively with Rita. They took to her almost immediately, as if they had known her for a long time."
Fostering intergenerational relationships has a wide range of benefits, including reducing social isolation, strengthening self-esteem and broadening all participants' social, emotional and cognitive skills.
"Play is ageless and it is such a beneficial opportunity for Rita as well as the children in our care," explains Hayley. 
"We look forward to the relationship developing over time and for Rita to have more interactions with the parents and other age groups at our centre."
In Rita's few visits, the children explored various learning opportunities, including:
Exploring social and emotional wellbeing as they share humour, happiness and satisfaction. 

Seeking out and accepting new challenges, making new discoveries and celebrating efforts and achievements of themselves and others. 

Developing a sense of identity, belonging and a sense of community.
"We look forward to watching this partnership bloom, and experiencing all the wonderful things that will come from it," says Hayley.
Hayley and the team look forward to continuing the program and are hoping to welcome more Nannas and Pas as volunteers in the future.
---
Looking for the right Childcare Centre for your Family?
Submit your details and a member of our Concierge Team will be in touch to discuss what you need and how we can help you experience something more than childcare.

We'll be in touch soon.
You May Also Want to Read This