---
---
Intergenerational Partnerships: Guardian Springfield Take Nanna Rita on Nature Walk
10th January 2020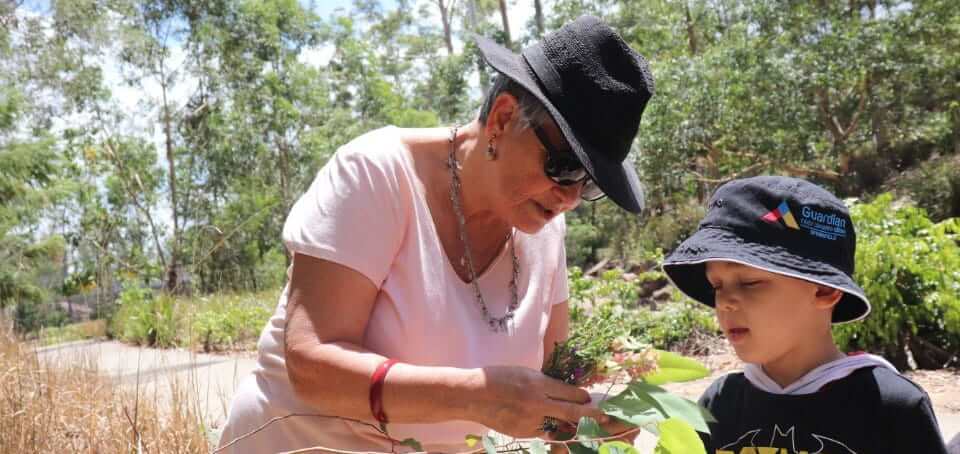 Since connecting with Nanna Rita in 2019, the children at Guardian Childcare & Education Springfield have participated in many exciting experiences with her, with the latest being a nature walk through Robelle Domain.
Educational Leader, Amanda, shares details of the adventure and how the Centre's relationship with Nanna Rita has developed over the past few months.
"Nature walks are embedded into the curriculum at Springfield and occur each day as a daily routine, which both the children and their families love," explains Amanda. 
"When they're out and about in the parklands, the children explore with one another and each walk brings a new adventure as they discover their surroundings and meet people from the community."
To further initiate Nanna Rita into the Centre's community, the children invited her out for a nature walk and tour of their favourite spot in the Robelle Domain parklands.
"The children have a special place in Robelle Domain called 'The Lawn', which is sacred to them," shares Amanda.
"They were excited to bring Rita there, as it's become a place of familiarity and tranquillity for them to play and explore."
"Their faces lit up with pride as they showed Rita around, and later challenged her to a running race, which she happily competed in."
Nanna Rita visits the Centre everyday with experiences designed for each age group of children. Recent experiences include making salt dough ornaments, baking gingerbread cookies and exploring flowers.
"Rita sings and dances and effortlessly creates conversations and strong relationships with the children," says Amanda.
"She recently brought in music boxes from her personal collection, which the children found fascinating. Watching Rita sharing something sacred of hers with the children was a beautiful moment to witness."
"Rita has become an important part of our Springfield culture over the past few months. She has built such a collaborative connection with the Educators, who are always keen to hear her ideas and advice."
Amanda and the team look forward to continuing their relationship with Nanna Rita, and are excited to see what experiences she has in store for them in 2020.
---
Looking for the right Childcare Centre for your Family?
Submit your details and a member of our Concierge Team will be in touch to discuss what you need and how we can help you experience something more than childcare.

We'll be in touch soon.
You May Also Want to Read This