---
---
In Conversation with Shae Centre Manager of Guardian Allara Street
14th July 2019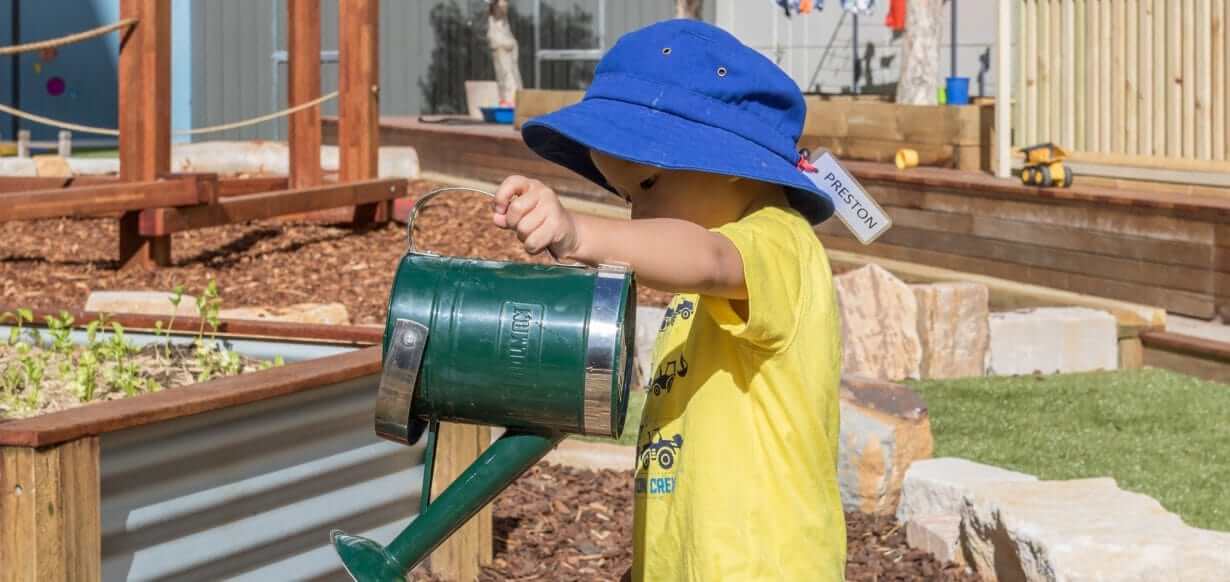 Shae is the Centre Manager for Guardian Allara Street, a spacious centre which features herb and vegetable gardens, a creek bed, water play, Indigenous totem poles, and shady trees. Shae took a few minutes out of her busy day to share insights on her career background, her education approach and a few fun facts.
Tell us about your time working in early childcare and education so far and what inspires you each day?
I have always enjoyed the company of babies and young children, and worked as a nanny and babysitter throughout high school. After completing high school, I spent my first year working as a nanny, an assistant in a small long day care service and as a teaching assistant at a private boys' school. These positions confirmed my desire to pursue a teaching career. I commenced study at Macquarie University the following year, with the goal to become a primary school teacher.
In my second year at university, I became a mum. As a young mother, I faced judgement from my peers, including the assumption that I would not achieve my goal of becoming a teacher. This fuelled my motivation to succeed, and with unparalleled support from my husband and parents, I was able to juggle parenthood, work and study.
As part of my study I was lucky enough to learn from some of the brilliant minds in early childhood, and was placed in a wide range of settings for my pracs. I was able to learn from experienced teachers in long day care, small traditional preschools, public primary schools and prestigious private schools. It was through these experiences that I began to realise my desire to know more about how children think and learn. I also began to notice the stark contrast in how children are nurtured as individuals between the differing settings, and felt a responsibility to advocate for holistic approaches to teaching children of all ages.
At the completion of my third year of university, I was offered a contract position as a teaching assistant at a local public school, where I worked in a Year 3 class. During my time there, I was tasked with supporting a small group of children in the class who were struggling academically due to a variety of factors. This opportunity allowed me to combine early childhood pedagogy with primary teaching strategies. I used play-based learning experiences and trauma-informed strategies to build confidence and support this group of children to grasp concepts they had previously struggled with. Watching these children thrive in response to a more individualised approach further motivated me to complete my studies and pursue a teaching position in primary education.
I then returned to my previous centre and became a Group Leader. This was my first taste of leadership and I found that teaching the Educators in my team how to read cues, foster a sense of belonging and support families was by far the most satisfying and fulfilling role I had experienced to date. I enjoyed the leadership aspect of this role so much that I moved my family from Sydney to Canberra for a position as a full time Educational Leader in an integrated service. This included long day care, out of school hours care, maternal health care and an early childhood school. It was then that I realised that I no longer aspired to be a primary school teacher, but wanted to pursue a career in early childhood. After so many years of working towards my initial goal, this came as a complete shock to me!
After refocusing my efforts, I've since worked as an Educational Leader as well as a trainer and assessor in early childhood. The skills gained in these positions have been invaluable as a Centre Manager for Guardian Allara Street, where one of my favourite aspects of the role is supporting professional growth within my team.
Each and every day I feel motivated to support my team to develop their understanding of children and achieve their career aspirations.
What have you learnt about children during your early childcare and education career and how would you sum up your approach/passion to helping them on their learning, emotional, social and life journey?
I have come to learn that children are far more knowledgeable and capable than we know. If we take the time to really listen to them, to understand them and to respect their feelings and ideas, we can embark on an enjoyable journey as co-learners. I believe that children should be valued and supported as the individuals they are, and that Educators should provide the stable base from which they gain confidence to explore and take risks in their learning. Our team at Guardian Allara Street seeks to develop and maintain strong relationships with children and families to better understand the individual needs of each child. I believe it is this connection and partnership that supports a meaningful and fulfilling early childhood experience for the children who attend our centre.
What are you most excited about working with children on/teaching children about and why?
I'm most excited to teach children about their power as human beings. Their power to look after themselves, each other and our world. Our future is dependant on the children we educate today, and I feel a deep responsibility as a Centre Manager at Guardian Allara Street to teach them to be kind, socially responsible and confident in themselves.
5 quick fun facts about Shae
I enjoy making things (painting, sewing, cross stitch, DIY).

I like to drive fast cars.

My favourite dessert is sticky date pudding.

My family is from South Africa.

I love all things Egyptian.
---
Looking for the right Childcare Centre for your Family?
Submit your details and a member of our Concierge Team will be in touch to discuss what you need and how we can help you experience something more than childcare.

We'll be in touch soon.
You May Also Want to Read This