---
---
In Conversation with Kristine Centre Manager of Guardian Macquarie Park
9th September 2019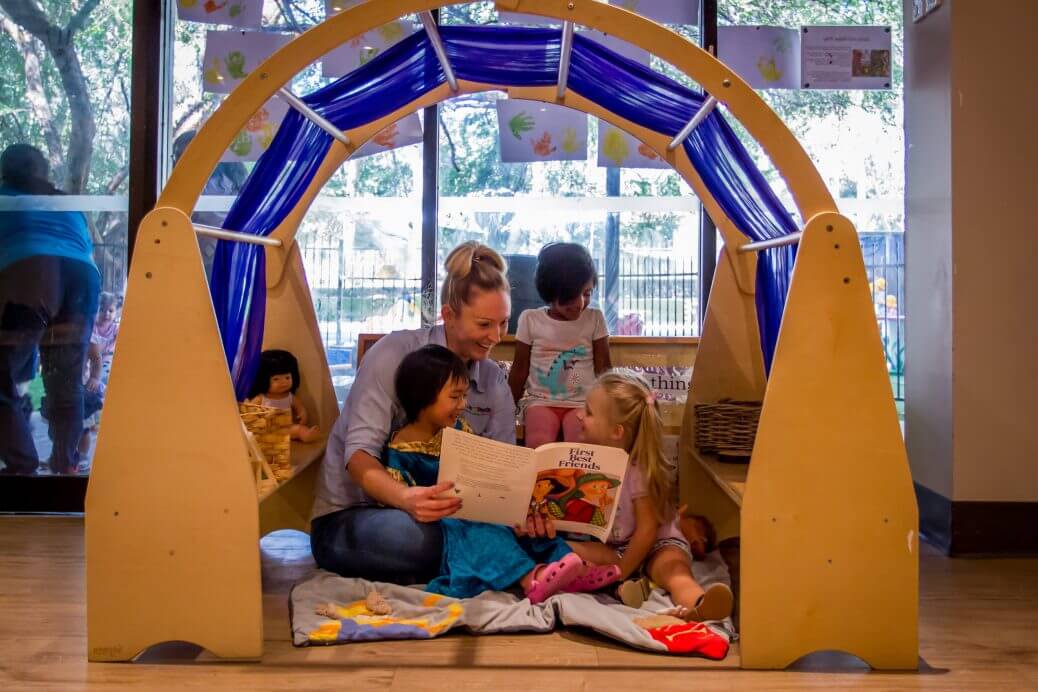 Kristine is the Centre Manager for Guardian Macquarie Park, a light-filled centre which features an art atelier, a vegetable patch, and wooden pallet climbing frames. Kristine took a few minutes out of her busy day to share insights on her career background, her education approach and a few fun facts.
Tell us about your time working in early childcare and education so far and what inspires you each day?
I have been in the childcare industry for 20 years now. I started out at 16 teaching dancing to preschoolers, then began working in vacation care whilst I was still in school. From there, I worked in out of school hours care, in preschools and at childcare centres. Whilst working at a preschool, I decided I wanted to be a teacher in the early years sector. I really liked how we could enjoy the best possible outcome with every child we came into contact with. I studied at Medibank TAFE and at Macquarie University to complete my Bachelor degree in teaching.
I've worked with Guardian for 12 years, and at Guardian Macquarie Park for five. Being a role model and mentor inspires me in my Centre Manager role. Mentoring my team to the best Educators that they can be and reach their potential is very rewarding and brings me joy each day. I'm also very passionate about giving every child the best possible start to life. The children at Guardian Macquarie Park inspire me to tap into my creativity to create interesting environments for them in the centre, proving that being a positive influence in childcare is a two way street.
What have you learnt about children during your early childcare and education career and how would you sum up your approach/passion to helping them on their learning, emotional, social and life journey?
We are always learning from young children and everyday is different. They remind us that no one knows everything and there's always room for improvement. You have to be a lifelong learner in this industry, regardless of your role. My personal approach is focused on ensuring children have a holistic plan of learning to cover all developmental areas such as literacy, numeracy and 21st century life skills to set them up for their futures. I always encourage children to be lifelong learners and confident individuals that believe whatever they put their mind to they can be or do. At the end of the day, we're all humans, so it's important to give every child an equal level of respect and care.
What are you most excited about working with children on/teaching children about and why?
I enjoy working with children to build their confidence and self esteem, which then teaches them to identify what their emotions are and how to transition from different emotions – such as going from sad to happy or vice versa. It helps them understand that it's okay to be upset and feel out of sorts and gives them the ability to have those tools to get back to the happiness. Laying these foundations then gives children the tools to be strong and thick skinned, confident that they can take on anything that the world throws at them.
5 quick fun facts about Kristine
I like to do a lot of physical activities with my family, like bushwalking and going to events together.

My favourite holiday destination is anywhere tropical and warm.

I try to do yoga and meditation everyday to help me relax.

I enjoy cooking, especially healthy and organic meals.

I love water sports! In summer I do a lot of boating and paddle boarding.
---
Looking for the right Childcare Centre for your Family?
Submit your details and a member of our Concierge Team will be in touch to discuss what you need and how we can help you experience something more than childcare.

We'll be in touch soon.
You May Also Want to Read This