Garden Street on a Mission to Collect 1000 Plastic Lids for Children in Need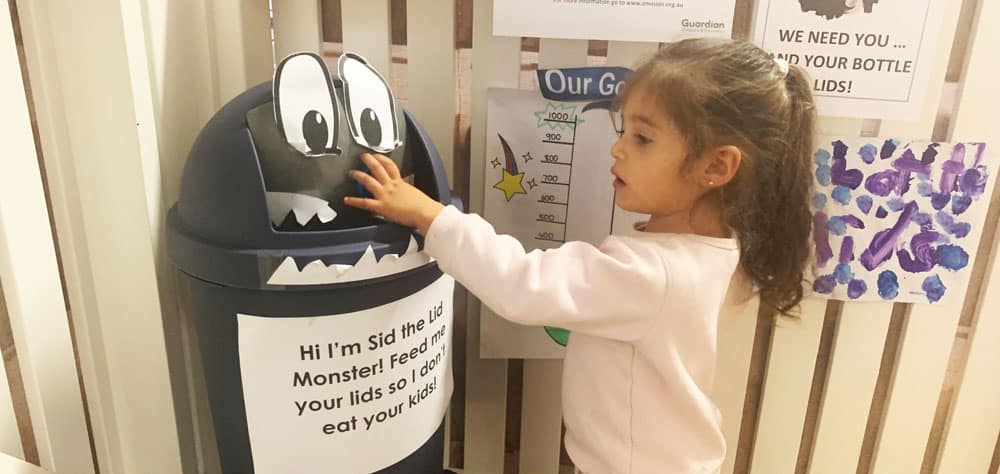 This July, eight Guardian childcare centres in Sydney are uniting to achieve a huge goal – collecting 10,000 plastic bottle lids to turn into prosthetic hands for children in need.
We spoke to Garden Street Centre Manager, Kate, about the project and the unique approach the Garden Street community is taking to collect lids. They have set themselves the goal of collecting 1000 lids as part of the wider mission to collect 10,000 across the eight Guardian centres.
The project began with Caringbah's Centre Manager reaching out to the cluster of centres to see if they wanted to work together to collect a mammoth amount of plastic bottle caps. 
"Our Operations Manager, Sonja, thought it'd be a great idea for us to get out into the community and collect things that we use all the time. Not only is the project great for sustainability, but it's something that the families would really want to get involved in," explains Kate.
Earlier in the year, Kate began sending out surveys to the families of Garden Street to see what projects, events and activities they wanted to get involved in at the centre.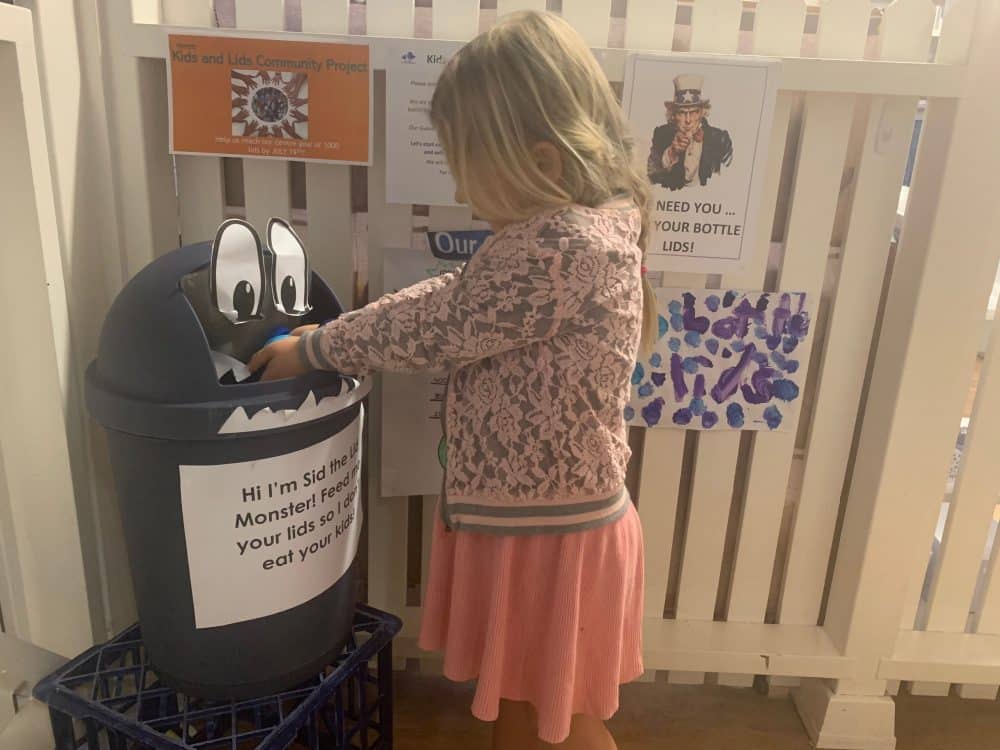 "Our families love getting involved in community projects and helping out at the centre, so this project was the perfect way to teach the children valuable lessons and make a difference, without necessarily donating money," shares Kate.
Launching their 'Lids for Kids' initiative has been a huge success thus far, with Garden Street having collected 485 lids at the time of our interview (only a week and a half into the project!). 
"Seeing how great the response has been in such a short time has definitely inspired us to kickstart some other initiatives once Lids for Kids has finished," says Kate.
Garden Street are collecting plastic bottle lids for Envision, who melt down the lids, put them through a 3D printer and create prosthetic hands for children in third-world countries.
To prep for the project, Kate did some research and crafted decorations to display in the centre's entrance.
"Each of the centres in the cluster have totally different displays, so I had to think about how we could make it look like a Garden Street relevant project," explains Kate.
Kate created a bin called Sid the Lid Monster, who sits dutifully in the entranceway waiting for children to deposit lids into his mouth. The sign on his belly reads 'feed me your lids so I don't eat your kids'.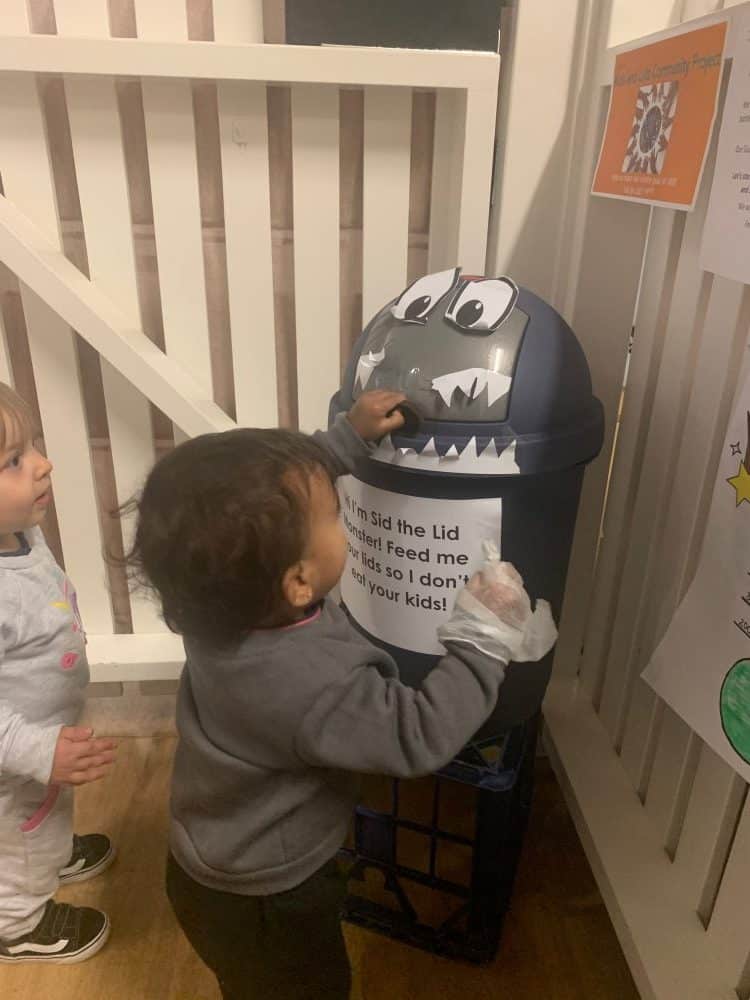 "Sid makes the whole experience really playful and fun. Everyone who comes into the centre has a laugh at him," says Kate. "Parents often pretend that Sid is going to eat the children, and playfully close the lid on their hands."
The children are very involved in the project, purposefully collecting lids from their homes and bringing them in each morning, monitoring Sid's process throughout the day, then counting the lids before they go home.
"One of the children has a sister in primary school that had her whole class collecting lids for the project, which was a lovely surprise," shares Kate.
Lids for Kids has started some fascinating conversations amongst the rooms, including the preschool room exploring the effects of plastic and recycling, and discussing what would be happening to the lids if they weren't collecting them.
"Some of the children have been asking why we're collecting lids, which has resulted in several conversations that have put us as Educators on the spot," says Kate.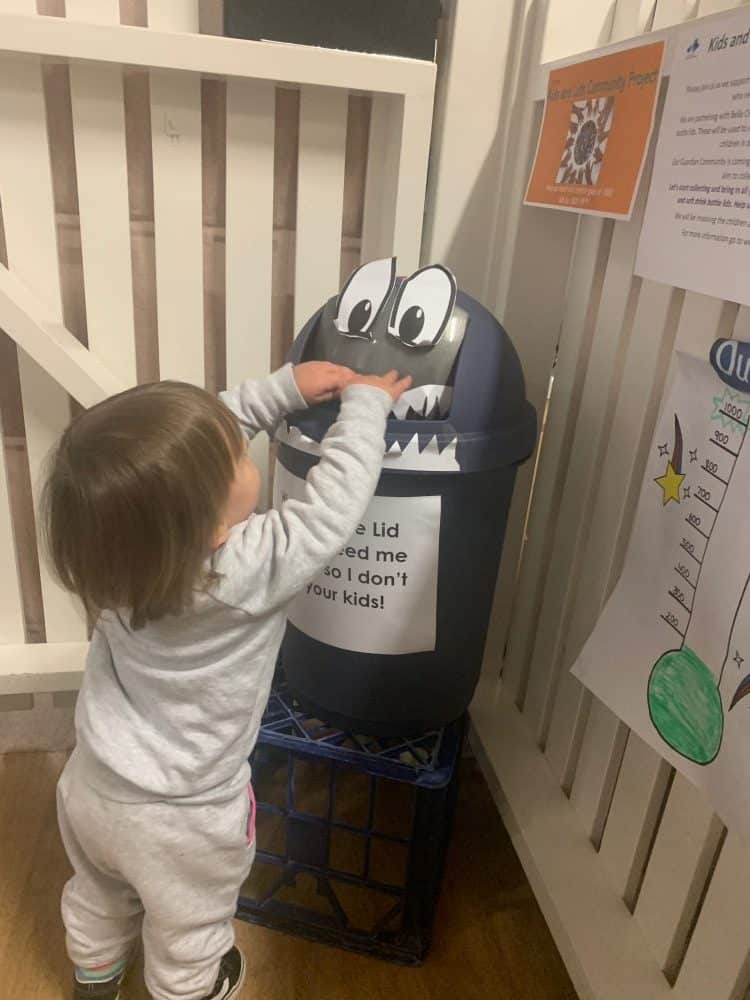 "We have to start off slow, explaining that some children don't have the same things we have, or that some children have had accidents or have been born differently and need some extra help – that they need magic hands."
"They're responding really well to the information – we definitely don't give children enough credit for how understanding they can be. They're the ones driving the parents to collect lids and bring them in, they really are the driving force behind the project!"
With just over a week to go before their July 19 goal date, Garden Street are planning to reach out to local cafes to get involved and donate their milk bottle lids, further showing the true community spirit of the project.
If you would like more information on Envision and their project, head to their website or their Facebook page – and be sure to check out our Guardian socials to find out the total tally of lids collected!
Looking for the right Childcare Centre for your Family?
Submit your details and a member of our Concierge Team will be in touch to discuss what you need and how we can help you experience something more than childcare.

We'll be in touch soon.