---
---
Children of Kids Club Torquay Help Clean up the Sea
29th July 2019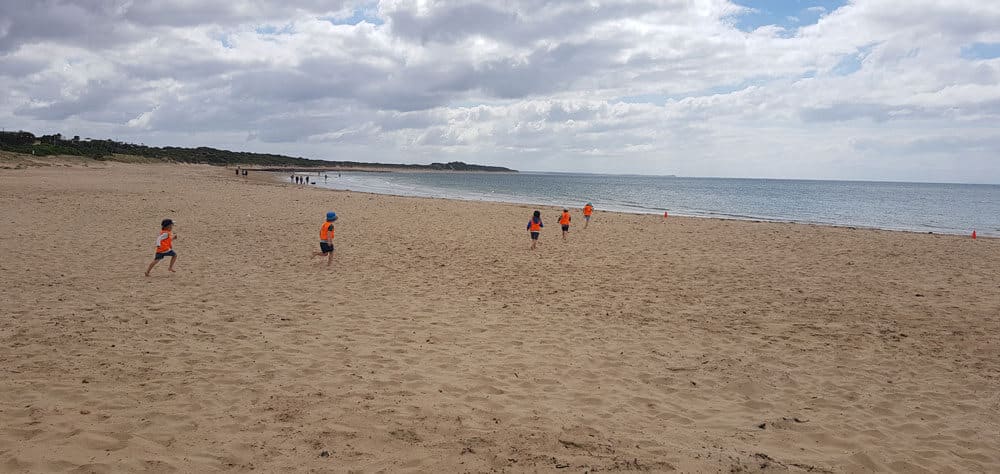 Each week, Guardian Kids Club Torquay venture out for their beach kinder program, where they play, learn about the environment, and do their part to keep the landscape clean.
We spoke to Centre Manager, Millie, who shared the inspiration behind the initiative, more about the beach kinder program, and how the children have become 'Ocean Warriors'.
"In 2017, we decided to start a beach kinder program for the centre. We figured we have this amazing resource right in our backyard, so why not take full advantage of it?" explains Millie.
"We believe that spontaneous and undirected playtime in a natural environment is one of the most valuable educational opportunities we can give our children, so creating a weekly program that incorporates those values was a natural step for our centre."
Since launching, the beach kinder program has been a huge success for the centre, and the weekly visits to Fisherman's Pier Beach and Tailors Park are a highlight for the children and Educators alike.
The program provides an opportunity for the children to safely explore rich and diverse natural environments while developing self-confidence, teamwork and social skills.
At this year's Guardian centre manager conference, Millie was inspired to take the program one step further.
"One of the guest speakers at the conference was a cofounder of Take 3 For The Sea, and it really got me thinking about how we could implement the initiative into our own program," says Millie.
"I then had a chat to our kinder teacher, Tania, who confirmed that we were already doing a version of Take 3 For The Sea, so we decided to incorporate it permanently into the program."
The initiative is a simple but incredibly effective movement. To get involved, all you have to do is collect three pieces of rubbish each time you go to the beach or a waterway. 
The aim of this global movement is to dramatically reduce plastic pollution in our oceans, which is something the kinder children were very excited to be a part of.
"Once Tania discussed Take 3 For The Sea with the kinders, they were really excited to become 'Ocean Warriors' and start collecting rubbish," says Millie.
Other conversations between Tania and the kinders covered topics such as making a difference, the effects of plastic on the environment and how our future will be impacted if action isn't taken.
Tania and Millie noted down some of the children's responses during the conversations:
"Get the rubbish off the beach." Neave, 4 years old
"Because it's bad for the animals." Isla, 4 years old
"So animals don't eat it and get sick." Oliver, 4 years old
"We put rubbish in the bin and recycling in the other bin." Zak, 4 years old
"We pick rubbish up and put it in the bin, so no animals eat them." Elle, 3 years old
"Since incorporating Take 3 For The Sea into the program, it takes much longer to walk to and from the beach and bush as the children want to stop and collect every little piece of rubbish they see," shares Millie.
"They're now very passionate about caring for their environment and are actively putting rubbish in the correct bins, choosing environmentally friendly products and sharing knowledge with their families."
To learn more about Take 3 For The Sea, you can visit their website.
---
Looking for the right Childcare Centre for your Family?
Submit your details and a member of our Concierge Team will be in touch to discuss what you need and how we can help you experience something more than childcare.

We'll be in touch soon.
You May Also Want to Read This