---
---
Types of Childcare: What's right for your family?
22nd March 2021
To help you understand the different types of childcare, and the pros and cons they offer for your family, we've listed below the various options. We hope this list helps you make a decision that best suits you, your family, and – most importantly – your child.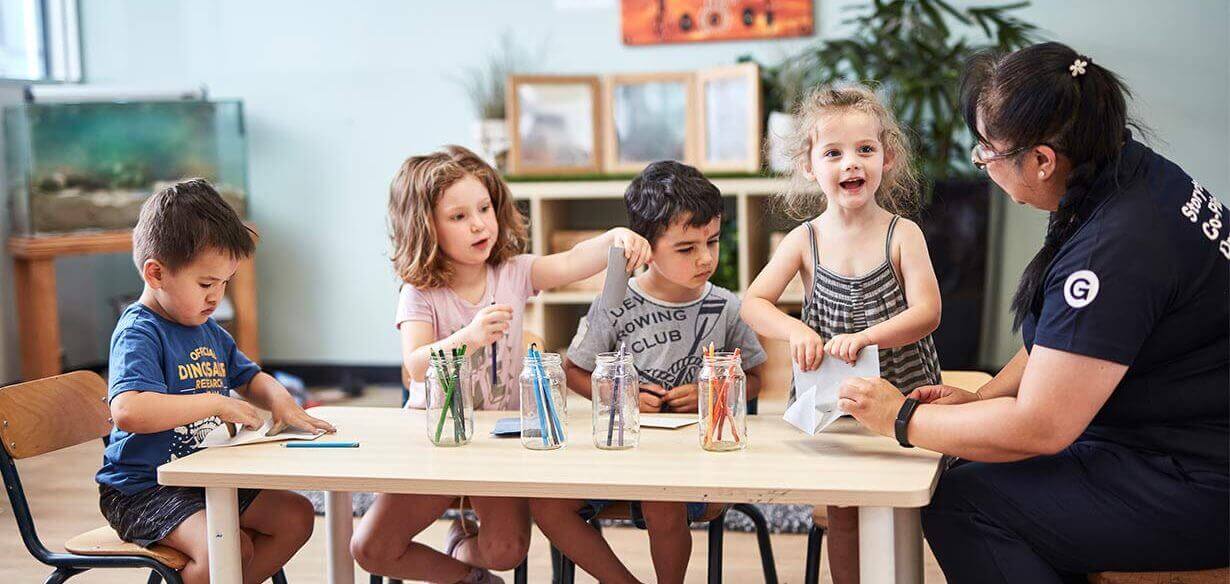 There are many different types of childcare and early education services available for families – depending on their needs, location and the ages and stages of their children. Choice is a great thing to have, but it can also lead to indecision and uncertainty – especially if you're a first-time parent.
On top of that, different states have different names for services – for example, in NSW and the ACT the year before primary school is called 'Preschool', but in other states it's known as 'Kindergarten' or 'Prep'.  This can all add up to a lot of confusion for families when trying to make the best decision for their children.
Childcare Centre (long daycare)
Long daycare centres provide care and education programs for children (usually aged from six weeks to six years). This is before a child starts formal schooling. These centres provide full day care from early morning to early evening, and provide up to 5-days a week care. Families can opt to send their child or only one day, or for the full five-day week – or anything in between. Bookings are usually on a permanent basis, although some providers give the options of casual bookings when needed.
Working families are those who use this type of care most, and the centres provide close to everything required during the day for your child – as part of their daily fee. This can include all or some of the following: nappies, formula, meals, bedding, water bottles, hats and sun cream. The centres are usually arranged according to age group – with rooms dedicated to babies, toddlers and preschool-ages children.
Preschool, Kindergarten or Prep
As your child moves through their early years, the transition to formal schooling is one of the most significant milestones you and they will face. Preschool and Kindergarten Programs set the foundations for a positive start to your child's first year of school. These programs often focus on:
Teaching the basic numeracy and literacy skills needed for academic success.
Embedding valuable social and emotional skills required to be confident and resilient.
Clear learning outcomes to prepare your child for formal schooling, and beyond.
However, there are also options when it comes to the type of kindy, preschool or prep provider you choose.
Long daycare preschool/kindergarten programs. These are facilitated within a long daycare setting, and they also offer the added benefit of long care hours for families.
School-run preschool/kindergarten programs. These are planned educational programs for children in the year before they start at primary school – children aged 3-5.
Community-based preschool/kindergarten programs. These generally run between the hours of 9am and 3pm – similar to school hours – although this may vary by state and by service so check with the provider.
Occasional, Flexible or Casual Care Services
These options provide short periods of care for children before they reach school age. It often suits families who are casual or shift workers as it can be used on a needs-be basis.
This type of care offers families the flexibility to leave their children in an early education and care setting on an as needs basis.  This gives children the chance to socialise with their peers and develop those all-important social and emotional skills in the lead up to primary school. These types of care arrangements are usually offered by community organisations, non-for-profits and local councils.
Family Daycare
There are many benefits to family daycare, and thousands of families choose this option for their children every year. Family daycare is care provided in the home of an experienced carer. It caters to children under school age and is a great option for families requiring flexible care as it can be tailored to suit specific family needs that might extend outside the standard work hours, potentially even including overnight care if needed.
This is a great video from the Queensland Department of Education about Family Daycare and will give you a great idea of what is involved.
Before/After School Care or Outside School Hours Care
These providers offer a mix of before and after school hours care as well as on-site holiday care for students. This type of care is predominantly for primary school-aged children, and is usually located on their school grounds, or by an external provider who provides pick up and drop of services to and from the school. It is designed to offer families care outside the standard 9am-3pm school hours, and supports working families who may not be able to drop off or collect their children according to school hours, due to work or other commitments.
Children are offered a range of fun and exciting activities by these providers – with a focus on care and friendship as children get to mix with students of different age groups in a variety of settings. It is supervised care and recreation that includes
Before and after school
Pupil-free day care
School holiday or vacation care.
Many state government websites provides some great information about Before and After School Care options.
In-home care
Arguably the most flexible of all the childcare options, in home care can take the form of a babysitter, grandparents, nanny or live-in au-pair. This type of care is government-subsidised for families who can't access other "mainstream childcare" options, for example those listed above. This may be due to a number of factors, including:
Working odd hours – e.g shift work or weekends
Geographic isolation
Challenging or complex family needs
So, there you have it – the definitive list of the different types of childcare available for Australian Families. We encourage you to do your research and choose the best options for your child and family.
---
Looking for the right Childcare Centre for your Family?
Submit your details and a member of our Concierge Team will be in touch to discuss what you need and how we can help you experience something more than childcare.

We'll be in touch soon.
You May Also Want to Read This