Creative in the Kitchen: How Guardian Childcare & Education Chefs are making healthy food fun for children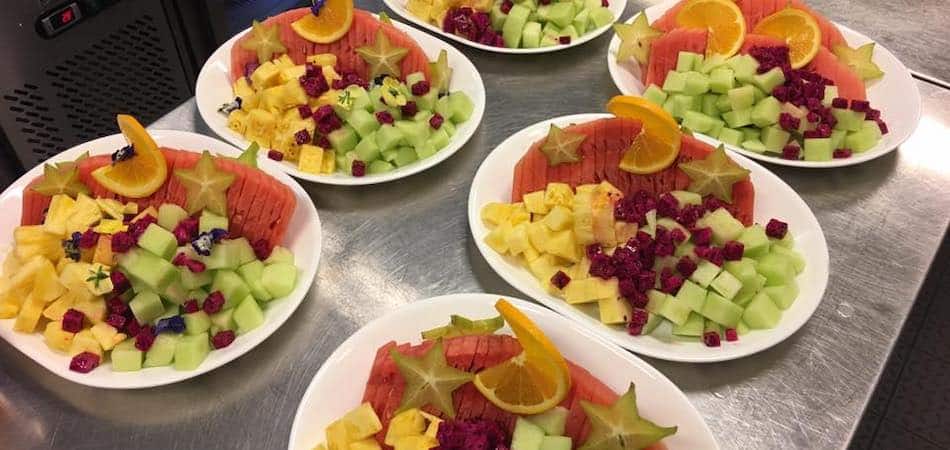 With the coronavirus pandemic sweeping the globe, your child's immune health has never been so important. However, supermarket shortages and social distancing restrictions doesn't mean you and your family have to sacrifice healthy eating – we asked Guardian Childcare & Education Chefs to share their tips on being creative in the kitchen to make nutritious, immune-boosting meals for your children.
Immunity Boosting Soups and Smoothies
Geimi Mantos, Chef at Guardian Childcare & Education Freshwater, says soups and smoothies are a great way to provide your child with a wide range of nutrients. A decade working as a Chef in the healthcare system taught Geimi that these simple meal options are ideal for restoring health and wellbeing, as they can be loaded with fruit, veggies and other nutritious goodies. It's a technique used to ensure all the children are enjoying tasty and nutritious meals in the Centre.
Geimi's Immunity Boosting Smoothie Recipe: https://www.guardian.edu.au/learning-exchange/immunity-boosting-smoothie/
Recipe:
Toss a variety of fruits and green leafy veggies (e.g. 1 cup each of blueberries, banana and spinach), 1 cup chia seeds, 1 cup pumpkin or sunflower seeds, and 1 cup milk into a blender.
Give the ingredients a quick shake before blending for 1 minute, or until you reach a smooth consistency.
Pour the smoothie into a large jug.
Add more milk to taste to dilute the flavour and thin the smoothie.
Place in the freezer for 10-15 minutes for a delicious and creamy breakfast!
Geimi's Top Tip: "It's easy to hide nutritious ingredients in your smoothies and soups. For instance, you can put spinach in smoothies to provide iron, vitamins and more, and you can bulk out vegetable soups with pasta – which is always a fan favourite – to encourage children to eat every last nutritious bite!"
Make Art out of Leftovers
Rouse Hill North Chef Kate Stephens suggests getting your children involved in the kitchen to further their love of food. One way she recommends doing this is by turning your meal into art! "Getting children involved in cooking doesn't mean they have to prepare a whole meal," says Kate. Instead, try making a fun snack together – the children at Rouse Hill North love making their own healthy Face Crackers.
All you need is a cracker, a spread, and whatever ingredients you have at home! For inspiration, see what Kate used: https://www.guardian.edu.au/learning-exchange/make-art-out-of-leftovers/
Ingredients:
1 x Corn Thins for the face
Butter and Vegemite (to help the toppings stick to the base)
2 x cucumber circles, for the eyes
2 x sultanas, for the pupils
1 x tomato slice, cut into a triangle, for the nose
1 x capsicum slice for the mouth
Kate's Top Tip: "With supermarket shortages and restrictions, you might find that you need to stretch a meal and make it go a little further, and this is actually a good habit to get into. Bulking out meals with plant-based protein is great for your diet, the environment and your pocket. You don't need to be fussy and fancy. Bring back simple, fresh food. You don't need a ton of ingredients to make tasty and nutritious meals for you and your family."
Eat a Rainbow
To make healthy eating exciting, Guardian Childcare & Education Pymble encourages children to fill their plates with all the colours of the rainbow. This initiative motivates children to eat more fruit and vegetables, which are key ingredients in building a strong immune system.
"This activity involves trying to have as many colours as possible on your plate," explains Pymble Centre Manager Kylie Davenport. "The colours come from fruit and vegetables, so by having a variety of colours means a variety of vitamins and minerals which help to keep us healthy. By making it fun and relating it to rainbows, we are hopefully encouraging children to eat a range of foods that are good for them."
Kylie's Top Tip: "Before every meal, the children wash their hands with their good hand-washing technique. They then hold their hands with their palms together or with their hands behind their backs, ensuring not to touch anything, as they make their way to the table for eating. This way, their hands are still pristine."
The Guardian Learning Exchange – The Wonder of Learning at Home
Are you looking for exciting activities and experiences to participate in with your family at home? Step into the Guardian Learning Exchange, a new online destination that brings learning to life through carefully planned and frequently updated activities and experiences developed and curated by
Guardian Teachers and Educators. https://www.guardian.edu.au/learning-exchange/
Looking for the right Childcare Centre for your Family?
Submit your details and a member of our Concierge Team will be in touch to discuss what you need and how we can help you experience something more than childcare.

We'll be in touch soon.