Guardian Pymble Educator Celebrates 10 Years at Centre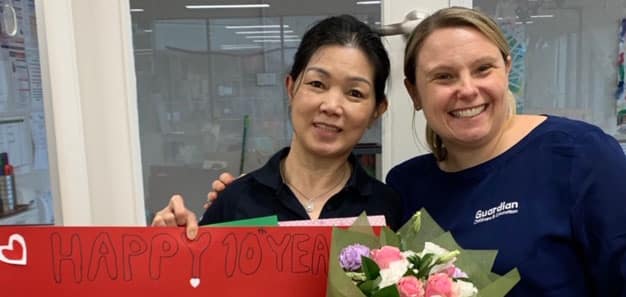 Celebrating 10 years in any role is a huge milestone, and it's an especially sweet one for Guardian Childcare & Education Pymble Educator, Helen.
Here, Helen speaks about her career in childcare, what attracted her to working at Guardian Pymble, and what she's loved most about watching the Centre grow and evolve over the last decade. 
What made you want to work in childcare and how long have you been in the industry? 
I originally started working with children when I was living in Malaysia. I was a primary school teacher and greatly enjoyed it. When I moved to Australia, I wanted to continue working in the education industry and decided to complete my Diploma to further my career in Australia and have never looked back. I love what I do and have enjoyed being an Educator for 15 years now. I love the reward of seeing how far each child has come and helping them along their journey to school.
Did you always know that you wanted to work with children?
Absolutely. I have always had a passion for working with children – helping them grow and make friendships. Also learning about and watching them find their unique personalities brings me so much joy.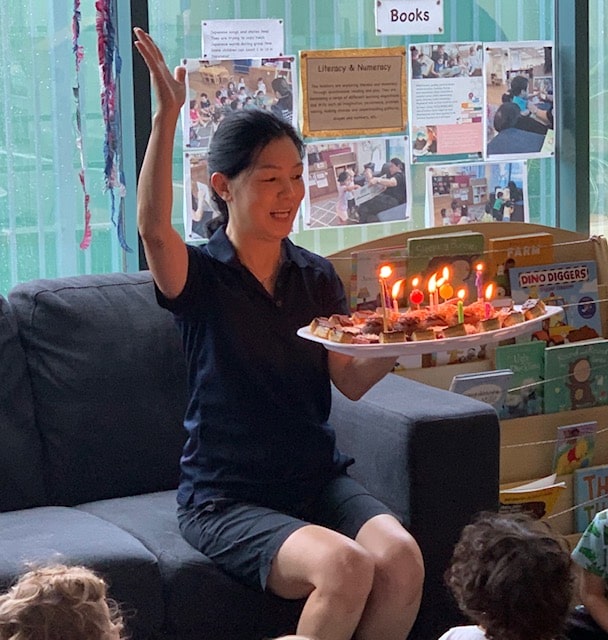 Why did you decide to work with Guardian Pymble?
Guardian have shown that they care about their staff and the children and go above and beyond to help the Centre, which is great. The team is made up of open-minded, respectful and professional staff and I have really enjoyed becoming part of the Guardian family. 
How have you seen the Centre positively change over the past 10 years?
The Centre has had many changes over the last 10 years. I have seen new staff start over the years but also have some team members who have been here just as long as me. In the last 10 years I have seen a change in leadership, a relocation of the Nursery and an entire Centre-wide renovation.
I have witnessed the overall Centre environment become more calm as we have changed the way we set things up and focused on incorporating natural materials. I have welcomed many new team members into our Pymble family and had the pleasure of watching them grow and develop over the years and become an integral part of our Centre.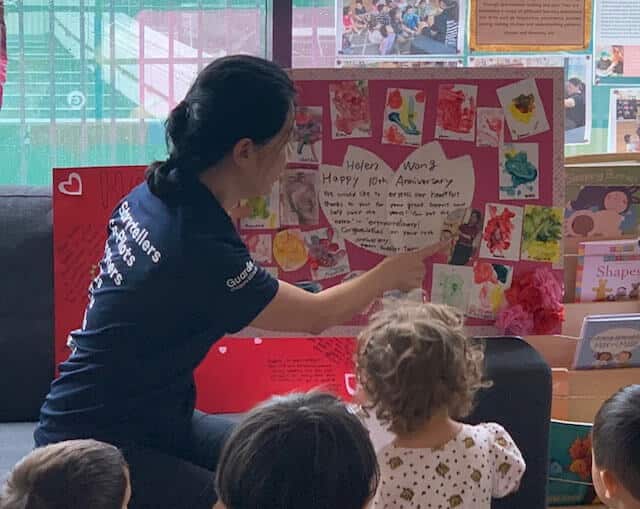 What's it been like, being able to see so many children grow up from nursery to school age?
I am very proud to see the milestones the children have achieved over the years and how they have grown, developed and become healthy and ready for school. I consider getting to experience this time in their lives a privilege and a very special part of my role.
Do you have any special memories that you'd like to share about your time at Pymble?
My best memories would be working with the team at the Centre. They are a great group to work with and I enjoy working alongside them. We have been through many milestones and challenges together and have worked through them all and reached amazing achievements, including being rated Exceeding twice with the national quality framework. We have gone through some ups and downs together and were all there to support one another. I appreciate these memories and take comfort in knowing that I can rely on my work family. 
How did you celebrate your 10 year work anniversary?
The team bought me some lovely flowers, a gift and the children in all the rooms made me cards to keep. It is a memory I will cherish forever. I also spoilt myself with a beautiful dinner and a present to mark the occasion. I enjoyed sharing my achievement and sweet memories with my family, friends and Nursery children and had a wonderful day.
Looking for the right Childcare Centre for your Family?
Submit your details and a member of our Concierge Team will be in touch to discuss what you need and how we can help you experience something more than childcare.

We'll be in touch soon.