---
---
Guardian Gungahlin Hosts Canberra Reptile Zoo at Centre
5th February 2020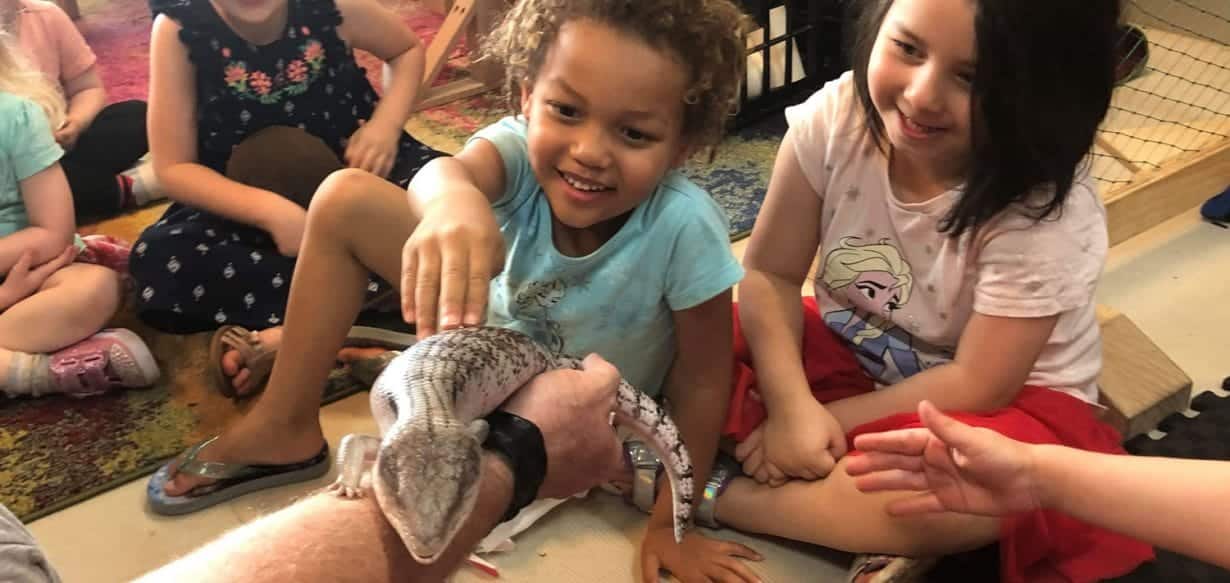 To finish up their exciting Summer Learning Program, the team at Guardian Childcare & Education Gungahlin organised a special visit to the Centre from the Canberra Reptile Zoo.
Centre Manager, Shannon, shares details of the incursion and what the children learnt about Australian reptiles.
"As our Centre is surrounded by bushland, we decided to plan an experience that would encourage the children to become more familiar with the native animals that call the bush home," explains Shannon.
"During the incursion, the children were able to get up close and personal with a variety of reptiles, including a crocodile, turtles and a black headed snake called Dipstick."  
"Peter from Canberra Reptile Zoo was amazing. He was full of knowledge and made the experience a very enjoyable one, cracking jokes and engaging the children in discussions about each animal."
Organising an incursion with Canberra Reptile Zoo was very straightforward. Shannon was able to give them a call and book in on the spot.
"The children were all very excited leading up to the incursion and were completely engaged in the experience," says Shannon.
"A lot of the younger children really began to feel more confident and comfortable as the incursion continued. Peter did a wonderful job of helping the children to feel safe around the animals."
The incursion was both exciting and educational for the children and Educators, as Peter took time to explain the safety precautions to take with each animal, particularly snakes.
"Peter discussed the different reptiles, their habits and how we should interact with them," shares Shannon. 
"He particularly focused on snake safety and what to do if anyone ever encounters a snake at home or in the wild, and made sure that the children understood that we don't touch snakes as it's hard to tell whether they are dangerous or not."
"He also explained the situation from the snake's point of view, and shared that they are likely scared and vulnerable when they see humans." 
The incursion offered many learning opportunities, such as the children connecting with and contributing to their world and children being confident and involved learners.
In the following days, Gungahlin received amazing feedback from their community, with many families commenting on how happy, engaged and relaxed the children were while holding the animals.
Shannon and the team look forward to continuing excursions in the Centre and further exploring the Centre's connection to the surrounding bushland.
---
Looking for the right Childcare Centre for your Family?
Submit your details and a member of our Concierge Team will be in touch to discuss what you need and how we can help you experience something more than childcare.

We'll be in touch soon.
You May Also Want to Read This