---
---
Guardian Barangaroo Records Storytime For Families in Isolation
2nd April 2020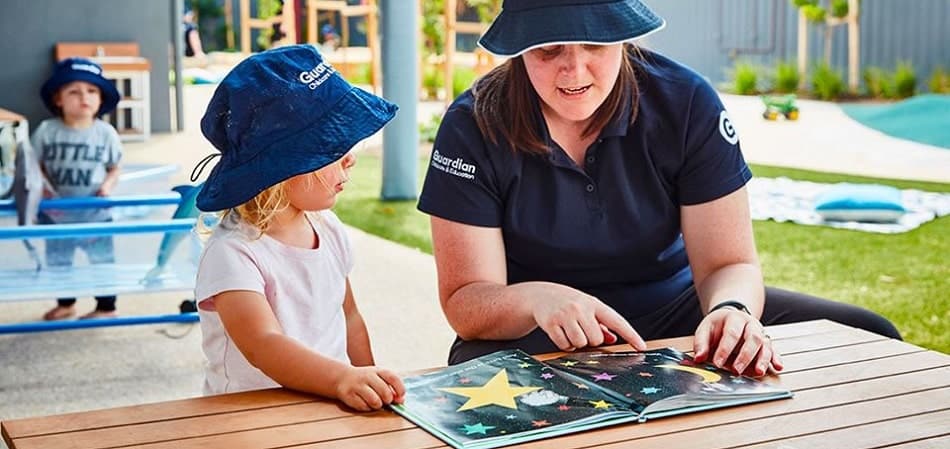 After reflecting on how best to support families who are in self isolation or working from home, the team at Guardian Childcare & Education Barangaroo decided to record videos of themselves reading books for storytime that they could then send out on Storypark.
"Because of the COVID-19 pandemic, we are exploring ways to remain connected with children and their families who are at home," says Lead Educator, Kate. 
"Stories bring people together, and we are hoping our video series can offer connection and support to our families during this time."
"By showing the children with a familiar face, and one that can be put on repeat as often as required, we are hoping to provide a little bit of routine and familiarity."
Within 15 minutes of the idea being suggested, the Barangaroo team were quick to act, and had recorded their first storytime video for the children.
"We are trying to read the books as though the children on the other side of the computer are there with us, pointing out all the things we usually do, and making comments that are part of a typical shared reading experience," shares Kate.
"Families are really grateful for the support and for how we are thinking outside the box to continue to provide educational programs for their children."
"Some have reported that their children have watched a single video up to 15 times in a row, and our Storypark numbers can back that up – one video alone has over 1000 views already."
Some of the books read so far include, The Gobbledygook is Eating A Book by Justine Clarke and Arthur Baysting, Brown Bear, Brown Bear What Do You See? by Eric Carle and We're Going On A Bear Hunt by Michael Rosen.
"It's been lovely to see how much families genuinely do appreciate what we do and recognise the value of it. They are grateful for the support and how we are trying to adapt to current circumstances," says Kate. 
"This project has made me step back and look at what is actually achievable for families in their own home and served as a reminder that children who feel safe and secure are able to learn in any environment, in any context, and will get by just fine."
In the classrooms, the team has been mindful in their approach to discussing COVID-19, as some children are keen to discuss the impacts of the virus, where others are not.
"Allowing children to make the call for themselves is important for their own wellbeing, it's one of the few things they can control in a seemingly uncontrollable time," shares Kate.
"When discussing self-isolating specifically, we've tried to keep it simple. Every family is making their own decision at the moment, and whatever decision is made is a good decision." 
"We've explained to the children that staying at home can help keep everyone else healthy, especially those who are already sick, and that school will still be here when it's time for everyone to come back."
To further support families at home, Kate has been sharing informative posts on Storypark, teaching families how to use what is available in their homes to support their children's play and learning. 
"We've also invited families to read a book back to us via Storypark, and have been sharing a number of digital resources for them to explore whilst at home," says Kate.
"We hope to continue filming storytime for as long as we can, and already have a stack of books waiting to be read for our children and families."
---
Looking for the right Childcare Centre for your Family?
Submit your details and a member of our Concierge Team will be in touch to discuss what you need and how we can help you experience something more than childcare.

We'll be in touch soon.
You May Also Want to Read This