---
---
Why Childcare is Good for your Child
28th September 2020
Placing the care of your child in the hands of someone else can be a challenging transition – for parents and children alike. But with high-quality care and education as a focus, there are many reasons childcare is a great choice for you and your child. This is especially the case in the lead up to formal schooling.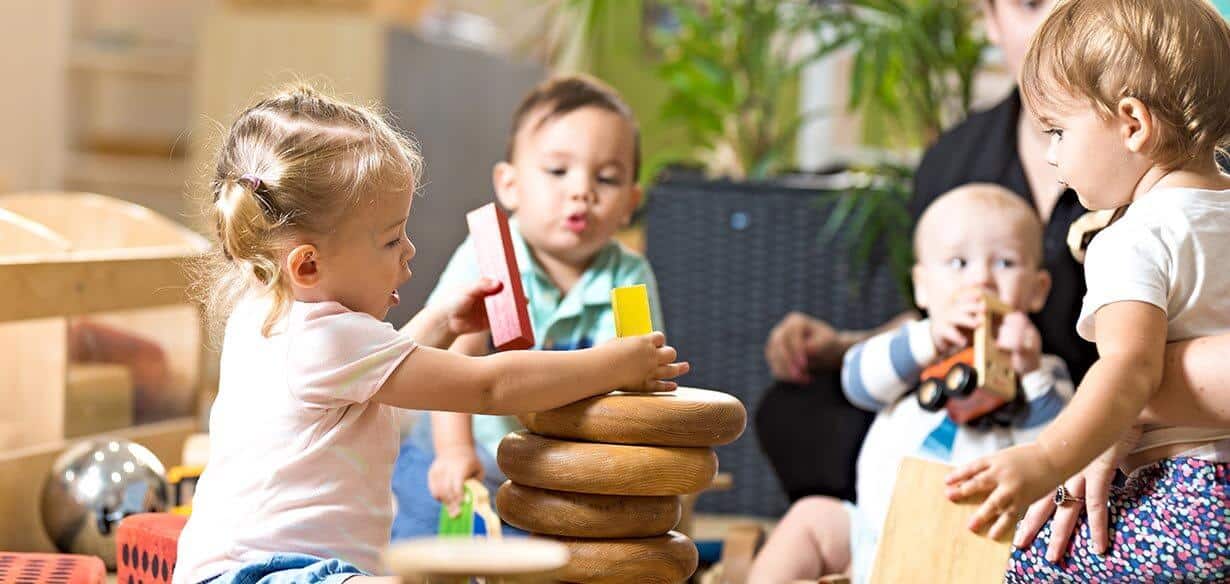 In the modern world it's not unusual for households to have both parents working. Plus, with single-parent families on the rise, and relatives and extended families often living interstate, finding suitable childcare is a task most parents will face at one time or another. 
No matter their age when entering childcare, it's an opportunity for your baby, toddler or preschooler to learn about the world around them. They will also build the skills and resilience they will need to be successful in school and into the future. They will learn to share, make friends, develop skills that will serve them for life. And have a lot of fun at the same time! There are also many benefits for parents. 
So, let's take a look at some of the reasons high-quality childcare with a focus on education is good for everyone. 
Emotional development
High-quality childcare will nurture your child as an individual, helping them to build trusting relationships with caregivers and peers alike. Key to building this emotional resilience and developing their individuality, is ensuring children feel safe in their environment.  
Guardian childcare professionals are not 'babysitters'. They are skilled teachers and educators who know how to help your child develop their emotional skills, engage in activities, regulate their behaviour and build curiosity about the world. At Guardian we work alongside parents to establish these early skills and confidence in your child, on an individual basis. Because we know every child is uniquely wonderful, and we embrace this in everything we do. 
Developing important social skills
For children who do not attend out-of-home childcare, it can be difficult to establish those all–important social skills that will serve them at school and in life. The odd playdate is great, but it won't offer the same kind of social development fostered in a childcare setting. Learning to interact with others, problem solve, share, play and learn are all skills a child will learn in a more formal setting. While their young brains and personalities are developing, a great childcare experience will only serve to benefit them in the long run. 
L
earning independence 
Children love to feel useful, and naturally have a desire to please others. Part of the childcare experience is exposing your little one to new tasks and self-care opportunities. This might be learning to feed themselves, toileting, setting a table, or learning to take their shoes on and off. They will also have the opportunity to help and encourage their peers with similar activities. This builds a great sense of self-worth, pride and increased independence, which will become increasingly obvious to you! They will also learn how to form bonds with others; something that will serve them for years to come. 
Preparing them for 'big school'
As your child moves through their early years, the transition to school is one of the most significant milestones. High-quality childcare will have an emphasis on learning through play, which will ultimately prepare children for formal schooling.  At Guardian we design engaging Preschool and Kindergarten Programs which set the foundations for a positive start to your child's first year of school.  
These programs focus on open-ended, play-based experiences that: Teach the basic numeracy and literacy skills needed for academic success; embed valuable social and emotional skills required to be confident and resilient; and have clear learning outcomes to prepare your child for formal schooling, and beyond. We also ensure parents are continually updated about their child's progress toward starting school, and will give guidance on whether we think your little one is ready, or would benefit from a little more time in a preschool environment. 
S
tructure is your friend!
The type of structure provided in childcare and early learning centres will often appear invisible to children and parents. But take it from us, it's there and it has a real purpose. Structure gives children a framework and schedule that can help them know what to expect and when – which also provides a sense of safety and security. It also means there are consistent times set for activities, eating and sleeping/resting. For parents there's no guesswork at the end of the day about whether your little one is hungry. Or if they won't go to bed that night because they had a dreaded three-hour nap late in the day!  
A high–quality early learning environment is the ideal place to build on a child's naturally curious nature. By encouraging children to explore things they have an interest in it's not hard to spark their imagination. They will entertain you for hours retelling the story of the giant worm they found in the sandpit at school. Or the beautiful butterfly that landed on their friend's hat.  
Children will have the opportunity to develop their love of learning through play activities that recreate real-world scenarios and have real learning outcomes. Like pretending to visit the shops, visiting the doctor or playing vet. All of these make-believe scenarios are an opportunity for your child to hone their social skills but also learn early literacy and numeracy principles. 
Expanding language skills
A child's vocabulary almost triples between the ages of three and five! One of the reasons childcare is good for your child is it gives them exposure to a more language-rich environment than they would have access to at home. And at Guardian, thanks to our rich educator mix, they will often also have exposure to other language and cultures. Through games, songs and other interactive activities children will continue to develop and expand their grasp of language at a rapid pace. 
 
A
happy child means a happy parent
Finally, we can't forget about you! As parents we often want to be everything and do everything for our children. But in the end, that does little to help them. Children are strong, unique and resilient individuals, capable of complex thinking and their own perspectives. And the right childcare setting can give your child the opportunity to gain independence, build confidence and self-esteem, and learn about the world outside of themselves.   
But it's important to remember not all childcare is created equal. Do your research and choose a centre that suits your child and your family's needs. Even after you've done your research and selected a centre, it's still hard letting go of their little hand. But as parents, we quite simply cannot do it all, and we're here to help. 
---
Looking for the right Childcare Centre for your Family?
Submit your details and a member of our Concierge Team will be in touch to discuss what you need and how we can help you experience something more than childcare.

We'll be in touch soon.
You May Also Want to Read This