A Paradise for Children That Thrive on Outdoor Learning

Guardian Paradise Childcare & Education is embracing its outdoor learning environment and experiencing the benefits.
Today's children and families often have limited opportunities to connect with their natural outdoor environment. Guardian Paradise has made it a priority to embrace the natural outdoor learning environment and by doing so are experiencing benefits for the children in their care.
The Importance of Outdoor Play and Learning
The outdoors is the very best place for children to practice and master emerging physical skills. It is in the outdoors that children can fully and freely experience motor skills like running, leaping, and jumping. It is also the most appropriate area for the practice of coordination and ball-handling skills, like throwing, catching, and striking. In an outdoor environment, children can also more easily perform other manipulative skills such as pushing a swing, pulling a wagon, and lifting or carrying movable objects.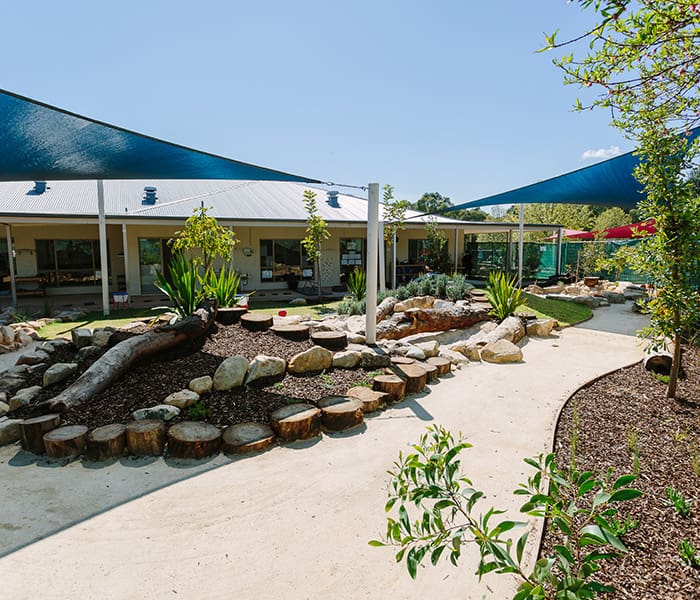 Childcare centres choosing to utilise their outdoor learning environments are taking full advantage of what the outdoors offers. Outdoor environments stimulate children and create diversity of play and learning experience, actively contributing to healthy development.
Outdoor learning can promote the following benefits for participating children:
Cognitive and social/emotional development: When outside, children are more likely to invent games; this fosters a child's ability to express themselves and learn about the world in their own way.
Promotes decision making and organisational skills: Children feel safe and in control, promoting autonomy, decision-making, and organisational skills.
Understanding boundaries and rules: The outdoors provides space and a blank canvas for children to interact with. Children enjoy creating games often with very specific agreed upon rules, the development and discussion of rules promotes an understanding of why rules are necessary and the benefits of complying.
Improved communication skills and vocabulary: As children invent, modify, and enforce rules they need to express these to their peers. This ongoing interplay between children during games heightens a child's communication and social skills.
Better cooperation and teamwork: By working together effectively children can gain great satisfaction from their involvement.
Gaining appreciation for their natural environment: The natural outdoor world is filled with beautiful sights, sounds, and textures, it is the perfect resource for developing an appreciation of aesthetics in young children.
Increased senses recognition: Children learn a great deal through their senses. The outdoors provides many diverse and wonderful items for children to see, hear, smell and even taste.
Increased motivation and enthusiasm to learn: Variety of experience is key to providing stimulation and incentive to learn and grow. An outdoor learning environment offers significant diversity of experience enhancing a child's curiosity and wonder; the natural motivators of learning.
Outdoor learning not only benefits those participating but also the educators involved. Fresh air and a different environment is known to do wonders for the body, mind and soul. When you think back to your own childhood, chances are some of the fondest memories are of outdoor places and activities. Guardian Paradise takes this to a new level with recently refurbished outdoor classrooms and sustainability practices.
A popular extension of this program is the introduction of furry and feathered friends to the Centre – including guinea pigs, chickens, stick insects, budgies and more. The children love learning about their animal companions and are eager to assist in caring for them.
Guardian Paradise is located near Adelaide CBD at 67 Darley Road, Paradise and is open Monday to Friday from 6:30am to 6:30pm. The Centre offers a wonderful opportunity for families wanting their child to be cherished, challenged and cared for in a stimulating and safe learning environment.
Book a tour of Guardian Paradise here.
Looking for the right Childcare Centre for your Family?
Submit your details and a member of our Concierge Team will be in touch to discuss what you need and how we can help you experience something more than childcare.

We'll be in touch soon.