Brekkie, Culture and Even Kinder Yoga!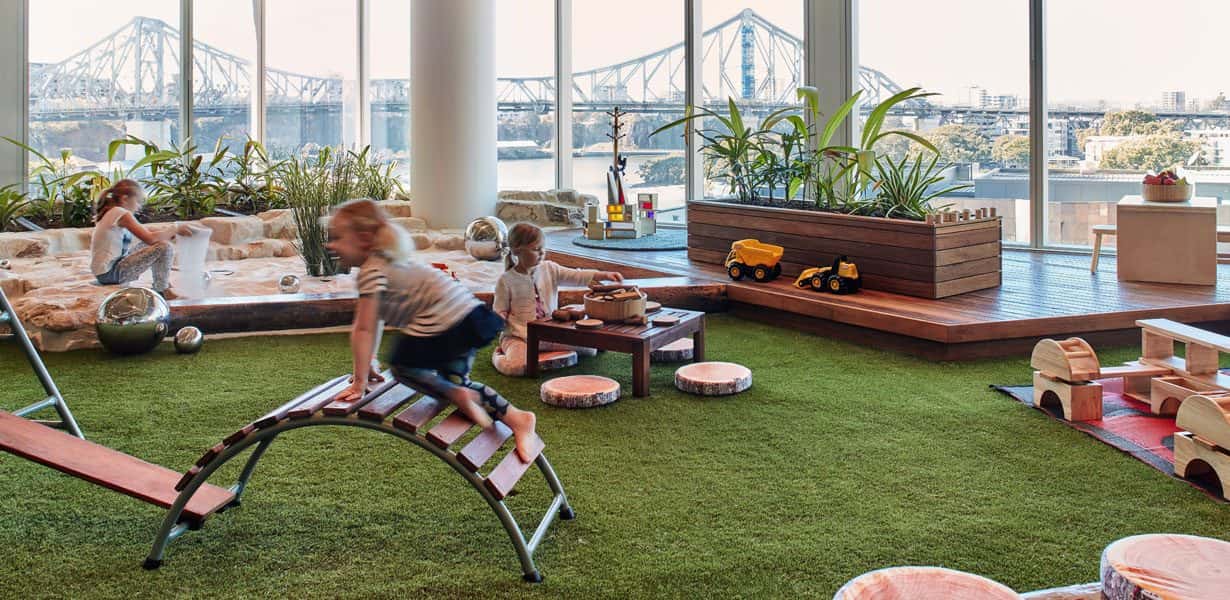 With an abundance of natural light, inspirational interiors, and a team of caring educators, Guardian Early Learning Centre – Queen Street is a childcare centre in Brisbane that's doing great things – both inside and outside the centre. This 118 place service consists of spaces for art, play, exploration and quiet times and boasts magnificent floor to ceiling windows the look over Story Bridge, Customs Building and Brisbane River. It's truly a place to be inspired!
The team at Queen Street are fairly new but are full of enthusiasm and passion for early childhood education. Centre Manager, Emily Pettett says "We have a large variety of cultures within our centre. It is wonderful for families, children and educators to have a common language or set of traditions in common in such a large centre."
Having many cultures in the one centre lends itself to cultural explorations and for children to develop a greater understanding of backgrounds other than their own.
Breakfast is served!
"We serve breakfast at our centre where families sit together and have their morning meal with their children," says Emily. A shared breakfast is a great opportunity for families to spend time with their child in the mornings, to eat a nutritional breakfast (who else is guilty of skipping brekkie?) and to chat with educators and other families.
The meals served at the centre are loved by the children as well as the families with one parent saying, "I wish I could stay for lunch at 480 Queen Street too."
An open door policy
Due to the convenient location of Queen Street, there's lots of opportunity for families to come in and explore the centre with their children while they are on their lunchbreak. The open door policy means families are welcome to pop in any time of the day to breastfeed, see their child and chat with the team.
Did someone say yoga?
Yes, that's right – yoga! From July, the team at Queen Street will be running rooftop yoga sessions with the kinder children in partnership with the gym instructors in the building. We're looking forward to hearing how this progresses.
Learn more about Guardian Early Learning Centre – Queen Street
To find out more about this early learning centre in Brisbane, head here. While you're there, book yourself in for a tour via our handy online form.
Looking for the right Childcare Centre for your Family?
Submit your details and a member of our Concierge Team will be in touch to discuss what you need and how we can help you experience something more than childcare.

We'll be in touch soon.