Autism Awareness Talk at Guardian Roseville

According to Autism Spectrum Australia, "Autism is a lifelong developmental condition that affects, among other things, the way an individual relates to his or her environment and their interaction with other people." Those with autism may have a different way of feeling, hearing or seeing things and can find communicating with others difficult.
Recently Guardian Roseville had the pleasure of having Felicity, Leon's mum, come to talk to the Grasshoppers, Butterflies and Ladybugs about autism and the new character that is on Sesame Street.
Leon is on the autism spectrum and to help children at the centre better understand his condition, she played a video to the children that introduced Julia to the other characters on Sesame Street. It demonstrated how concentrated Julia is in an activity that she doesn't even acknowledge that someone is talking to her. Felicity explained that this happens to Leon sometimes because he really wants to finish his activity and have some alone time. She talked about how the other children can help Leon by leaving him alone to finish what he is doing but to invite him to play once he is finished.
Felicity asked different questions to show the children that there are ways that they are similar to each other and how they are different such as "Who has black hair? Who has blonde hair?" and "Who has brown eyes? Who has blue eyes?"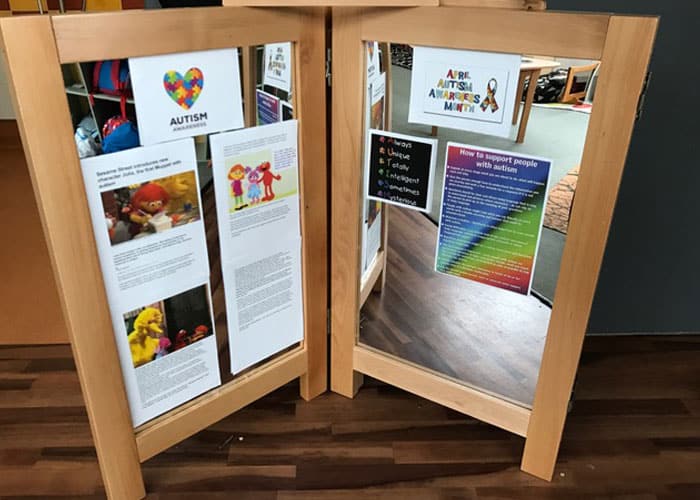 Felicity emphasised some rules that all the children know such as how hitting and screaming at others are not okay but sometimes that's the only way that Leon can tell others about his feelings. She said that a way to help Leon to learn to be gentle is to show him how to stroke them and to say stop with his words instead of actions. She also talked about how children with autism make noises that are sometimes high pitched which can hurt other children's ears but that is how they help to calm themselves down when there is too much happening around them.
This talk helped the children to understand and accept each other and to learn to be respectful to those around them.
How can I help my autistic friends?
Autism Parents Support have provided a useful flyer that talks about autism in a way that children can understand. Here's how they suggest children can help their autistic friends:
You can help your friends with autism to talk better and learn games by playing with them and showing them how to do things at school. They may be in a classroom like yours all day long with a special helper, or only come into your class for part of the day.
Sometimes children with autism have a hard time figuring out the rules of a game. They might not understand how to play, but you can help. Sit down next to your friend with autism and help them learn the rules so they can have fun too! It takes longer, but they still can learn to play like you.
You may have to ask them a question lots of times before they answer or look at their picture cards. Be patient, though – being a good friend always pays off!
Read about how Guardian Roseville brings languages to the forefront.
Learn more about Guardian Roseville
Guardian Roseville is a childcare centre in Sydney with a true home away from home feel. The heritage listed home that houses the nursery and toddlers and the purpose-built preschool rooms open out into the garden complete with a 100 year old magnolia tree.
The team of educators are caring, full of life and are passionate about creating excellent early learning experiences for every child in their care.
To find out more about Guardian Roseville and to book yourself in for a tour, head here.
Looking for the right Childcare Centre for your Family?
Submit your details and a member of our Concierge Team will be in touch to discuss what you need and how we can help you experience something more than childcare.

We'll be in touch soon.