Meet the Teacher: Samantha McCaul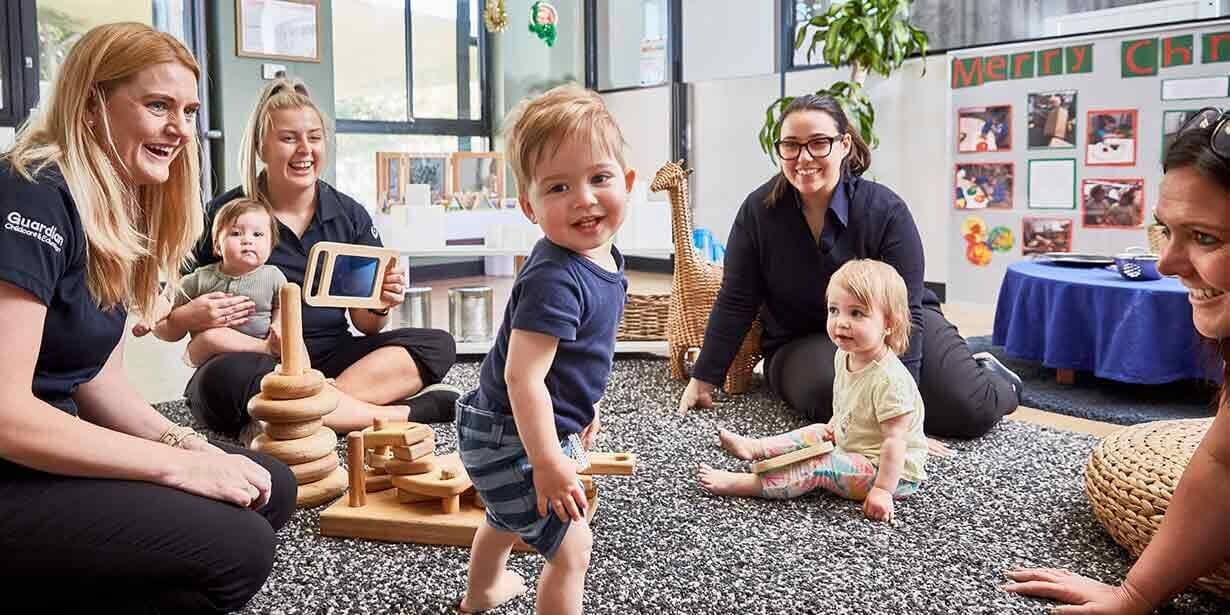 Previous role: Customer Service
Now working as an Educator at Guardian Springfield with a Certificate 3 and Diploma of Early Childhood Education and Care.
---
At age 30 Samantha was made redundant from her Customer Service role and started looking for a new career path. She decided to undertake a traineeship at Guardian. Samantha was able to transfer many of her skills into this new sector, and age and life experiences have also help make her a better educator.
Samantha now holds a Certificate 3 in Early Childhood Education and Care, gained through the Guardian Traineeship program. She also holds a Diploma in Early Childhood Education and Care, and is currently looking into a Leadership and Management course. 
Why did you decide to become an early childhood educator?
Having always been in customer service and having a passion for helping people I wanted to look into something that would further my career and something that could make me feel like I was making a difference in some one's or many peoples life. In 2018 I was made redundant I started looking for a new career path at 30 and thought studying may be a good option. Looking on seek I came across a traineeship at Guardian Springfield Central. The relationships I have made with Children and families over the years have really warmed my heart and it is the sense of responsibility I feel for helping guide and educate the children that drives my work ethic. 
What sort of qualification
s
do you have
, and how 
did you
 get them
?
I hold a Certificate 3 in early childhood education and care, this was gained through a Guardian Traineeship with TAFE Queensland. I then went straight on to my Diploma in Early Childhood Education and Care. I have also completed some further short courses, including ADHD awareness and understanding Child Psychology. These courses have helped me develop specialised skills that help make me a better teacher.  
What's it like to study while you're working as an educator?
I personally think it's great. Being hands on and working in the profession I am studying in has made it a lot easier for me. A lot of the information required in your study are things you do every day – plus there are always people around you who are happy to guide and assist. 
How do you know when you've had a positive impact on a child's learning or development?
When 

parents give you positive 

feedback

 about their child wanting to

 replay 

or show what they are learning at the centre.

 

The moment a child

becomes excited and eager 

to take part in the experience

. Or 

when you reflect on an experience that has taken place and the child tell

s

 you how much they enjoyed themselves or what they have learnt.

 

For non-verbal

 

children

 in the

 

n

ursery and 

our younger

 t

oddlers

,

 

revisiting experiences and watch

ing

 them develop 

new skills along the way 

is so rewarding. Such as 

learning how to hold a paint brush

 or 

learning not to mix their colours

. Or great accomplishment

s

 like

 a child 

finishing their bottle or 

completing a 

solid 

midday sleep.

 
What's your favourite memory of childhood?
Riding my bike in the street we lived in with the other neighbourhood children until the sun went down. And camping trips in the family caravan with mum and dad and other family friends – especially over Christmas holidays. 
What was your favourite subject at school, and why?
My favourite subject was art and it's something I still do today and can bring to life in many ways through my role with the children. 
What
'
s the most valuable thing you've learned from the children you work with?
Don't sweat the small stuff. Children have a wonderful way of living in the moment and finding joy in the small things.  
If you were a three-year-old today, what element of early learning and care would you love the most?
I believe I would enjoy the focus on community and belonging. Supporting the children to feel capable and responsible, and offering them guidance to further their understanding of their rights, responsibilities and social environment. This is so valuable and something I think we do very well at Guardian.  
What experiences from your own life have been most useful in your work with young children?
My many years of customer service and dealing with many different natured people has been invaluable. I also believe my age and life experiences helps me think realistically about situations on a daily basis.  
What do you wish that other people understood better about your job?
I want people to know that early childhood is about educating, guiding and helping children grow into capable and responsible people. And giving them the skills to grow and continue with their own journey towards confidence and independence, long after they leave our care.  
Looking for the right Childcare Centre for your Family?
Submit your details and a member of our Concierge Team will be in touch to discuss what you need and how we can help you experience something more than childcare.

We'll be in touch soon.