Meet the Teacher: Kaysie Gillis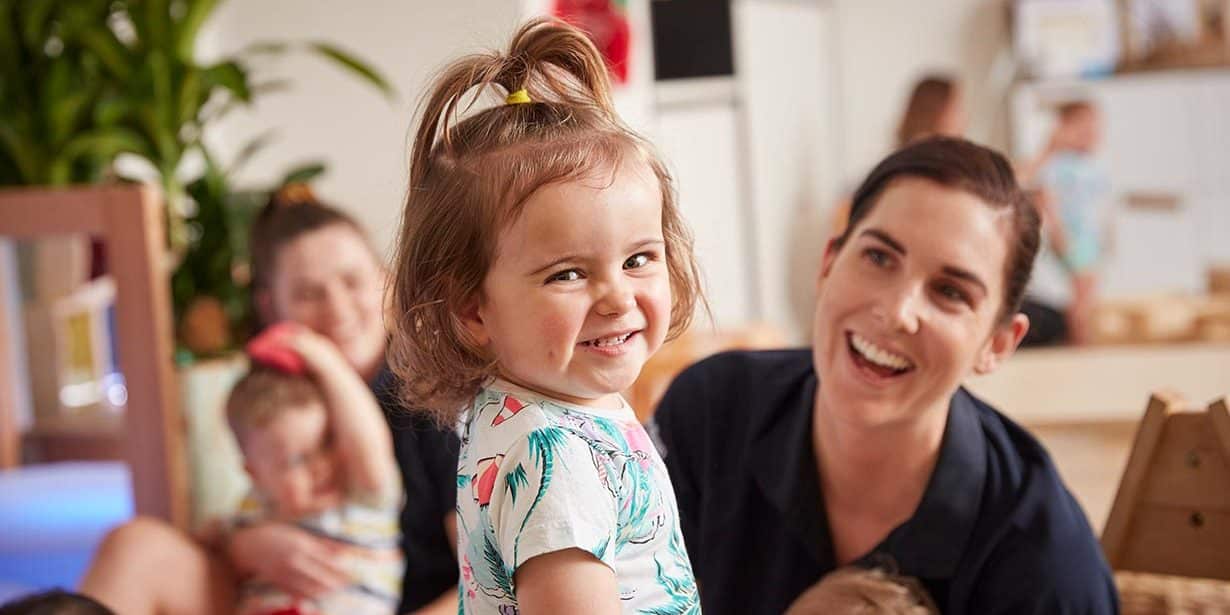 Previous role: Hairdresser
Now working as an Educator at Guardian Springfield.
---
Why did you decide to become an early childhood educator?
I just loved working with young children in a volunteer role as a basketball coach. The time I spent with the children, training and encouraging them to be their best was an amazing experience and really showed me the love I had for working with young children. Then the birth of both my niece and nephew was the final push to make a career change and join the early childhood sector as an educator.  
What sort of qualification
s
do you have
, and how 
did you
 get them
?
A Certificate III and Diploma in Early Childhood and Education. I started my Certificate III one month before gaining employment at Guardian. After completing my certificate I knew that this was the field I wanted to work in and needed more! So I signed up for my Diploma. I recently completed this diploma, all while working as an assistant educator at Guardian.  
What's
it like to study while you're working as an educator?
This was really helpful, I was able to gain hands-on experience and be involved in running learning experiences to assist in the completion of my assessments. I found the assessments much easier, as I was answering questions about things I did every day in my job.  
How do you know when 
you've
 had a positive impact on a child's learning or development?
I know that I have had a positive impact when a child looks up from their learning with such pride and a sense of achievement in what they are doing. The way their face lights up when celebrating in a new skill or a new discovery and wanting to share that with me really shows the positive impact that I have had.  
What's
 your favourite memory of childhood?
Sleepovers at my grandma's house where she would teach me to knit. She was so patient with me and showed me step by step how to create a piece of knitting. It was our time together that we could do an activity we both enjoyed. I will never forget those beautiful times I had with her.  
What was your favourite subject at school, and why?
Completing my certificate in community activities. I found this class so interesting as it provided me with the skills to run community events. By completing this course in high school, it allowed me to learn the skills needed to run a successful and interesting event. This subject was another indicator to me that I should be working in this sector. I loved being involved in events where children are the focus.
What is the most valuable thing 
you've
 learned from the children you work with?
Speak up and talk about your feelings – no matter how hard it may be. The children are always talking about their feelings and emotions with such ease. They are very open in their communication and have no trouble voicing what they are thinking or feeling. I think it is such a valuable and beautiful thing for them to feel so comfortable talking about their feelings. We could all learn a lot from children.
I
f
 you were a three-year-old today, what element of early learning and care would you love the most?
The freedom to express my ideas through different art mediums. The encouragement from my educators that my ideas are beautiful and I can create what I see and how I feel. I would love that I am given the opportunity to explore different mediums in order to express these ideas free from judgement.  
What experiences from your own life have been most useful in your work with young children?
My experiences in working with small children as a basketball coach when I was 14 have really helped. It really prepared me in communicating and be the children's biggest supporter, working with them to achieve a common goal. It provided me with some experience in communicating with younger children and I believe that really set me up for this career.  
What do you wish that other people understood better about your job?
I wish people understood more in depth what we do – that it's not just babysitting. We don't play all day with no reason – there is real purpose in the work we do. Young children are such capable learners. For example, there is a purpose to drawing – such as building a child's fine motor skills in order to help them with their writing later on. Our small group activities with blocks are helping children develop socially and how to communicate effectively with others. There is so much purpose to the activities we do in early childhood.
Looking for the right Childcare Centre for your Family?
Submit your details and a member of our Concierge Team will be in touch to discuss what you need and how we can help you experience something more than childcare.

We'll be in touch soon.
You May Also Want to Read This