Children at Guardian Pascoe Vale Kick Goals at AFL Gala Day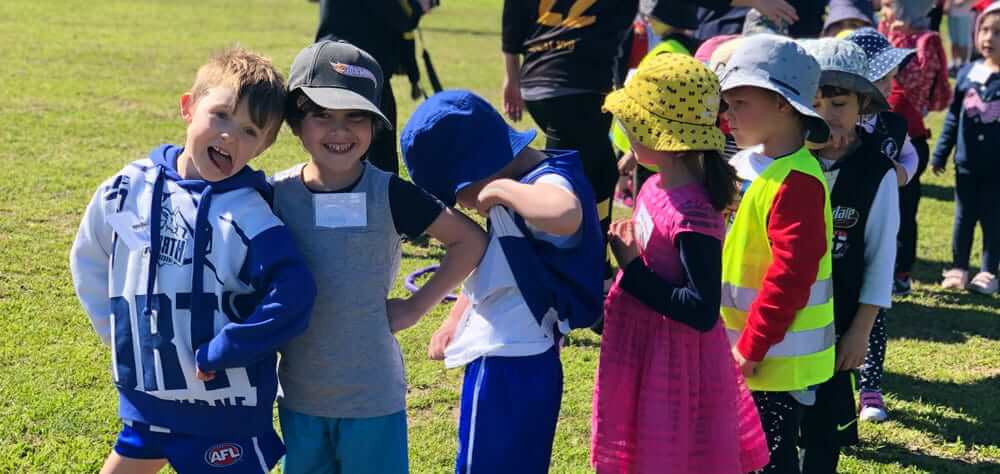 On a surprisingly sunny Melbourne morning, the children and Educators of Pascoe Vale Early Learning Centre & Kindergarten set off for their first AFL Gala Day.
Educators, Trina and Rajika, who documented the event, said the day was a complete success.
"We decided to organise an AFL Gala Day after the children in the kinder two room had shown a continued interest in AFL. They practice it almost daily, so the Gala Day was a great way to involve both the local community and the grandeur of the AFL sporting community," say Trina and Rajika.
"Our centre is also fortunate to have an AFL player as a parent in our community. Todd Goldstein, from the North Melbourne Football Club, was happy to volunteer his time and teach the children all about this great sport."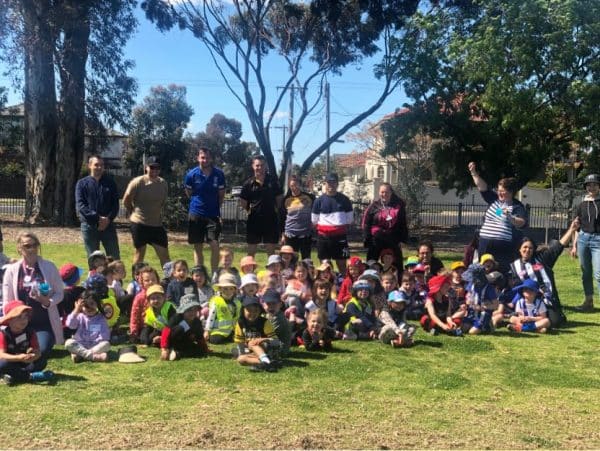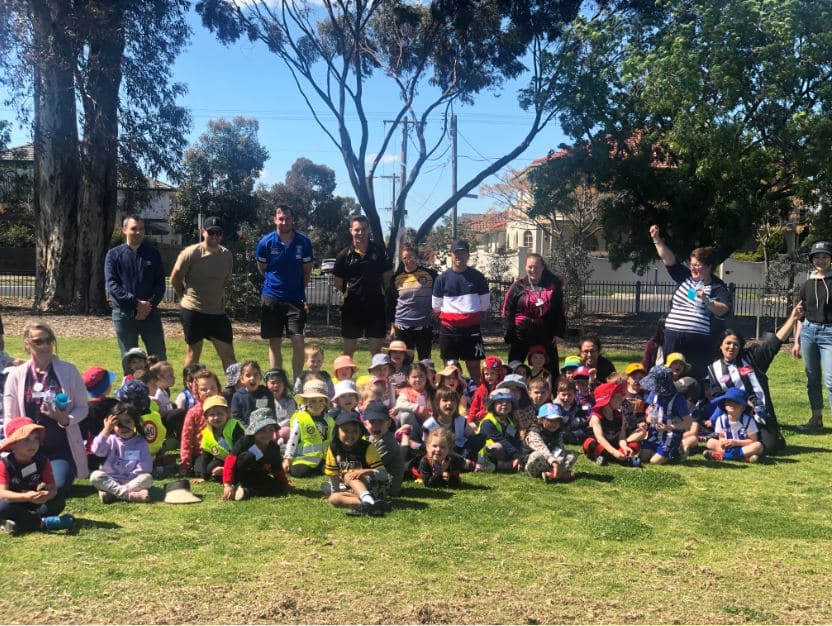 The day started by enjoying morning tea in the kinder room's shared outdoor space. Once everyone had sunscreen, hats and name badges on, the group of 70 children, Educators and family volunteers set off to Cole Reserve.
"When we arrived, we were introduced to the EDFL players Liana and Crackers from West Meadows Football Club, and our parent helper, Craig," share Trina and Rajika.
"The drills throughout the day were designed to help further develop each child's gross motor skills, along with their locomotive, balancing, hand-eye coordination, and problem solving skills.
"It was also an excellent opportunity for the children to socialise outside of our kinder room and yard, release some of their bountiful energy and enhance their sense of community and belonging."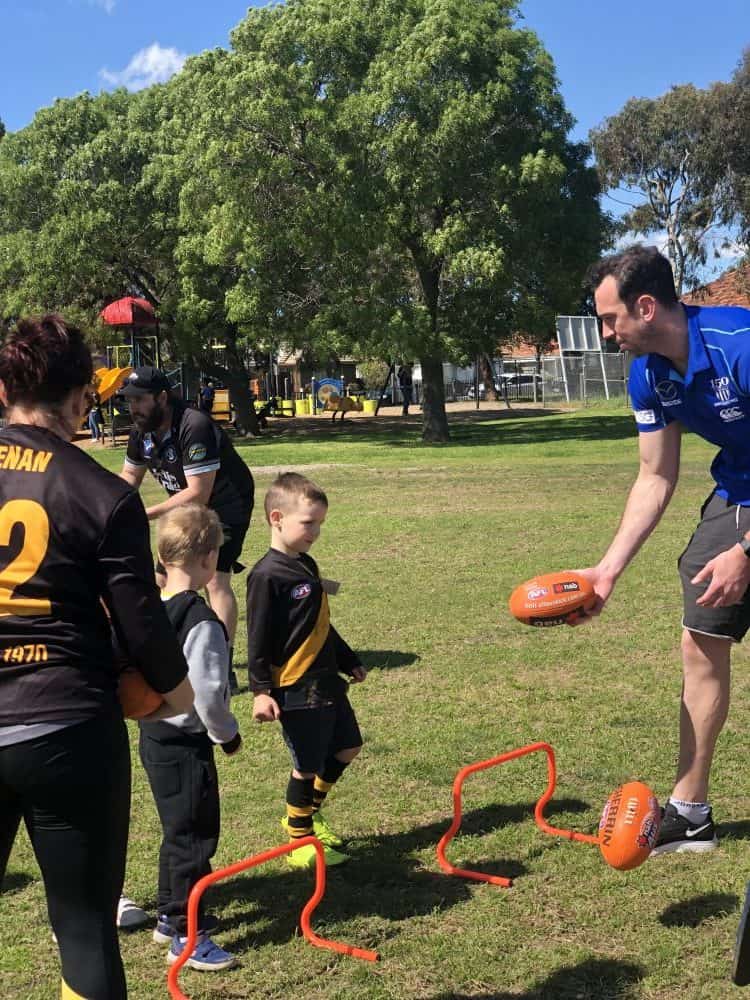 Liana led the children in a group warm up, explaining how important it is to warm up properly. The children stretched their arms and legs, ran high knees and did windmills.
Next up was a session with Crackers, who taught the children the correct way to handball, "with a flat hand, making a fist and pushing the ball through the air, eyes on your target". 
After perfectly their handball, they moved onto tackling Freddie no arms, the tackling bag.
"The children were so excited to tackle. With Crackers, they discussed why tackling can be considered dangerous and stressed the importance that you need to concentrate and tackle using a correct technique," explain Trina and Rajika.
"You could hear giggles across the oval as the children tackled Freddie. They had huge smiles and looks of determination on their faces."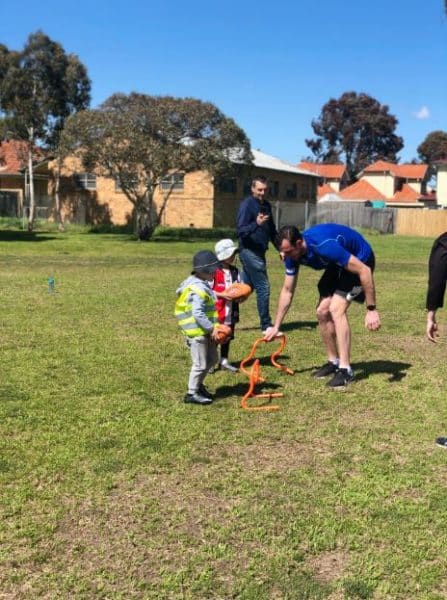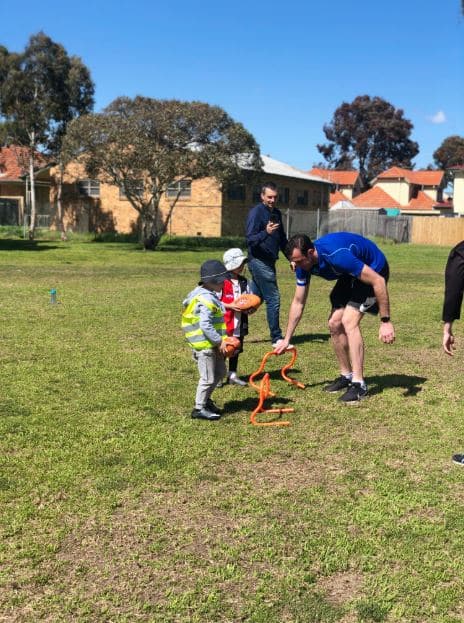 After practicing goal kicking with Crackers, and doing additional drills with Todd, the children watched Centre Manager, Liz, demonstrate a perfect drop punt for a goal.
By 12:30pm, the children had waved goodbye to the AFL players and were back at the centre for lunch, having worked up quite the appetite. They then spent the afternoon reflecting on the event and participating in a relaxation hour.
"We had a great response from the parents, and many of them are reaching out to AusKick, which is a direct result of this excursion," says Trina and Rajika.
"Seeing how enthusiastic and excited each child was made the many hours and planning worth it. We hope to turn it into an annual event and continue to take the children on interactive excursions."
Looking for the right Childcare Centre for your Family?
Submit your details and a member of our Concierge Team will be in touch to discuss what you need and how we can help you experience something more than childcare.

We'll be in touch soon.